Windows Explorer and Libraries
Aside from the major revamps to the Taskbar and Windows Aero, other changes in 7 are a little harder to find, and that might be a good thing as users shouldn't feel lost in 7; it very much resembles Vista.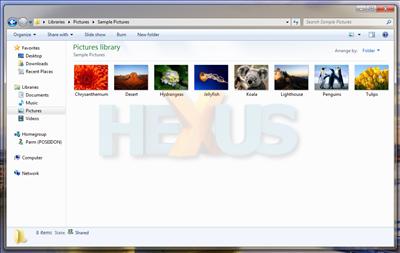 Windows Explorer has undergone changes in each of the recent Windows OS revisions, and though it looks similar to Vista, 7's Explorer has been given a once over.
The first thing you'll notice is that 7's Explorer is in keeping with the rest of the operating system; it's cleaner and looks more refined. The file menu takes on a subtle shade of blue - and consequently almost goes unnoticed - whilst the folder/link hierarchy to the left of the window no longer sports jagged dividers, as it's now just a clean list of relative locations. If you've suffered at the hands of Vista's Explorer's inconsistencies in recent years, you'll also be happy to hear that 7 does a much better job of remembering folder views.
The biggest change, however, is the introduction of Libraries - a feature we believe to be one of 7's best.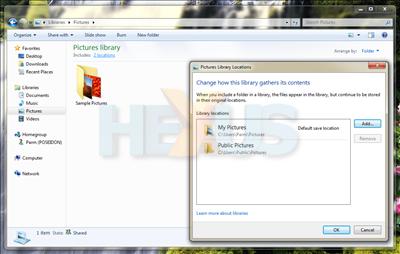 A library is essentially a virtual folder that aggregates content from numerous locations, and it marks a first step away from traditional shell locations.
As shown in the screenshot, above, a library - for pictures, in this case - can be used to map files in multiple locations into one virtual folder. Adding new library locations is as easy as browsing and selecting folders, and users can even select network locations. By default, Windows 7's Start menu shortcuts for Documents, Pictures and Music don't point to the physical folders themselves - although they do exist - instead, they point to their respective libraries.
Users are free to create as many libraries as they wish, and it's a feature that even at this first stage looks increasingly impressive. In addition to aggregating content from various sources, libraries also offer unique viewing options tailored to the content within. For example, the Documents library can be arranged by folder, author, date modified, tag, type and name. Music can be arranged by folder, album, artist, song, genre or rating and pictures can be arranged by folder, month, day, rating and tag.
It's easy to use, helpful, and well implemented. Passing the usefulness of libraries onto the rest of the operating system, the virtual stores are also used as a source of content for many Windows 7 applications. For example, Windows Media Player no longer requires a list of folders to watch and scan for content - it, instead, uses the libraries as its source of media.
Looking ahead, we'd like to see the ability to add cloud-based locations into a library. In Microsoft's case, that may well involve the ability to aggregate content hosted on Windows Live SkyDrive: that would be something.