Solid in all respects
SilverStone is a name familiar to readers as a provider of high-quality chassis first and foremost. But like any business that doesn't want to be reliant on a core product portfolio, SilverStone has increased its reach by also selling coolers, storage devices and, more recently, monitor stands.
Another go-to solution is power-supply units. SilverStone covers the entire gamut of uses from passively-cooled examples to monster supplies fit for the most esoteric of builds. The middle section between these two extremes is occupied by the Strider Essential Series.
Offered in mainstream capacities that are more than sufficient for high-end PCs housing a single graphics card, SilverStone has improved the range by offering a trio of Essential supplies - 500W, 600W and 700W - in the upgraded 80 PLUS Gold flavour. Such certification means you're looking at a minimum AC-to-DC efficiency of 88 per cent at a wide range of loads, rising to at least 92 per cent at mid load. 80 PLUS Gold supplies, in our opinion, offer the best balance between performance and cost.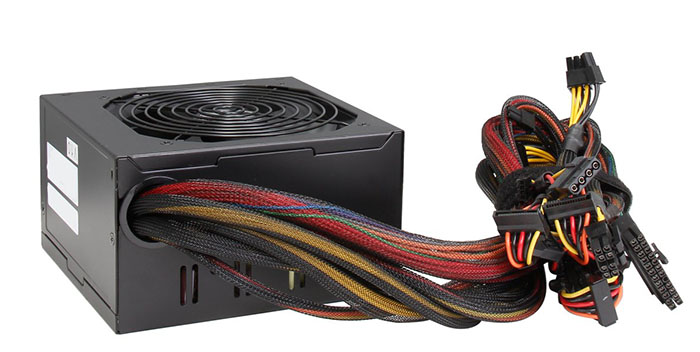 Here's the 700W version on show. Known as the ST70-ESG and now available for £70 or so the SilverStone is one of the cheaper 80 PLUS Gold supplies of this capacity. Helping keep costs in check is captive cabling that's nicely sleeved into the chassis. A lack of advanced features such as semi-passive operation and digital processing helps pricing, as well.
We'd describe the supply's aesthetics as purposeful more than elegant - it's no more than a rectangular box - and its 150mm x 140mm x 86mm (WxDxH) dimensions make for easy installation into most chassis. The ST70-ESG is outfitted with a single 12V rail and rated to run at the stated 700W capacity at an ambient 40°C. Higher ambient temperature ratings and excellent efficiency go hand in hand - there's little heat being expelled by the supply at any load.
Cables
Length and plugs
Main (24-pin)
50cm x1
ATX/EPS (8-pin)
60cm x1
PCIe (6+2-pin)
50-65cm x4
SATA
55-101.5cm x9
Molex
71-102cm x3
Floppy
10cm, extended from Molex
SilverStone produces generous cabling in terms of quantity and length. Two high-specification graphics cards can share four 8-pin PCIe connectors - 2x GeForce GTX 970, perhaps? - and up to nine SATA drives are supported. The lengthy cabling becomes a little difficult to store in chassis that have little room on the sides, and aiming for an ultra-neat build requires more thought than with modular supplies.
Up top, a 120mm fan remains on at all times but it shouldn't be loud in most scenarios; SilverStone claims an impressive noise profile of just 18dBA when idling. Spinning at around 700rpm during very low load and rising to 1,000rpm at 50 per cent and 2,300rpm at full chat, the overall profile is similar to most other PSUs equipped with a 120mm spinner. The Strider Essential Gold's build quality is very solid and the 700W model weighs in at just under 2kg.
Amps/watts and voltage

3.3V

5V

12V1

-12V

+5VSB

Rail amps

25A

25A

56A

0.3A

3.0A

Maximum rating

160W

672W

6W

15W

Maximum continuous rating

700W @ 40°C
Single-rail supplies take away some of the overloading problems previously associated with multi-rail designs. 96 per cent of the total capacity is available on the 12V line (assuming the other lines aren't taxed) which is enough to drive a multi-graphics-card system with ease. There's nothing extraordinary on offer here; rather, SilverStone does a good job of covering all the usual PSU bases.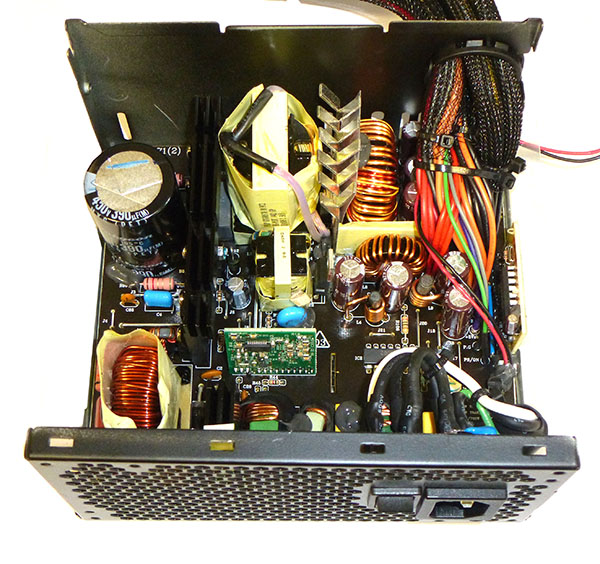 Popping it open voids the two-year warranty. Inside, SilverStone appears to be using an FSP Aurum S platform to power the Strider Essential Gold. The clean layout aids cooling by avoiding the claustrophobic integration present on cheaper supplies. Soldering quality is above average, too, and SilverStone up-specs FSP by using Rubycon as the provider of the primary capacitor. Teapo provides secondary-side filtering while the DC-to-DC topology means the minor rails are tapped off the primary +12V.
SilverStone's use of a solid PSU platform should mean the Strider Essential Gold benchmarks at a high level. Let's see just how high that is when subjected to Chroma load testing.