Introduction
We have often said that even high-end gaming PCs don't need to invest in kilowatt power supplies. An overclocked Core i7-8700K and GeForce RTX 2080 Ti consumes less than 400W at full load, backed up by 32GB of memory and spacious SSDs. Companies such as Corsair have shown that one can build even more luxurious small-form-factor PCs with SFX PSUs at the helm.
It's to this background that a growing number of SFX and SFX-L supplies are coming to market, and it's an area that Fractal Design is moving into today with the release of Ion SFX Gold.
Complementing the existing ATX Ion+ and Integra M PSUs, Ion SFX Gold is available in 500W (£85/$90) and 650W (£105/$115) capacities.
Key specifications include 80 PLUS Gold certification, performance rated at an ambient 40°C, SFX-L form factor (125mm x 63.5mm x 125mm), fully-modular cabling, semi-passive fan mode, and use of Japanese 105°C-rated capacitors. On paper, it hits many of the requirements for a top-end small-form-factor supply.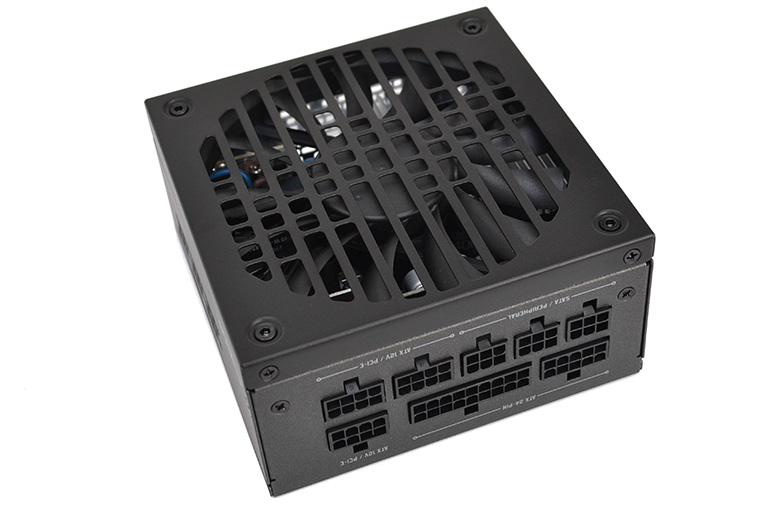 Our review 500W model is an exercise in design restraint. No flashy lights, no external data-logging, and no opportunity to hardswitch the 12V rail operation. It's simple, bereft of the large stickers that spoil other supplies, and is very well built.
There's nothing of note save for the power switch and eight outputs emanating from the internal board. Though each port's function is written above or below the connector, it's actually hard to see, especially if already in a chassis, so we'd recommend installing all the cabling first and then feeding the supply into the chassis.
It's good to see there's enough room between the ports to enable all to be easily populated (and removed) without having to use excessive force. The 500W and 650W supplies are identical externally, but differ in terms of provided cabling.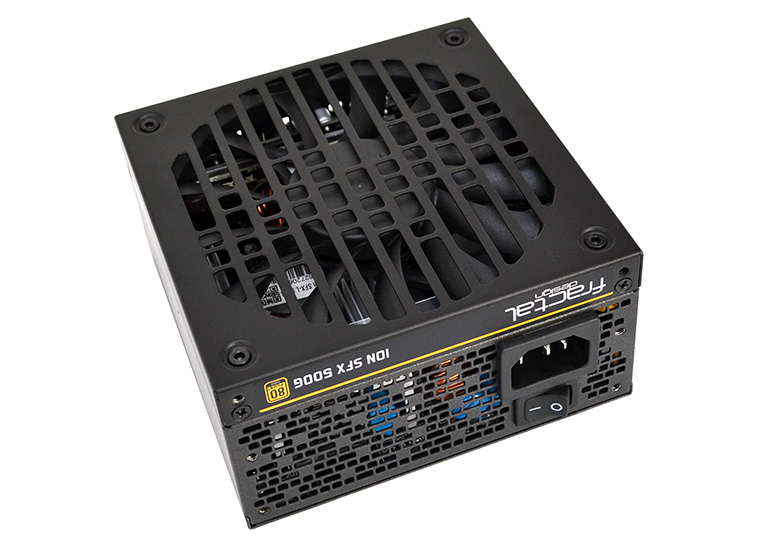 Both share a 350mm ATX cable, 400mm EPS (4+4-pin), and the following on one cable each - four SATA, two peripheral, and dual 6+2-pin PCIe. The 650W, by dint of its greater power output, offers a second PCIe and SATA cable, doubling-up what's available on this 500W.
Is dual 8-pin PCIe and four SATA enough for the base 500W supply? The answer is yes, though we'd recommend Fractal to add in that second SATA cable on this lower-capacity model, as well, because there is room for it.
It's also good to see Fractal use very flexible cabling throughout, dubbed UltraFlex, enabling easy fitment in tight spaces usually associated with SFF cases, while having braided support for the main 24-pin is never a bad thing.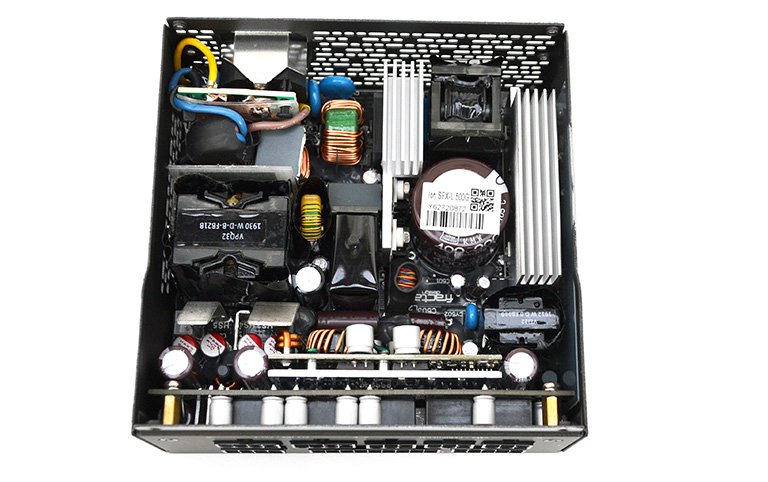 Peering inside, Fractal makes good use of the SFX-L real estate, packing the inside to the gills. Soldering is excellent, the main and secondary capacitors are indeed all-Japanese, and the single-rail design uses DC-DC topology to feed the lesser 3.3V and 5V lines.
The fan, meanwhile, is a 120mm fluid-dynamic-bearing spinner. Its thin profile, measuring just 15mm high, is necessary due to the space constraints made by adhering to the SFX-L spec.
Amps/watts and voltage

3.3V

5V

12V1

-12V

-5VSB

Rail amps

20A

20A

41A

0.3A

3A

Maximum rating

100W

492W

3W

15W

Maximum rating continuous

500W @ 40°C ambient
Though rated to perform at its full potential at a toasty 40°C ambient, Fractal's internal tests show that the fan only switches on at an impressive 50 per cent load (250W) if the ambient temp is a more reasonable 25°C. Even then, it's reckoned not to break 1,200rpm at 400W.
Backed by a 10-year warranty and bundled in with a backplate that enables fitment into ATX spaces, we are struggling to think of any real bad points for a PSU of this size and capacity. It all looks good on paper, so let's now roll the benchmark dice and see if the bold claims hold true.