Layout and features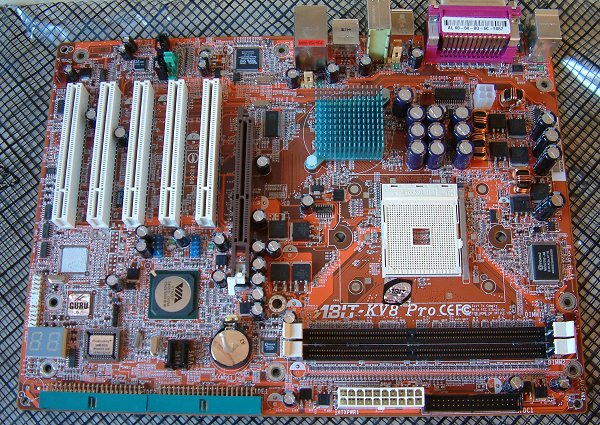 This will undoubtedly be ABIT's cheaper S754 VIA K8T800 Pro motherboard. Expect a MAX3 model soon, and we're sure it'll be laden with various cooling gadgets and a few extra features. For most users, though, the regular Pro will more than suffice. I took the K8T800 MAX3 for a spin, here, and if you compare both pictures side by side, you'll see that there's been general port realignment. That's been forced by the KV8 Pro using a narrower PCB than the MAX3's. Notice how DIMM slots have been reduced to two and primary / secondary ports moved on down to the left-hand side.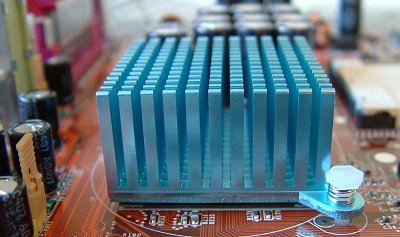 ABIT's taken this opportunity to do away with active northbridge cooling. Instead, a chunky passive heatsink covers the K8T800 Pro covers the chip. Remember that the northbridge communicates to the CPU via an improved 2GT/s HyperTransport Bus link, not that its increased speed is much use currently. What we also like is ABIT's use of big-headed jumpers. They're easy to remove and install, and we also like the fact that system memory can be removed without having to tamper with an AGP card. It may sound like an oxymoron, but there's plenty of room on this small PCB.

The socket area is lined on the upper side by high-quality capacitors. DIMM slots take up the lower portion, which just out of shot. The narrowness of the board can cause larger coolers to just fit before making contact with the DIMMs. Perhaps ABIT should have left a little more room. Reference coolers, of course, don't face this problem. Just to the right of the capacitors is ABIT's 4-phase power supply. You can already glean that this is an enthusiast-orientated board.





In true ASUS style, ABIT's pushed IDE ports down the board and decided that they work best when rotated by 45 degrees. However, with the ports this far down, I can't see why the secondary IDE is on the left and not the right side. Surely it makes better design sense to have the port nearer the optical devices that it will most likely be used with. What we do like is ABIT's continued use of a diagnostic LCD display. You can also spot ABIT's µGuru system monitoring chip. If you don't already know, it controls ABIT's EQ, OC Guru, FlashMenu, and BlackBox functions. More on this in the bundle section.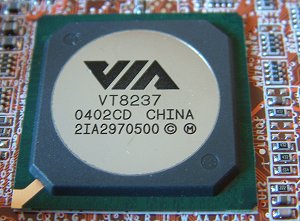 ABIT's gone with the trusty VT8237 southbridge. We hear that the more feature-filled VT8251 is delayed for a couple of months. Branching off this bridge is inherent USB2.0, LAN, ATA133, RAIDable SATA, and AC'97 sound. ABIT's used all of those functions here, but has decided to forego adding a discrete FireWire controller. It's probable location is the white square you see just about the µGuru chip.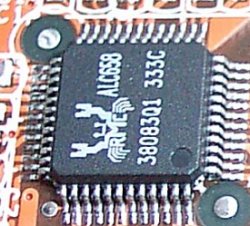 AC'97 Rev2.3 sound is linked in with Realtek's fancy ALC658 CODEC. I can regurgitate lots of PR guff, but I'll just say that it sounds damn good through a decent set of headphones. Easily good enough to make 192kb/s MP3s sound good when run through a set of Creative T7700 speakers. The CODEC also supports S/PDIF-In and Out, something that audio buffs will be happy with. Another nice inclusion.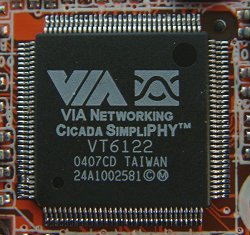 More goodness is to be found with the use of VIA single-chip (MAC & transceiver in one package) Gigabit Ethernet controller that uses CICADA's expertise. We've listed a decent features' count thus far, so it's all the more remarkable that online vendors are listing the board at the £70 mark. A deluxe-ish board at budget prices.





Optical S/PDIF In and Out jacks stand out in the KV8 Pro's back panel. There's no FireWire so all four high-speed ports are USB2.0. ABIT's done well with the layout and features here. Sure, there's no discrete PATA or SATA RAID or FireWire, but there's enough good to merit a street price of £70. We're all for lower motherboard prices from top-tier manufacturers.