Introduction
Intel finally gave the enthusiast something to smile about when it launched the X99 platform at the end of August this year. The all-new platform requires investment in a motherboard, processor and nascent DDR4 memory.
Being the premier consumer chipset means boards are chock-full of features and are priced accordingly. Value X99 boards, if that isn't an oxymoron, start at £160 and rise to almost £400. Melding the worlds of consumer and workstation together - you can install the latest v3 Xeons on these X99 boards - picking the correct offering isn't easy.
MSI retails five X99-based motherboards, split between gaming and enthusiast models. Topping the gaming tree is the X99S Gaming 9 AC that's available for £290 or so. Attracting an 80 per cent premium over its own X99S SLI Plus, it needs to hit all the right notes to be worthy of consideration.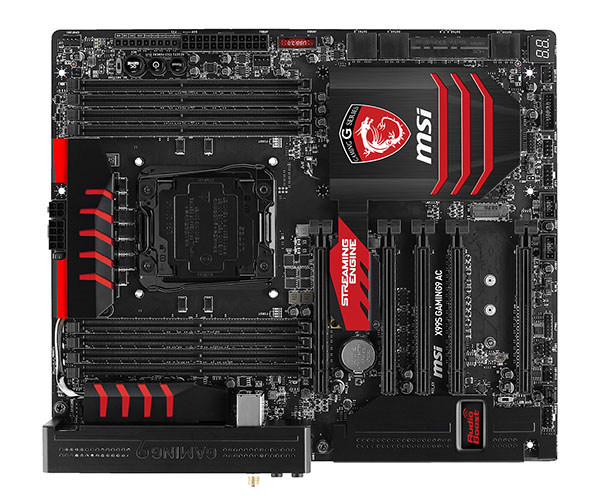 We're fans of MSI's recent styling change and inception of the Gaming sub-brand. The PCB is devoid of many of the unnecessary markings present on other boards and presentation is slick. The board itself is larger than normal, conforming to a variant of the eATX specification (305mm x 264mm), and the width is required to hold the extra bells and whistles.
The need for a heatpipe between the two left-hand heatsinks means the regular 8-pin and additional 4-pin power connectors are moved to the centre, which can cause minor issues with through-the-chassis cable routing on some cases. The DDR4 slots - four on each side - are not colour coded to represent quad-channel operation, but it's easy to figure out the correct layout by installing the DIMMs from the outside in.
MSI's decision to integrate five PCIe x16 mechanical slots pushes the primary slot further up the board. The upshot is larger coolers can only be installed in one orientation - our Noctua NH-D15 cooler, even in a sideways orientation, comes very close to fouling an EVGA GeForce GTX 780 Ti graphics card. Users may find that certain oversized RAM modules are very close to the primary graphics card, too.
We do, however, like the nine voltage-measurement points and trio of onboard buttons on the far side. Extras such as debug LED, dual BIOSes, and an IO-mounted clear CMOS button are useful for the tinkerer.
Storage
The X99S Gaming 9 AC is a case of adding as many useful features as MSI can think of. Storage is split between SATA 6Gbps and SATA Express, with 10 ports for the former and a single (two-port) space reserved for the faster standard. Very few SATA Express drives are available, mind, so it's more of a forward-looking measure.
There's an M.2 port between the PCIe x16, rated to transfers at PCIe x4 (32Gb/s) which relieves the bandwidth limitation imposed by the Z97 versions. Intel has a total of 40 PCIe lanes for the top-tier Core i7-5960X and 5930K CPUs yet even that's not enough to run all storage ports with unfettered access. Use the M.2, and the SATA Express or SATA ports 5-6 become unusable. This is not a criticism of MSI per se, but an observation of how Intel plumbs the chipset out.
Four of the five PCIe slots can be used for graphics duties leading to 4-way SLI or CrossFire. 40-lane CPUs are bifurcated to x8, x8, x16, x8 while the 28-lane Core i7-5820K, our favourite, runs the quartet of cards at x8, x8, x8, x4. The fifth slot is therefore consigned to expansion cards only.
Part of the board has an Asus TUF-like cladding called, in this instance, Dragon Armor. The section over the IO portion is screwed in, so if you want a perfectly neat build with all holes screwed into the chassis, that particular one needs to be undone.
Audio and video encoding
Audio ties the Realtek ALC 1150 codec to SoundBlaster Cinema 2 software and MSI takes LAN connectivity a step further by using the Killer E2205 controller. That said, any board with the latest Intel Gigabit NIC is no worse off in terms of performance. The AC reference in the board's name revolves around the presence of an Intel Dual Band 7260 chip offering 802.11ac networking and Bluetooth 4.0 in one package; MSI adds in the necessary antennae in the box.
Notice the red splash of colour in the middle? This is one feature which the company hopes will differentiate this board from others. Knowing the X99 chipset requires a discrete video card that loses out on the benefits of QuickSync technology found on many of Intel's other processors, MSI integrates a real-time encoding engine used to stream gaming to portals such as Twitch, YouTube or UStream.
Using an AVerMedia C353HD encoding processor that captures at 1080p and 30fps - with up to 60Mbps data rate - the chip is used in conjunction with XSplit Gamecaster software to stream video out over the web. MSI includes a two-year license to Gamecaster upon registration. The company says that going down this Streaming Engine route saves on CPU and GPU power required for encoding, but the latest Nvidia and AMD cards, and you'll likely purchase/have one of these for an X99-based system, have the necessary encoders right on the GPU itself.
As a comparison, the Streaming Engine running at 1080p30 has an imperceptible hit in performance when compared to running Batman: Arkham Origins alone. Using Nvidia's baked-in ShadowPlay feature instead, ostensibly for the same purpose, at 1080p60, reduces framerate by just two per cent, thus rendering, for most, Streaming Engine moot.

The board adds to the chipset's six USB 3.0 ports by using a two-port ASMedia chip and four-port VIA controller. This means the six left-hand red ports are all run off add-in hardware, with four more available on the board through two internal headers.
Summary
Living up to its name by adding a number of gamer-centric features, the X99S Gaming 9 AC additions are aimed at making this a more fully-featured offering that's designed to compete against the premium efforts by competitors such as Asus and Gigabyte.