A first look
Foxconn P9657AA-8EKRS2H - First Look.
We're taking a brief look at Foxconn's mid-priced Intel P965 motherboard. The full review will be up shortly. In the interim period, we offer a glimpse of what to expect.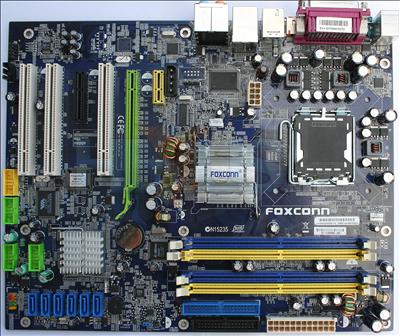 On first glance, the Foxconn P9657AA-8EKRS2H motherboard's layout is clean and thoughtful. The various ports and sockets have room to breathe, thanks to Foxconn, in the main, not adding a bunch of discrete controllers for added functionality. Rather, it's taken the P965 chipset's attributes and based a sensible, mid-priced board around it.

The CPU area is uncluttered, thereby making heatsink installation the simple affair it should be. Alongside it, the 8-pin 12V connector's associated cabling can be tucked around the heatsink for neat assembly. Foxconn's taken into account the lack of CrossFire compatibility inherent in the P965 design and not aimed this board specifically at the enthusiast, as there's no second x16 electrical slot or myriad of cooling on chipset bridges.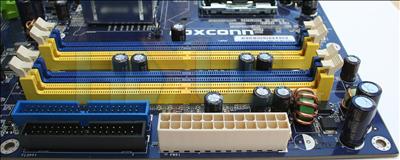 As you may know, Intel's new southbridge, the ICH8(R), doesn't support the PATA interface. Foxconn, though, understands that whilst the majority of users may have swapped out to SATA-based hard drives, PATA optical drives still account for the majority of sales. Like so many other manufacturers, it has turned to JMicron to provide PATA support, and you can see the port sensibly located on one edge of the board. The main 24-pin power and floppy ports are grouped alongside, which also makes decent sense.

Four DIMM slots provide dual-channel DDR2-800 running that can, theoretically pump 12.8GB/s of data to the CPU. Speaking of which, the P965 chipset has been designed with Intel's Core 2 Duo processors in mind, and Foxconn, really, is aiming at providing a medium-priced solution that will sit well with, say, a Core 2 Duo E6600. In layout terms, with Foxconn eschewing a second extra-long PCIe slot and opting for 6 expansion slots, there's no difficulty in removing and installing system RAM, which isn't always the case with most motherboards.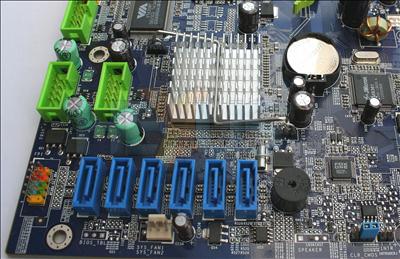 Looking down at the bottom of the board, we see 6 SATA ports that are all run off the ICH8R southbridge. What that essentially means for IHVs looking for a low-cost P965 board is the removal of a discrete controller that would, as in the case of i975X, offer a couple of extra ports. 6 should be enough for most users, we reckon.

You can also see the JMicron PATA controller to the very right and just below it the Fox One microprocessor that's designed to make BIOS tweaking easy. Handy, colour-coded motherboard-to-case pins makes connecting up the case's wiring a cinch. You can also see the third of the board's fan headers, with the four-pin header reserved for the CPU's fan.

The ICH8R southbridge also provides for 10 USB2.0 ports. FireWire connectivity, though, is handled by the all-new VIA VT6308P ASIC, which adds in two-port 1394a support. Further, Foxconn has endowed this model with Gigabit LAN, courtesy of a tiny Marvell ASIC.





You can see it on the right of the above shot, next to the I/O section. To the left, in the usual place, is Realtek's 10-channel (7.1 + 2) ALC883 audio CODEC that works in conjunction with Intel's High-Definition Audio emanating from the ICH8R.

Expansion-wise, Foxconn adds in PCIe x4 and x1 slots to complement the graphics-based x16. A further 3 regular PCI slots are available, too. You can't add a second x16 graphics card to the x4 slot, obviously, but with Sapphire releasing a x1 X1300 card recently, there's always the option of enhanced multi-monitor support.





eSATA suppport is a welcome addition to the regular-looking I/O section. Foxconn, then, seems to have all the bases covered as far as board layout is concerned.

Remember to check back for the full review, where we pit it against a well-tuned Gigabyte P965 motherboard as well as other high-performance chipsets from ATI, Intel (i975X) and NVIDIA.