MSI SiS 645 Ultra
MSI SiS 645 Ultra Review


Introduction
The Pentium IV motherboard arena has been a hive of activity recently, something that has not always been the case. Just six months ago, a potential Pentium IV owner was faced with choosing either an Intel I850 RAMBUS or the comparatively poorly performing I845 SDR SDRAM equipped motherboard. VIA were present too, albeit in a limited fashion, with their plagued P4X266 DDR based motherboards. Unfortunately for VIA, the lawsuit between themselves and Intel, with respect to PIV licenses, deterred many top-line motherboard manufacturers from producing boards based on their chipset.
The situation has changed somewhat today. Intel have introduced a competitive PIV DDR chipset themselves, the I845D. VIA seemed to have partially resolved their problems with Intel and have subsequently released an improved DDR chipset, unsurprisingly named the P4X266A, and Silicon Integrated Systems (SiS) have well and truly stepped into the PIV DDR motherboard arena with their SiS 645 based motherboards.
What makes the SiS chipset rather appealing is that it suffers from no legal wrangling with Intel, a fact that has ensured that many respected motherboard manufacturers are only too happy to produce SiS 645 based 'boards. Indeed, Asus, MSI, Gigabyte, ECS, Epox and Abit et al all have SiS 645 offerings available right now.
The SiS DDR solution is unique in the fact that it supports DDR200 / DDR266 and DDR333 (PC2700) straight out-of-the-box, no other PIV DDR solution can lay claim to this. The fact that it supports DDR333, coupled with its low estimated street price (SiS chipset equipped motherboards have historically hit the market with a low price), should see it garner quite a following.
The SiS 645 is largely based on the very successful SiS 735 chipset for the AMD Socket A CPU's, it differs by incorporating DDR333 support and by the use of independent North and South bridges (SiS 645 and SiS 961 respectively) connected by a proprietary 16-bit, 533MB/s-capable bus, dubbed MuTIOL. The memory controller has been enhanced from the transition from Socket A to Socket 478, too.
Micro Star International (MSI), like many other premier motherboard manufacturers, have been quick to produce a motherboard based on SiS' reference 'board. Today we'll investigate just how good MSI's interpretation has been. Let's have a look at the MSI 645 Ultra in a little greater detail.
Specification
Processors
Supports Socket 478 for Intel Pentium 4 processors

Supports 1300MHz up to 2200MHz+ processor and higher
Chipset
North bridge: SIS 645 Open Architecture DDR333 Chipset

South bridge: SiS 961 MuTIOL Chipset with 533MB/s 16-bit bus
System Memory
3 x 184pin DDR

DDR200 / DDR266 / DDR333 support @ 2.5v

3GB maximum system RAM
Slots
One AGP slot, 4x compliant

5 x 32-bit PCI slots

1 x CNR (Communication Network Riser) slot
On-board peripherals
1 floppy port supports 2 FDD

2 serial ports

1 parallel port

PS/2 Keyboard

PS/2 Mouse

Audio Port

Game Port

4 x USB 1.1 connectors (6 in total with the optional D-Bracket)
On-board IDE
An IDE controller on the SiS961 chipset provides IDE HDD/CD-ROM with PIO, Bus Master and Ultra DMA100/66/33 operation modes

Can connect up to 4 IDE devices
Audio
S/W Realtek ALC201A AC'97 Codec
BIOS & Voltages
AMI v1.21 BIOS

FSB speeds of 100Mhz - 200Mhz (quad-pumped)

1.475v - 1.60v Vcore for Northwood P4's

1.70v - 1.85v Vcore for Willamette P4's

No Vmem adjustment
Software
Fuzzy Logic 3 overclocking tool

Live BIOS / Live driver online updates

PC-Cillin 2000 Anti-Virus Software
Bundle and presentation
MSI are seemingly making a concerted effort to distinguish their boards from the rather homogenous motherboard world. The 645 Ultra continues the red theme that has been prevalent from MSI of late. I personally think this is a good idea, it shows that a motherboard manufacturer cares about the way their product looks. You can spot the 'signature' red from MSI easily. The design on the motherboard box is pleasing to the eye, too, with the support for DDR333 proudly emblazoned on the front cover.
Further investigation in the box reveals a rather well written manual, the ubiquitous IDE cables in the form of one ATA100 and one floppy cable respectively, we would have liked to see two ATA100 cables supplied as standard, surely a motherboard manufacturer wouldn't incur much of a surcharge by supplying another ?. It would make initial installation of all your devices that little bit easier. I usually take the time to read the manual when Windows XP is being installed. I found it concise, easy to follow and eminently readable. Top marks to MSI for once again producing a decent manual.
Our particular sample board, provided by MSI themselves, had the optional D-Bracket. The bracket incorporates a further 2 USB 1.1 ports, bringing the total available on the board to six.
The software bundle is solid, too. MSI ship their Windows-based overclocking tool called Fuzzy Logic. Fuzzy Logic is a particular favourite of ours, it safely overclocks your CPU through Windows, thereby eliminating many failed bootups. It also guesstimates your safe overclock speeds by raising the FSB one step at a time until the CPU or memory fails. Once rebooted it guesses a decent, overclocked speed, quite clever really. PC Alert III serves to monitor the health of vital components and Live BIOS / driver allows you to download the latest utilities and BIOS' through a simple update program from within Windows.
Layout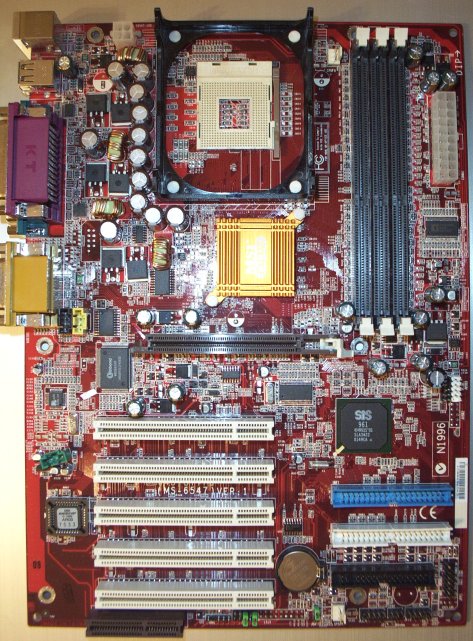 As is our customary tradition, we start at the top and work our way down. We firstly see the 12v P4 connector at the very top of the board, a place that I favour as the trailing wire doesn't have to navigate over the P4 heatsink. The main ATX connector is in easy reach, too. We see a passive heatsink being used to cool the Northbridge. We found the heatsink remaining relatively cool when running at stock speeds, hence the exclusion of any active cooling.
The AGP has a locking mechanism, ensuring that your card does not become displaced once inserted. The locking mechanism is a nice touch, it shows MSI's attention to detail. One gripe we have with the layout thus far is the proximity of the AGP slot to the DDR slots. Once an AGP card is inserted, you cannot remove system memory without first having to remove the video card. It's not that much of a deal, but if other manufacturers can ensure memory removal with the presence of an AGP card, then MSI surely should be able to do so too.
As you can no doubt see, there is quite a gap between the AGP slot and the first PCI slot, whether this is by deliberate design is unclear, it does however allow one to use a slightly larger cooler on the GPU core if need be. Once again, we see the inclusion of the rather redundant CNR slot, we'd happily substitute that for an extra PCI slot.
The IDE and floppy drive connectors are located at the bottom left of the board, a place that has steadily grown on me. It's easy to add or remove the IDE cables as they aren't obscured by the drives they service, this would have been the case if they were in their usual position sitting alongside the DDR slots. You have to ensure that your IDE cables are of sufficient length to reach the IDE ports, this should be no problem for hard drive cables but may pose a slight problem if you have a slightly larger case. I use a Lian Li PC60 case, the standard sized IDE cable would not quite reach the IDE port when connected to two devices mounted at the top of the case.
The standard CMOS jumper is present and easily accessible. We're slightly disappointed with only having two fan connectors on-board, one of which will be pre-taken with the CPU fan. The overall layout is clean, aided by the almost jumper-less design of the motherboard.
Features
The SiS 645 equipped motherboards are primarily being targeted at the budget-conscious user. By very definition this almost precludes an extensive feature list. The 645 Ultra is relatively spartan on the feature front. MSI do include their in-house D-Bracket, one that adds an additional two USB 1.1 ports. It also acts as a rudimentary problem-solving device. Various LED's switch on in a specific order. Their varying combinations can help the end-user to define the exact nature of the problem at hand.
The on-board sound is provided by the Realtek ALC201A codec. Whilst this is a slight step-up from the standard AC97 Codec, it cannot rival the CMI 87xx series of codecs. We fully understand and appreciate that MSI are trying to engineer a board to meet a certain budget, but we would have liked to have seen a more substantial on-board sound solution.
Installation was a breeze with no untoward incidents to report. Windows XP picked up the various components and motherboard chipsets without difficulty.
BIOS, stability and overclocking
MSI seem to be fans of AMI BIOS' and so are we. AMI BIOS v2.01a being the particular BIOS used for the 645 Ultra. FSB can be manipulated from 100 - 200Mhz in one Mhz increments respectively. The CPU to DRAM clock ratios can be a shade confusing to say the least. I've sought to draw up a simple table to illustrate the various frequencies possible.
| | | | | |
| --- | --- | --- | --- | --- |
| FSB | PCI Bus Speed | FSB:PCI Divider | FSB:Mem Ratios | Possible memory speeds |
| 100 - 132 Mhz | 33.3 - 44Mhz | 3:1 | 1:1 | 100 - 132Mhz |
| " | " | " | 3:4 | 133 - 176Mhz |
| " | " | " | 3:5 | 167 - 220Mhz |
| 133 - 165Mhz | 33.3 - 41.25Mhz | 4:1 | 4:3 | 100 - 124Mhz |
| " | " | " | 1:1 | 133 - 165Mhz |
| " | " | " | 4:5 | 166 - 206Mhz |
| 166 - 200Mhz | 33.2 - 40Mhz | 5:1 | 1:1 | 166 - 200Mhz |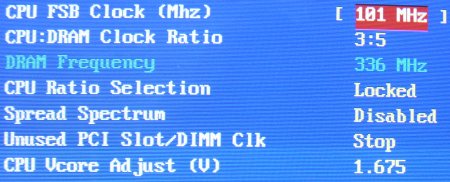 The first thing to note here is the provision of adequate PCI dividers as we scale the FSB ladder. These ensure that sensitive PCI devices are kept roughly in specification as FSB's are raised. Secondly, it confirms that the SiS 645 equipped motherboards are ready for the imminent 133FSB (533 FSB QDR) Pentium 4's.As you can see, there are a multitude of options available, thereby ensuring you get the most out of your RAM.
Unfortunately, overclocking options are kept to a bare minimum with a lack of RAM voltage adjustment coupled with limited CPU voltage adjustment. We could only set a maximum of 1.60v for our Northwood without having to resort to vid-pinning.

Memory timings can be tweaked but not to the extent that some of us would desire. You're given the choice of running at either CAS2.5 or CAS2, and are able to manipulate general memory timings to 'Safe', 'Normal', 'Fast', 'Turbo' and 'Ultra' . You are also given the option of running the performance-enhancing 1T memory command.
The usual gamut of options are present along with a rather handy IRQ re-routing option, one that comes in useful if too many devices are set to share the same IRQ.
Testing for stability seems to be a non-event recently. We ran the motherboard with the strictest memory timings over a continuous 24 hour period. During this time, we set it to run SETI and Prime95 concurrently. We also looped 3DMark from time to time. We received no errors or anomalies that could be directly attributed to the motherboard. SiS and MSI's engineers certainly seem to know how to engineer a stable board.
We tested the board with DRAM from Corsair (XMS2700), Crucial (DDR333 Engineering Sample) and Samsung DDR333. We could run at DDR333 when using all three sticks concurrently, but couldn't run with anything greater than 'Normal' memory timings. We encountered no such problems when running at DDR266. We must note that only the Samsung DDR333 stick could run at DDR333 with the most aggressive options in BIOS, including the 'Ultra' timings and 1T performance command. The Corsair and Crucial sticks could be run at 'Normal' and 'Fast' timings respectively, any faster and the system would hang in various benchmarks indicating a memory related error. We certainly would have appreciated some voltage adjustment in this instance.
One aspect to note with almost all Pentium 4 motherboards is the voltage given to the CPU can be up to 0.1v less than set in BIOS. This is to be expected as it conforms with Intel's VRM 9.0 specification.
The SiS 645 chipset seems to be one that can presently accommodate the soon to be released Northwood 'B' processors running at 133FSB (533FSB QDR). We see that 3:1, 4:1 and even 5:1 FSB to PCI dividers have been incorporated into the design. To test the potential FSB speeds of our test motherboard, we used a highly overlclockable 1.6A Northwood, one that has hit over 160FSB in other P4 'boards. It seems as if SiS are ready for the 133FSB P4's as we could complete our gamut of benchmarks at 153FSB comfortably. Any higher and we encountered the occasional error, even when Vcore was boosted to 1.85v via the vid-pinning method. Here's a quick SiSoft Sandra shot detailing our overclocking exploits.
System Setup
Here's a quick rundown of the test system should you wish to compare benchmarks with your own.
Intel 1600Mhz S478 Northwood CPU

MSI SiS 645 Ultra, run in both DDR266 and DDR333 modes (BIOS A6547SPS.105)

256MB Samsung DDR 2700, run at CAS2
MSI I845D Ultra ARU (Intel Brookdale DDR chipset) run in DDR266 mode (BIOS A6398IMS.320)
Common components
Leadtek Geforce 3 Ti 500 clocked at stock speeds of 240/500

120GB Western Digital 120JB 7200rpm hard drive with 8MB cache.

Liteon 32x12x40 CDRW

Liteon 16x DVD

Samcheer 420w PSU

21" Sony G500 FD monitor

D-Link FE530TX NIC

Sonic Fury Soundcard

Lian-Li PC60 Aluminium Case
Software
Windows XP Professional Build 2600.xpclient.010817-1148

Detonator XP 23.12 drivers

Sisoft Sandra 2002 Professional

Pifast v41

Lame v3.91 MP3 encoding with RazorLame 1.15 front-end

XMpeg 4.2A DVD encoding, Div3.11 codec

3DMark 2001SE

Serious Sam 2 Demo

Quake 3 v1.30
All benchmarks were conducted at 1024x768x32 100Hz with vertical sync' disabled. Benchmarks were run 3 times consecutively, an average score was taken. Both systems were configured for maximum performance. Due to the use of some excellent Samsung DDR333 RAM, we were able to run the most aggressive memory timings for the SiS 645 'board in both DDR266 and DDR333 modes A fresh installation of Windows XP was used in both instances. We've deliberately used a 1.6Ghz Northwood as it's likely to be paired with the similarly low priced MSI 645 Ultra in end-user's systems.

On to the benchmarks and conclusions