PROficient
Readers looking to build a new mid-range PC would do well to take a good look at Intel's Sandy Bridge processors. In fact, we would find it hard to recommend anything other than an LGA1155 (Sandy Bridge) chip and associated motherboard as the guts of a mid-range system.
Now with chipset problems a thing of the past, folk can drop some cash on an LGA1155 platform without worry. HTPC users would be best advised to go with the el-cheapo H61/H67 chipsets and use the CPU's integrated graphics, while power users/enthusiasts should look toward the P67 models that offer support for multi-GPU graphics cards and a shedload of features.
ASUS has at least nine variants of the P67 (B3 stepping) chipset in its voluminous line-up, including a couple of micro-ATX boards. The cheapest of the bunch, P8P67M, attracts a sub-£100 retail price, while the Daddy board, the Maximus IV Extreme, doesn't leave much change from £300. Yup, there's a lot you can do with a base chipset.
The first genuinely enthusiast-orientated motherboard is the £150 P8P67 PRO. Crammed with three PCIe x16 mechanical slots, SLI and CrossFireX compatibility, and a slew of features, let's take a closer look.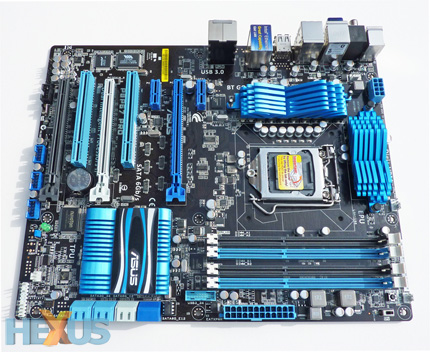 The standard ATX motherboard has a lot going on but doesn't feel crowded or cramped, helped by the fact that the P67 is a single-chip solution; there's no northbridge to speak of. The various connectivity plugs - power, SATA, USB - are all laid out at the very edge of the board, which is good thinking.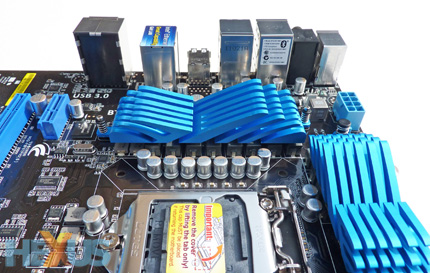 Zoom into the CPU area and ASUS doesn't feel the need to litter the rather cool-looking heatsinks with heatpipes and fans. In fact, they barely become warm during operation at stock speeds.
We use a standard Core i7 2600K cooler for testing, and it's easy to mount as it attaches from a top-down perspective and screws into a backplate. Installing a Core i5 2500K cooler is a little trickier, especially on the side which is hemmed in by the heatsinks, so perhaps ASUS would do well to push said heatsinks out a little ways.
Memory ratios are such that a dual-channel kit can be run at up to 2,133MHz while keeping the CPU at a default (and necessary) 100MHz base clock. The emergence of 4GB sticks means that the board will take 16GB without issue.
The trio of heavyweight motherboard manufacturers -ASUS, Gigabyte, MSI - have gone to great lengths to evangelise the merits of their respective power-saving technologies, for there is only so much stock performance to wring from a chipset supporting a highly integrated CPU. ASUS' goes by the name of EPU and uses what's known as a Digi+ VRM. In plain English, these board-powered technologies control the number of power phases being sent to the CPU, ranging from one to 12, with the premise of lowering energy consumption when not running at full tilt.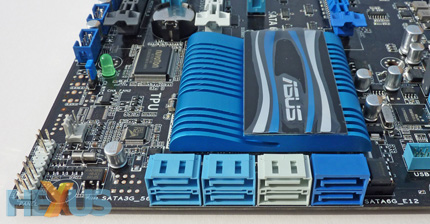 Like the reviewed P8P67 Deluxe, this board has a removable UEFI BIOS chip and a header for connecting a front-mounted USB 3.0 box, though none is included in the bundle: ASUS simply ships a rear-mounted, two-port plate instead.
The left-hand six SATA ports - four SATA 3Gbps and two SATA 6Gbps - are powered by the Intel P67 chipset, while the remaining two SATA 6Gbps are hooked up to a Marvell 9128 controller. The low-profile heatsink and angled nature of the ports means that super-long graphics cards won't inhibit connection to any SATA port.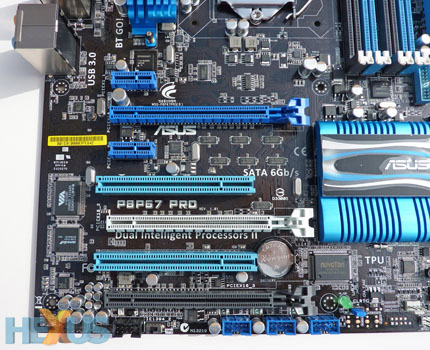 The topmost PCIe 2.0 x16 slot grabs all the lanes when running one graphics card. Add a second (to the white-coloured slot) and the board bifurcates the lanes to eight each. Throw in a third card, to the black-coloured slot at the bottom, and it can run at x4, though it shares bandwidth with the two PCIe x1 slots, meaning it drops to x1 if either of the two shorter slots are in use.
But the nature of PCIe slots means that any card or peripheral with a lower lane requirement can be run in any slot, so we're thinking of dual graphics and an OCZ Revo SSD, for example.

Flick it around and ASUS goes to town on the I/O section. It provides total of eight USB ports (six USB 2.0 and two USB 3.0), two eSATA ports (one of which is powered), FireWire, PS/2 keyboard and mouse connectors, a Bluetooth module (purple cap), optical and S/PDIF outputs from the Realtek ALC892 audio chip, and an Intel-powered Gigabit Ethernet port. Phewee.
These comprehensive outputs are outshone by the P8P67 Deluxe, however, which adds in a further two USB 2.0, a second Gigabit LAN and a clear CMOS button. Who says you can't have enough ports?
First-page verdict
ASUS' P8P67 PRO £150 price tag is reflected by a solid board with a whole host of features' trimmings. Indeed, there's not much more we'd like to see on what is, by ASUS standards, a mid-range P67 board.