ABIT TH7-II Review
Abit TH7-II Review
Intel has released two chipsets for its PIV CPU, the i850 for supporting Rdram, and the i845 for supporting Sdram and DDr. The choice of boards with the i850 chipset is quite limited, as it generally costs more than an equivalent board with the i845 chipset. Abit were one of the first motherboard manufacturers to make an i850 board available, the TH7. This utilised a socket 423 and was used with the original PIV, the Willamette. Building on their laurels after the success they achieved with that board, they have now introduced the TH7-II, for use with socket 478 PIV. This is still an area where few boards are available, with only competition from MSI, Asus, Gigabyte and Intel with its reference board. Abit has always been the overclocker's choice, as they implement numerous features that other manufacturers do not, such as the very easy to use SoftMenu III system.
Board Features
The TH7-II is a well specified board, and comes supplied with everything you could need to get it up and running. It has a very good feature set, and if required, can be purchased with the Highpoint onboard raid controller.
CPU
Supports Intel Pentium®4 Socket478 processor (400MHz System Data Bus)

Chipset
Intel® 850 (ICH2) chipset Supports 400MHz (Front Side Bus)

Memory
Supports up to Four 184-pin Direct Rambus RIMM modules up to 2GB (PC600/800)

Ultra DMA 100/RAID
High Point HTP370 IDE Controller (Optional)

Audio
AC'97 Digital Audio controller integrated
BIOS
SoftMenu™III Technology

Multi I/O
4 Channels Bus Master IDE Ports support to 8 Ultra DMA 33/66/100 Devices.

Miscellaneous
1 AGP slot, 5 PCI slots and 1CNR slot


The onboard sound is only a standard AC97 codec, but it's adequate for normal everyday use, although hardcore gamers will most likely put in a PCI soundcard.
The board is supplied in Abits standard packaging, and included with the motherboard are the sundry items, such as IDE/Floppy cables, Driver CD, Manual, ATX back plate, Game port, and an additional thermistor that can be used for monitoring you GPU, Northbridge, or Rambus.



The board is very cleanly laid out, with easy access to the IDE headers, and ATX power connectors. You will notice that the layout of the PS/2, USB, Parallel/Serial and game ports are different to a standard ATX motherboard. This is why the additional ATX back plate is supplied with the board. Abit have given thought to the many people who often build their computers outside of the case, and have added two micro buttons, and four onboard leds, saving the hassle of having to connect the power/reset switch on the case. The four memory slots are positioned well away from the AGP port, so that when you have memory installed, the retaining clips do not foul on the back of the AGP card, another thoughtful piece of design. There is also a retaining clip for the AGP card, so any LAN gamers will not find it coming loose when they are moving their boxes around.
Also onboard is a bank of dipswitches, which can be used to configure the cpu/voltage/fsb options, although it is easier to do this using the Softmenu function. A minor flaw is how close the clear cmos jumper is to the floppy drive connector, it can make it quite awkward to get to once the board is installed into the case.
Something else that will appeal to overclockers, is the addition of micro strips on the back of the motherboard, underneath the mosfets and capacitors which are used for the supply of current to the CPU. These are very small strips which according to Abit increase the stability of the board when overclocking. The area around the socket is also clear from obstructions, and will allow for a substantial heat sink to be applied. I had no problem fitting an Alpha to it.

The micro strips to aid stability, and the clear space around the 478 socket
Another good feature that has been implemented is the use of a diagnostic display, which can show error codes and allow quick and easy diagnosis of any problems that might occur when installing the board. The manual features a comprehensive list of the error codes, and it does work. When first installing the board I didn't have one of the Rimm modules pushed in firmly enough, and the error code was displayed, allowing me to go almost straight to the problem.

Onboard Reset/Power switches, and diagnostic display/LEDS.
Bios and Manual
The bios is by Award, and features Abits unique Softmenu III function, for easy adjustment of CPU and voltage parameters. The options allowed vary depending on the type of CPU that you put into the board. With an older Willamette, the vcore allowed is up to 2.2v, where as with a Northwood chip, you can only have up to 1.625v. This can be overcome with a modified bios that allows up to 1.85v for a Northwood CPU. Ram voltage is not adjustable, as Rdram is more sensitive to voltage increases than DDR or SDR. The Rambus options are for the divider, which can be set at 300 MHz for a 3x divider, 400 MHz for a 4x divider, or set to Auto. You should be careful about changing the memory divider, is not all Rambus is capable of running at high fsb's. The other bios features are fairly standard, there are no memory timing options on the board, as they are not required with Rambus.
The manual is well laid out, and comprehensive, covering installation of the board, bios settings, and installation of the chipset and sound drivers. There is also a list of Abit contact details in the back should you encounter any troubles.
Performance and Testing
I used the following components for testing, the cpu being one I have found that will overclock extremely well at low voltages, so is ideal for pushing this board to its limits.
Abit TH7-II Socket 478 Motherboard
Intel Pentium IV 1.8A Socket 478 CPU.
2 x 128mb Samsung PC800 Rimms
Ati Radeon 8500 275/275
40 GB IBM Deskstar
This was all set up, and then a clean install of Windows 2000 was done. I have used various programs to test the performance, including 3d Mark 2001, Sisoft Sandra, Super Pi, Seti, and others. I have also benchmarked the board with two different settings, to test the performance of the Rdram when running at PC1066 speeds. The i850 does not officially support this speed, that will not be implemented until the i850e later on this year, but the Abit board had no trouble running at that speed, which provides some future proofing in these fast moving times. The Samsung Rdram is also only PC800 rated, but quite happily managed to run at PC1066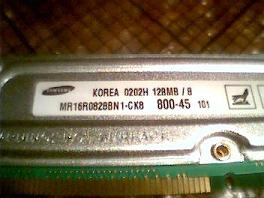 Samsung 128/8 PC800 Rimm
First off some Sandra benchmarks to check the cpu/multimedia performance of the system, all tests where carried out with the CPU at 2400 MHz, only the speed of the memory was changed at any time.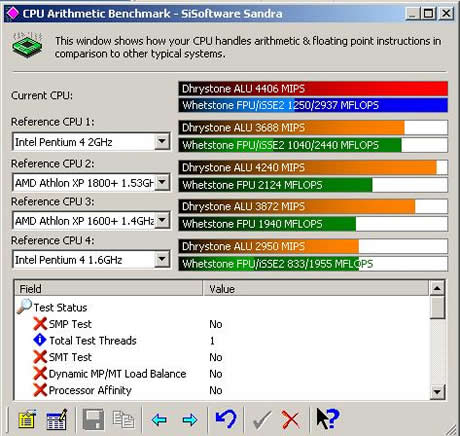 As you can clearly see, with the cpu running at 2400mhz it is a lot faster than a PIV at 2000mhz. Next up the multimedia benchmark.
Again, significantly faster than a stock PIV. The reason I am running at 133 bus, which is overclocked right from the start, is to get an even comparison of the Rdram running at both speeds. When running at 2400 MHz I can set the Rdram divider to either 3x giving me 399, which is stock speed for PC800 memory, or change it to 4x which gives me PC1066.
Now for the memory benchmarks, the first one running at 2400/400. Rdram is extremely fast, even when running at stock speeds, as you can see.
With the CPU running 400 MHz faster than the one featured in Sandra, memory bandwidth is getting close to 2900mb/s, which is extremely good. When I change the ram divider to 4x and ran the benchmark again at 2400/533 I got the following result.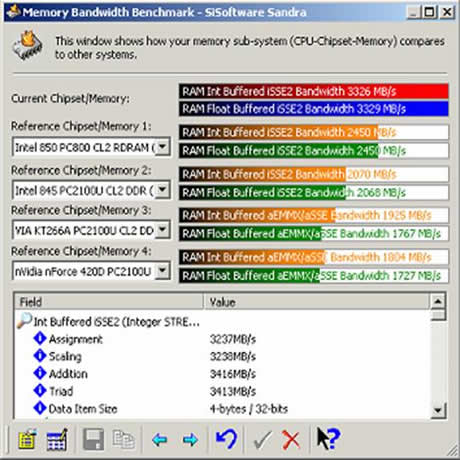 I now have nearly 3300mb/s of bandwidth, an increase of 400mb/s. This might look very impressive in artificial benchmarks, but how does it perform in the real world. I ran a few more tests to see if the memory bandwidth was a limiting factor. First off, I ran 3d Mark 2001, every gamer's favourite benchmark.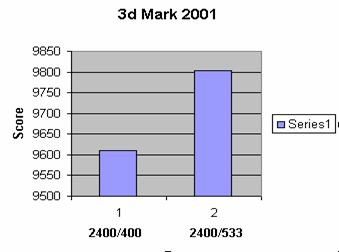 A performance increase of 200 marks, which is not bad considering only the memory bandwidth has increased. I ran the test five times at each speed, and each time the difference ranged between 198-214 points. Next up I ran Super Pi, and calculated Pi to 32 million decimal places.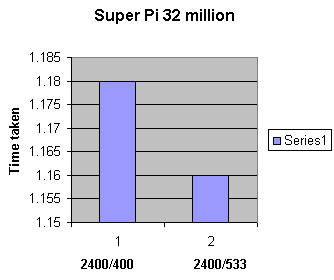 When calculating 32 million decimal places of PI, with the CPU at 2400 and memory at 533, it was just over 2 minutes faster, showing that the increased memory bandwidth does help in real world use. Another popular program is Seti, many overclockers are in teams, and they always want the fastest performance possible when running Seti. I used a benchmark unit, and calculated how long 1% of the unit would take when running at both speeds.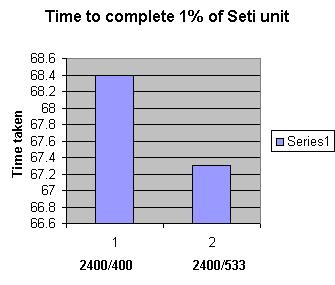 It works out at 1 second for every 1% of the unit completed, which is not an insignificant saving when you consider the amount of units that could be done in a week, and the time saved doing them. Now for some games testing, as not everyone uses Seti and Pi, they want to know if it will help with games performance. Firstly, Serious Sam, running the Karnack demo.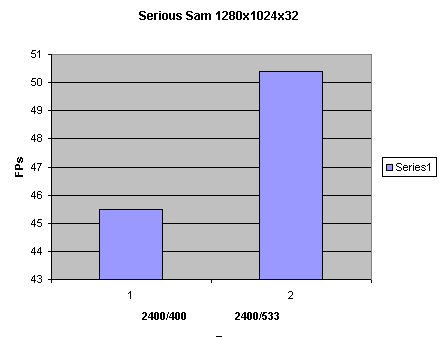 Running at 1280x1024 in 32 bit colour, with detail set to high, the increased bandwidth translates into an extra 5 fps. Next I decided to try Quake 3, but this time using a higher resolution to see if the increased bandwidth still had an effect.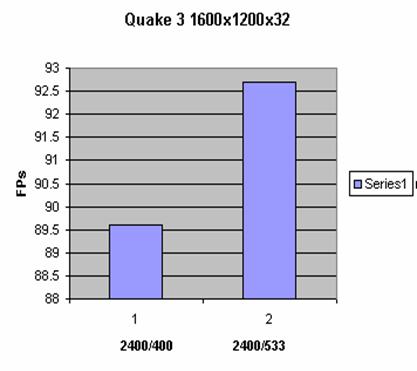 This time, running at 1600x1200, 32 bit colour with textures and quality on full. The increase here is only 2 fps, but it's still an increase. This shows that at the higher resolution the graphics card is still the bottleneck.
I have been extremely impressed with the Abit TH7-II throughout testing, it has not failed once, and stability has been excellent. Despite pushing the limits of my CPU, and constantly rebooting and changing settings, the board takes it all in its stride. If you are considering taking the Rambus route with your PIV, then the TH7-II should definitely be on your short list. It may lack things like USB2, 6 channel audio, etc, but it more than makes up for it in the stability and performance.