Soyo SY-K7V Dragon Review
Introduction
The concept of 'designer' hardware seems to have sprung up fairly recently due to the increasing popularity of the case modification scene. Personal Computers have long since passed being the boring beige boxes that sit under your desk, whirring away and have turned into something to look at and admire.
This is possible due to a complete influx of components and accessories for the PC designed to be a bit more interesting to look at than the usual beige crowd. The items cover the entire spectrum of PC components from monitors to cases to ram sinks to spiral wrap for cables to window kits. The latest trend from board manufacturers is to colour the PCB's used in their components like motherboards and graphics cards.
We first started to see this at Hexus with Abit's GeForce2 MX400 Siluro card which sports a jet black PCB, rather than the usual green. This carried on with Gainward's red GeForce3 and you can see it all over in items from other manufacturers. MSI have a range of red motherboards and Hercules cards, maybe the original fathers of the trend, have been bright blue for quite a while usually sporting blue heatsinks. Even Asus, a company usually associated with stability and solidness while not being particularly exciting even has the odd coloured PCB among its products, the CUSL2 Black Pearl and it's current black GeForce3 V8200.
Combine these coloured PCB's with neon and UV lighting kits for the PC, window kits provided for case sides to allow you to see into a case and various accessories for the inside of the PC like the blue ram sink kits from Thermaltake and you can easily make your PC stand out from the crowd. Take a look at a couple of these links to case mod sites and you'll see what I mean.
http://www.bit-tech.net/
http://www.caseetc.com/
I have to say, I've shopped at CaseETC before and it's always a pleasure buying from Cole and the gang. They also have no worries shipping to the UK which some places have a problem with. While this is a shameless plug for them, I really do recommend them for case modding parts.
So what does this have to do with Soyo and the Dragon? Well they've taken the motherboard past the coloured PCB stage and have started colouring other components on the board, most notably the PCI slots, in this case a bright purple! The PCB itself is jet black and added to the purple PCI slots and the coloured IDE ports and we have a stand out motherboard indeed.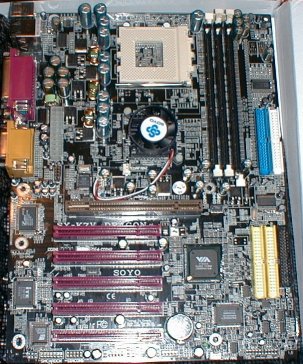 As you can see, quite a nice board to look at and it certainly stands out. But good looks only get you so far and certainly won't pick up performance in any way so the rest of the board needs to measure up too. In the box you get the motherboard, the backplane panel and cable for extra audio features (see later in the review), 3 ATA100 compatible IDE cables and a floppy cable. It's nice to see the extra IDE cables given the RAID controller on the board. The manual is also extremely detailed and very helpful in setting everything up, even down to minute detail as far as the RAID controller and onboard audio are concerned
So let's get down to the details.
Technical Specifications
The Soyo packs quite a lot onto its stylish board as you can see from the following formal technical specification.
CPU Support
· 200/266Mhz Front Side Bus AMD SocketA CPU's from Duron 600 through to Athlon 1400 and beyond.
· Full range of multipliers from 5.0x to 12.5x.
Memory Support
· 3 x DDR DIMM slots supporting 200/266Mhz DDR DIMM modules.
· 1.5GB maximum memory support.
Slots and Expansion
· 1 x AGP Pro slot
· 5 x 32-bit PCI 2.1 slots
· 6 x USB1 ports (2 on the ATX backplane, 4 on slot backplane via fly-off cable)
· 2 x IDE ports
· 1 x Floppy I/O port
· 2 x Serial I/O
· PS/2 Mouse and Keyboard ports
· 1 x Parallel Port
Chipset
· VIA KT266 chipset
· VT8366 Northbridge
· VT8233 Southbridge
On-board Extra Functions
· Promise ATA100 hardware RAID0/1 controller with 2 x IDE ports
· C-Media PCI Hardware Audio Controller (CMI8738)
· 100Mbs Ethernet (no header) via VIA chipset
· Smart Card reader chipset
So we can see that the Dragon is full featured with extras such as hardware RAID and hardware audio via a C-Media chip. The C-Media implementation on the Soyo is of particular note.
I first saw a C-Media hardware implementation on my old IWill KK266-R motherboard and while I missed the front and rear outputs I was used to on my Soundblaster Live!, I found the sound quality to be just as good and the fact that it freed up a PCI slot meant that my Live was relegated to a supporting machine.
This implementation addresses the only fault I had with the setup on the IWill. The CMI8738 on the Dragon supports full 6 channel speaker support via a backplane connected via fly-off cable. This gives me the full independent control over the rear speakers I have with the Live which allows me to stop mirroring the front channel to the rears. It also provides a dedicated subwoofer output if your speakers support it. Sadly mine don't, but getting the rear channel back and having full control is a bonus which is well received. The backplane also provides full optical input and output allowing you to feed the PC from an optical source such as Sony Minidisc for optical recording, or you can output optically to a dedicated amplifier. You also have full SPDIF (Sony Philips Digital Interface) input and output, however I don't think they can be used at the same time as the optical I/O unfortunately for outputting to or recording from multiple sources at the same time.
So you have most of the features of the much more expensive Live Platinum cards from Creative and other similar dedicated cards from other manufacturers, but without the use of a PCI slot and essentially it's free since I don't think a C-Media solution affects motherboard pricing by very much. Of course, the chip supports DirectSound 3D, EAX and Aureal A3D. It also supports AC3 optical out for playing DVD audio out to a decoder for full 5.1 audio support.
All in all, a great value added feature and while audiophiles might not class it as worthy, for things like personal audio, listening to MP3 via decent speakers and playing DVD's, it certainly sounds fine to me. While it's not a patch on my dedicated AV equipment, it's perfect for the job it does.
Layout
As you'll know from any of my previous reviews, I like to take a look at board layout since a bad layout can completely spoil a board and make it practically at least, a real pain to use. So how have Soyo done with the layout of the Dragon?
Starting as we always do at the top and working our way down, our eyes first hit the ATX power connector on the top left of the board. Rotated vertically and slightly down from the top edge, its placement is decent. When I first came across a layout like this for the ATX power connector on the MSI K7T266 Pro2, I was initially sceptical but I've grown to like it. The connector is mirrored in placement from the MSI, by that I mean the connector itself needed to be rotated 180 degrees with the connector notch on the right hand edge, rather than the left on the MSI. It just means an extra twist in the connector as you attach it so be careful.
Next we have the CPU socket and this is the first board I've seen with this socket orientation. On all my previous motherboards, the socket handle ran parallel with the vertical edge of the board from top to bottom. On the Dragon, the socket is rotated 90 degrees clockwise. Using a normal heatsink with the board should be fine and it may possibly be beneficial to have such a layout since I imagine in many ATX cases, it will bring the clips more into the open and easier to access as a consequence.
However, since I use water cooling in my system and I'll soon be migrating to a Vapochill setup, it's a pain. For water cooling users, the 90 degree twist may mean a complete re-piping depending on the slack available in your piping. I just got away without having to redo the application; however there is most definitely a bit more stress on my pipes as a result. Vapochill users may be in even more trouble. Asetek, the Vapochill vendor, tests and verifies operation on Asus SocketA motherboards which don't share this socket layout. Putting a 90 degree twist on a Vapochill unit definitely isn't optimal since the unit applies a fair deal of stress to the socket in it's default orientation, never mind a 90 degree twist added to that. I'm sure Asetek will confirm operation with a Dragon but I wouldn't count on that confirmation being positive. On the other hand, the holes for mounting a sink or water block such as a Swiftech MC462 or Alpha 8045 are there and there is plenty of room around the socket.
All four IDE ports and the floppy I/O port are vertically aligned and close to the right vertical edge which is perfect placement in my opinion. The floppy port could have been grouped with the main IDE ports rather than further down with the Promise ports to allow for a shorter cable length, but that's a minor grievance.
Everything else is standard. The AGP and PCI slots are all 1 slot higher on the backplane than the previous 2 boards in my system, the MSI K7T266 Pro2 and Abit's excellent KG7-RAID however this poses no problems. Only 5 PCI and no ISA and with 6 PCI slots being nice, with the good onboard sound solution possibly eliminating the need for a sound card for some people, it's no great loss on the Dragon. Wake-On-LAN, extra audio backplane and USB headers are all easily accessible places.
Overall it is a very good layout with only the socket orientation liable to be cause for concern. Only then a minority of users with water cooling or other cooling setups like a Vapochill will be wary of the layout.
Software Bundle
Unlike most motherboards that pass my way these days, the Soyo actually has a software bundle worth mentioning, if only for one stand out piece of software. Rather than just throw the chipset and supporting drivers, manual and promotional stuff on a CD, you also get a half decent software bundle too.
On a separate CD you'll find the following:
· Norton Antivirus 2001
· Norton Ghost
· ActiveShare
· VCOM Autosave
· Intervideo WinDVD Player
· eWalla
· Imagemore
· Acrobat Reader
Running through them in no particular order we have Norton Antivirus 2001. Compatible with Windows 9x/Me and Windows 2000, it's a decent anti-virus suite. However I've seen in recent tests that it doesn't pick up all virus' and it has a reputation for hogging system resources. It's free though and certainly isn't the worst anti-virus suite you could have. ActiveShare is an image management solution to be paired with imaging hardware such as a scanner and digital camera. I didn't test it's functionality however. Autosave is a backup solution that promises a revolutionary method of backing up your files. Untested, it's also only a trial version. WinDVD along with PowerDVD are both very good Windows based DVD players. However, it's only a trial version but you are likely to have one or the other in full version form from your latest graphics card purchase. eWalla is one of those pointless virtual pets that live on your desktop and it integrates with your email supposedly. It also speaks to you. Untested (for obvious reasons I hope you'll agree!). Imagemore is simply a collection of high quality photos and Acrobat Reader is the ubiquitous method of reading PDF documents on Windows and has my vote for the piece-of-software-that-should-be-bundled-with-Windows-anyway™ award.
Finally we come to Norton Ghost. Ghost is one of my favourite pieces of software. It allows full backup and restore of any FAT, FAT32, NTFS and EXT2 (Linux) partition on your system. They are backed up to .GHO image files and you can set varying levels of compression. For reviewing hardware, Ghost is invaluable. For each motherboard that passes my way, I install base operating systems with the current stable drivers for each piece of hardware in the system. Then I let Ghost archive them to image files along with a short text file on what hardware the image supports and what software and drivers it contains. Then in the event of a system crash where Windows stops booting or I get an old motherboard back in my system a CD with my image file gets me back up and running with all my settings and drivers installed in under 10 minutes. It has saved me many a reinstall and really is worth me rambling on about. Top marks for Soyo for supplying Ghost with the Dragon.
The VIA KT266 chipset
Having just tested VIA's KT266 evolution, the A version of the chipset on MSI's KT266A board I come to the KT266 on the Dragon a little under enthusiastic. Some motherboard vendors have had a real struggle with the KT266 and it just plain underperforms against the AMD760 chipset in terms of raw performance. But thinking about it, it's all relative.
Compared to a chipset which is now considered old, but which still performs incredibly well, the VIA KT133A, the KT266 is very fast. With the KT266 essentially being a KT133A with DDR memory support and a few teething problems, should we really be all that concerned? Considering the applications the average user is likely to run, should such a user be disappointed to see or use the Dragon in their systems? I don't think so at all. It's a good performing chipset and complements the Athlon and DDR memory very well.
For the professional or more demanding user who runs sophisticated applications requiring that little bit more memory bandwidth or the gamer who must have top performance at all costs or the user who can't help but have the latest toys, sure, get a 760 or a KT266A. But pairing the KT266 with any of today's top graphics cards like the GeForce3 and you won't have a slow system by any means if you are playing the latest games. Nothing should stutter or slow down provided you back it up with a decent processor and memory.
Thinking about things like this, rather than blindly comparing the chipset to the latest and greatest is missing the point by quite a margin in this reviewer's opinion. I like to push the envelope as much as the next person, but I also appreciate a solid board with good performance and good features and the KT266 equips a board with the former with Soyo providing the latter with the C-Media and the Promise controller.
Finally the KT266, like the KT266A is a V-Link solution utilising VIA's V-Link technology in connecting the north and south bridges with 266Mb/s of available bandwidth. More than enough given the requirements of all the busses connected to the bridges. They are also VMAP chips meaning they are pin compatible with other chips in the VIA VMAP family and shouldn't essentially require much more than a swap out and new BIOS. Soyo are utilising this in providing the forth coming KT266A version of the Dragon and other manufacturers have done the same. I've mentioned VMAP before in other reviews, but it's a good effort by VIA to enable quick time to market with new VMAP boards and deserves more coverage.
Performance
Before we discuss the performance of the Dragon, it should be pointed out that the board suffers the same problems as most, if not all, other KT266 boards in that the USB controller stops working and is turned off in the BIOS at any front side bus speed greater than 138 MHz. This is a known limitation of the KT266 family of boards across all manufacturers. While the USB functions perfectly at every speed up until 138MHz, anything after that and the BIOS shuts the controller off. While this shouldn't bother normal users who don't overclock their PC's, enthusiasts will be disappointed.
Secondly, there seems to be a glaring omission from the AWARD BIOS on the Dragon. Everything expected is in the BIOS including full multiplier and front side bus adjustment and CPU core voltage adjust without resorting to jumpers. However, the DDR voltage cannot be adjusted on the Dragon. Again, for normal use, this isn't a problem but overclockers usually find that the memory voltage needs to be increased slightly from the default of 2.5V to achieve the higher memory speeds. This omission had limited my performance evaluation somewhat. The stick of Crucial I have here tops out around 148 without extra volts. While the stick is quite happy all the way up to 166+, it needs 2.7+ to do so.
Both these issues have conspired somewhat to limit the testing of the board. I don't have any non USB mice these days and spending more than an hour or so inside Windows without a mouse becomes a real chore. Add to this the inability to push the board past 148MHz and even then, without any USB support means for me at least, the Soyo is usable only at default speeds. Sure I can overclock to 137MHz but the performance increase is negligible in real world terms. While Sandra will show you an increase and you'll get your 1 or 2fps increase in your favourite game, you will never really notice.
While I pondered going through the motions at the overclocked FSB's a couple of things stuck in my mind. Firstly, the KT266 is no performance platform. It's beaten now by 3 different AMD DDR chipsets to my knowledge. Secondly, many users won't be able to take advantage of the higher FSB's due to the USB issue. I think these are valid reasons fro just showing default performance. If you disagree, please email me to discuss.
So here we go with all the numbers at 133 MHz FSB and lets pray that Soyo add memory voltage adjustment to the KT266A version of the Dragon! We know that the KT266A has no USB issues from past experience so Soyo, please, put memory voltage adjust into the BIOS on the new Dragon!
Test System
First, as usual, let us take a look at the test system before we proceed to the numbers
· Soyo SY-K7V Dragon Motherboard (VIA KT266, SocketA)
· AMD Athlon 1.2MP processor
· 256Mb Crucial PC2100 DDR
· Asus V8200 Deluxe GeForce3 64Mb
· Adaptec 39160 PCI SCSI Dual Channel U160 controller
· 2 x 73Gb Seagate Cheetah U160 10,000rpm SCSI disks
· Plextor 12/10/32S SCSI CDRW
· Creative 12x IDE DVD
OS and Driver Software
· Windows 2000 Profession SP2
· NVIDIA Detonator XP 21.85
· VIA 4-in-1 4.33
Just the one software change from recent reviews and that's the switch to 21.85 Detonator XP drivers under Windows 2000. The Soundblaster Live is also omitted due to the excellent C-Media onboard audio. Otherwise, the spec is broadly similar to my past reviews.
I'm also happy to report that the Dragon was happy to boot the Athlon MP Processor used in the test system and has been running with it fine with no issues encountered. Athlon XP CPU's wont present any problems to the Dragon either and while the current BIOS may not display the correct CPU name strings that AMD require, I don't consider that a bad thing. AMD may argue the toss though!
Benchmarks
First let's start with Sandra, our synthetic benchmark suite. While we won't get any kind of real world numbers from Sandra, it's a very good comparative benchmark and produces very consistent results which make it a popular choice.
Firstly we have the CPU and CPU Multi-Media results.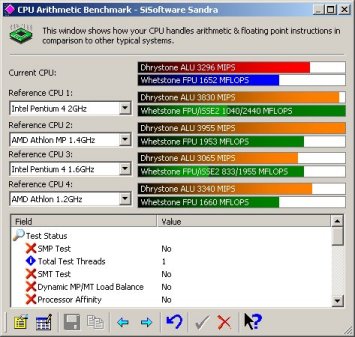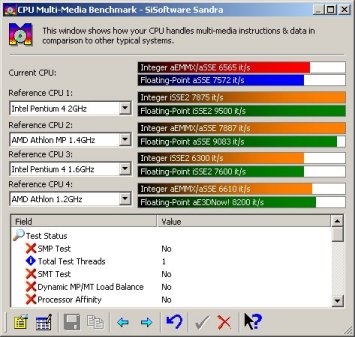 We can see from the results that the 1.2MP processor is only slightly ahead of the regular 1.2 Thunderbird Athlon. The results fall in to line with what we expected.
Next up we have the memory benchmark for the KT266 on the Soyo.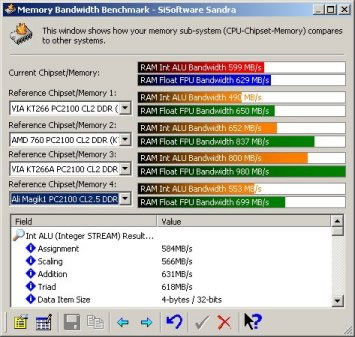 Here we see the effect that the new MP core processors, including the new Athlon XP have on the memory bandwidth in a system. We can see the FPU score falling in to line nicely, however the ALU score is above what Sandra is expecting. This is due to the Quantispeed enhancements in the new AMD cores. Performance here is slower than all the other reference chipsets in Sandra including the Ali Magik 1, KT266A and AMD 760.
Next up we have POV-Ray, our ray tracing benchmark that stresses mainly CPU.

This is identical performance to the same CPU on a KT266A motherboard, meaning that POV-Ray holds true as a CPU test and shows the MP is doing things right on this board. The 58 second render is a P4 1.8 GHz beater for reference.
Finally we have the default un-tweaked 3DMark 2001 score.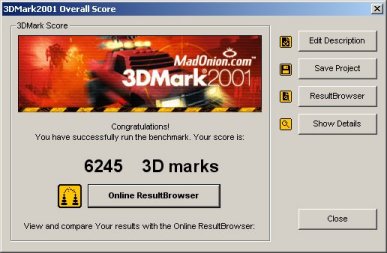 Comparing to a score of 6563 on the MSI KT266A board we have here in the labs, we can see the KT266 underperforming compared to other chipsets. It's also a full 100 points slower than the AMD760 benchmark of the same application.
Conclusion on performance
What can we say about the performance of the Soyo Dragon? Performance falls into line with expected results and there are no glaring points that stand out. To compare the performance of the KT266 against the 760 or the KT266A is also fighting a losing battle. It's just plain slower than either of those 2 noted chipsets and its functional limitations with the USB and memory voltage issues don't help at all. However, as discussed earlier that would be missing the point somewhat. Looking at the board as a whole, I'm not convinced it's aimed at the overclockers at all. Sure, we have the obligatory multiplier and FSB adjustment, but that's common to all AMD boards in the past 6 months to a year. The Dragon is a solid performer but not spectacular by any stretch of the imagination. You won't break 3D Mark records on the Dragon and you won't crunch SETI units faster than your friend with the KT266A. But if solid stock performance is what you are after the Dragon won't disappoint.
Overall conclusion
Overall, what can we conclude about the Soyo? Performance is there, just not in the spades that we see on the KT266A. However the coloured PCB and slots, great on board features such as hardware RAID and the excellent C-Media onboard audio solution are your thing, then I can't help but recommend the Dragon. The software bundle is good with Ghost being excellent. Ghost retails for a fair price and adds significant value to the Dragon bundle.
Going back to the case modification scene, they'll love the board for its looks. Jet black PCB and purple PCI slots are certainly different and to me at least appealing. As always though, looks are dependant on the person and my cup of tea won't be everyone's! The manual is excellent covering all the bases in significant detail and there are many pros to just edge out the cons.
The comparably slow performance and the socket orientation are my only real grievances with the Dragon. If Soyo make more of the same with the KT266A version, rotate the socket and allow for memory voltage adjust, they are onto a real winner.
Provisional thumbs up provided the new version fixes those issues but if you want the looks and features now, by all means pick a Dragon up now. However the new Dragon is imminent and it's hopefully worth the wait. Viewed as a taster for things to come, the Dragon doesn't disappoint.
Viewed as it stands, it's a solid, decent performer with good features and shouldn't be discounted if it fits your expectations and price range. It's nothing special performance wise however.