Conclusion
Our time with the MSI Eclipse X58 SLI leaves me in two minds. On the one hand, it introduces several new innovative features to MSI's range of motherboards, such as the GreenPower Genie real-time power monitoring and M-Flash virtual BIOS technology that allows you to try new BIOS versions first from a USB stick, without first flashing the BIOS. In addition, this board is definitely the fastest we've tested thus far, however this is predominantly due to it also being the first in-depth LGA1366 motherboard to pass through our labs.

The onboard power, reset and clear CMOS buttons should prove invaluable to overclockers whilst tweaking their system to find the limits, and unlike some boards it provides full BIOS support should the worst happen and you find yourself having to clear the CMOS due to a failed overclock.
It's not all a bed of roses however and some of the downsides are of real concern, such the high price of MSI Eclipse SLI, making it one of the most-expensive X58 board currently on the market, priced at around £300.

To add insult to injury, MSI then, we reckon, commits a faux-pas by not providing the necessary cables to run 3-way SLI, despite advertising this as a feature of the board. The Creative X-Fi card bundled would explain some of the extra cost over other boards, and even though it can possibly improve in-game frame-rates slightly, we feel this is more than offset by the fact that you'll be forced to use analogue connections to your speakers achieve this gain.
Therefore, all things being said, the MSI Eclipse SLI is a good, well-equipped but somewhat overpriced solution to your Core i7 needs. £200 yes; £300 no.
Pros
The fastest motherboard we've currently tested
Innovative features such as GreenPower Genie, M-Flash, CPU-Z and Memory-Z
Use of industrial-grade capacitors and VRMs for the CPU's power circuitry
Onboard power, reset and clear CMOS buttons
Cons
Quite expensive when compared to both its X48 and X58 rivals
Have to purchase extra cables to use 3-way SLI functionality
No coaxial digital audio out and no encoded 3D audio functionality such as Dolby Digital Live or DTS Connect
HEXUS Rating
HEXUS.net scores products out of 100%, taking into account technology, implementation, stability, performance, value, customer care and desirability. A score for an average-rated product is a meaningful '50%', and not '90%', which is common practice for a great many other publications.
We consider any product score above '50%' as a safe buy. The higher the score, the higher the recommendation from HEXUS to buy. Simple, straightforward buying advice.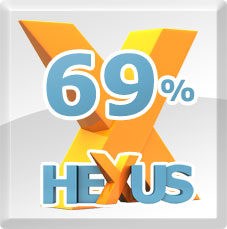 MSI Eclipse SLI


HEXUS Where2Buy
The MSI Eclipse SLI can be purchased from Scan.co.uk for £309.33 .

As always, UK-based HEXUS.community discussion forum members will benefit from the SCAN2HEXUS Free Shipping initiative, which will save you a further few pounds plus also top-notch, priority customer service and technical support backed up by the SCANcare@HEXUS forum.
HEXUS Right2Reply
Richard Stewart, Marketing Manager for MSI UK, was kind enough to submit a HEXUS Right2Reply, with particular reference to our dislike of not including three SLI bridges.
"We don't feel for a customer using a 3 graphics card set up plus this board, £10 extra is a problem. Better this than charge every customer extra £10 for something 90% will not use?"
External Links