Layout and features
The EVGA nForce 790i SLI FTW (model number 132-YW-E179-A1) expands upon the design principles of its predecessor, the EVGA nForce 790i SLI, and there's plenty to admire.
So much so, in fact, that our resident man-in-the-labs James Smith hails it as a "near-perfect board layout" - and you don't get much more "for the win" than that, believe you me. So what makes it so good? Let's take a look at some of the well-thought-out refinements.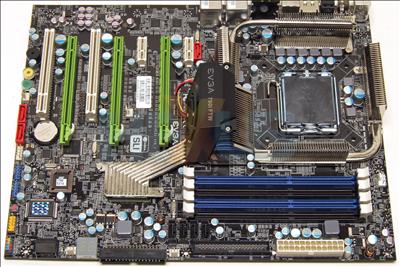 The board packs a whole lot of tech into its 304.8mm x 243.6mm ATX form factor. On the left edge you'll find an array of useful buttons including on-board power and reset buttons that cleverly double-up as power and HDD LEDs, respectively. They're joined by an always-handy clear CMOS button, and an on-board POST code display on the bottom edge.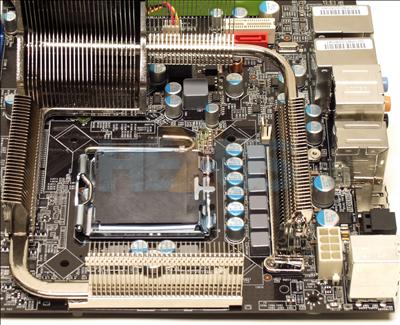 Heading straight into the CPU zone, you'll find the numerous heatpipe-connected heatsinks are low enough to leave ample room for a large CPU cooler, and yes, those are 100 per cent solid-state capacitors. Though, for over £200, we'd expect nothing less.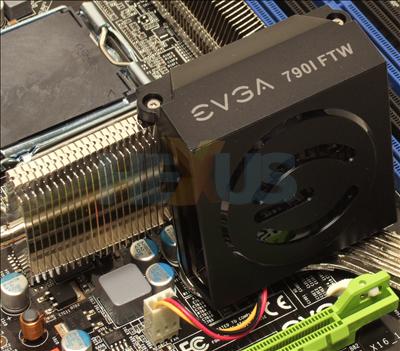 Follow those heatpipes to the SPP (northbridge) and you'll find a fan specifically placed to draw heat away from that particular area.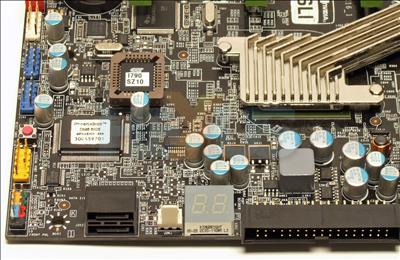 On the MCP (southbridge) front, there's a lot less cooling going on, but with due reason, too. The ultra-low-profile heatsink sits just below the PCIe slots and won't hinder the installation of any particularly-long graphics cards. As with previous boards, NVIDIA's MCP continues to provide native PATA support so you won't run into problems when accessing CD/DVD drives using DOS/Linux-based disk-imaging software.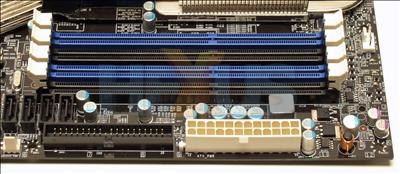 The dual-channel memory slots are of the costly DDR3 variety and support up to 8GB of RAM at speeds of up to 2,000MHz. DDR3 is the current cream-of-the-crop, but we'll find out if it's worth the premium as we've included a rival DDR2 board in our tests.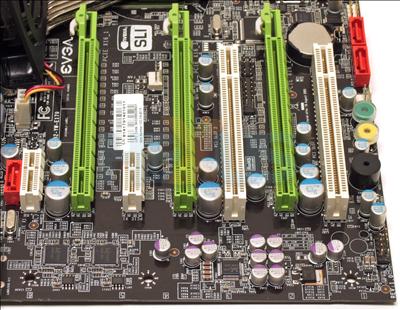 EVGA's sexy lime-green colouring highlights the board's three PCIe x16 slots - it's just begging for dual or tri-card SLI action. In between are two PCI slots and two PCIe x1 slots.

Over to the I/O panel and there's just about every connection you'll need. Starting from the left, we have; PS/2 keyboard and mouse support, coaxial and optical SPDIF digital audio outputs, eSATA, FireWire, 7.1-channel audio connectivity, dual Gigabit Ethernet, and there's six USB ports scattered around, too.
EVGA's in the habit of creating boards with a good layout, and the nForce 790i SLI FTW is no exception.