Gaming performance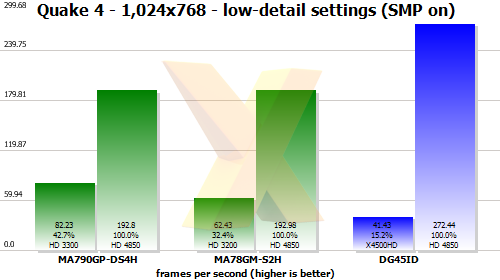 The graph shows integrated performance on the left and discrete-card frame-rate on the right of each chipset.
The MA790GP-DS4H's integrated Radeon HD 3300 offers an additional third of performance over the HD 3200 in the 780G, which is roughly what you would expect from the 40 per cent increase in clock-speed and addition of 128MB DDR3 SidePort memory. The Radeon HD 3300 certainly takes the crown of fastest IGP we've tested to date.

The Intel G45's X4500HD falls considerably behind both ATI offerings, but is certainly an improvement over the G35's X3500 IGP.

When a discrete ATI HD 4850 512MB graphics card is used with the systems, we see the Intel system perform far higher than the AMD offerings in this obviously CPU-limited benchmark.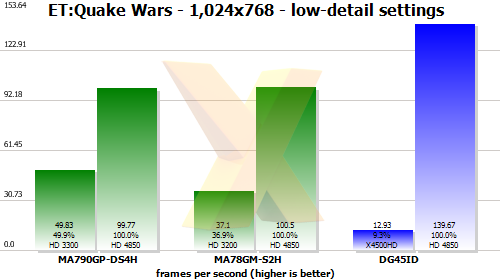 We see a similar story in Enemy Territory: Quake Wars, with the 790GX nearly 35% faster than the 780G. The X4500HD trails far behind both with a completely unplayable average frame-rate of 12.93fps.
Again, with the discrete HD 4850 card installed the dual-core E8500 system proves considerably faster than either system using the quad-core Phenom X4 9850BE.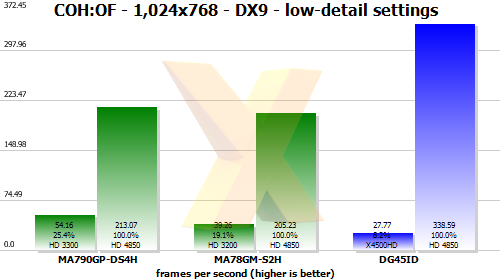 Yet again, similar story in Company Of Heroes: Opposing Fronts.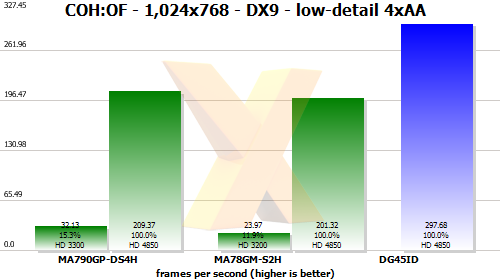 The Intel X4500HD cannot utilise antialiasing correctly, and is therefore absent from the above test. The HD 3300 offers a 34% performance boost over the HD 3200 when 4xAA is applied.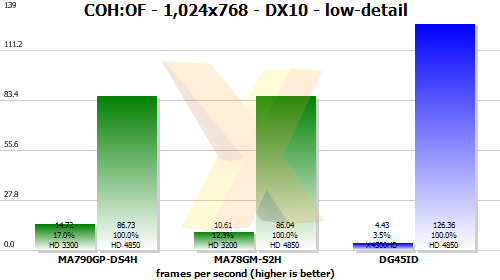 Switch to DX10 mode and none of the integrated solutions offer remotely playable frame rates at 1,024x768.
Summary

IGP performance takes a new leap with the 790GX but it's no substitute for a mid-range card.