Introduction
Aorus has enjoyed success in its brief time as a manufacturer of high-performance gaming laptops. The Gigabyte subsidiary launched its first machine - the X7 - at the turn of the year and proclaimed it to be "the world's thinnest SLI gaming laptop."
The sub-23mm chassis caught the eye of gamers craving something a little more current-gen in terms of styling, and knowing that it's on to a good thing, Aorus has seen fit to repurpose the chassis with subsequent revamps.
A couple of months ago, the X7 v2 saw the same 17.3in form factor outfitted with a faster CPU, more-powerful GTX 860M GPUs and an upgraded storage subsystem.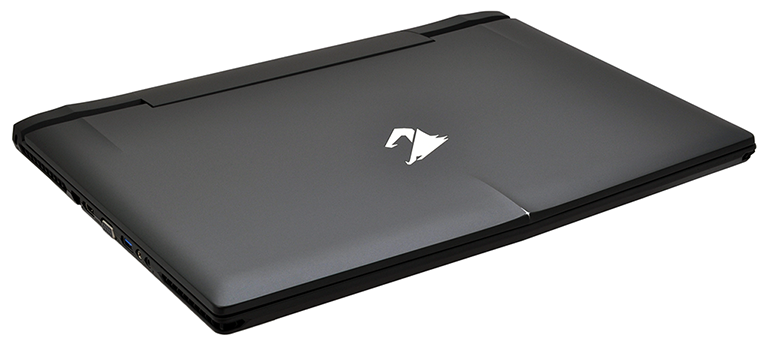 The v2 was hot property just weeks ago, but we've potential bad news for early adopters as there's a new king in town, the X7 Pro. This time around, Aorus's 17.3in powerhouse bolsters credentials with latest-generation Nvidia Maxwell graphics, and as we'll demonstrate a little later in the review, in-game performance is nothing short of astonishing.
Priced at £1,999 and expected to become available in stores starting November 2014, the third-generation X7 Pro is the most expensive Aorus laptop to date and is aimed squarely at enthusiast gamers.
From the outside, it's hard to tell the difference between generations. The X7 Pro looks identical to the original, meaning a sleek, all-black aesthetic and dimensions of 428mm (W) x 305mm (D) x 22.9mm (H). As you might expect, the laptop weighs roughly the same, too, tipping our scales at just over 3kg.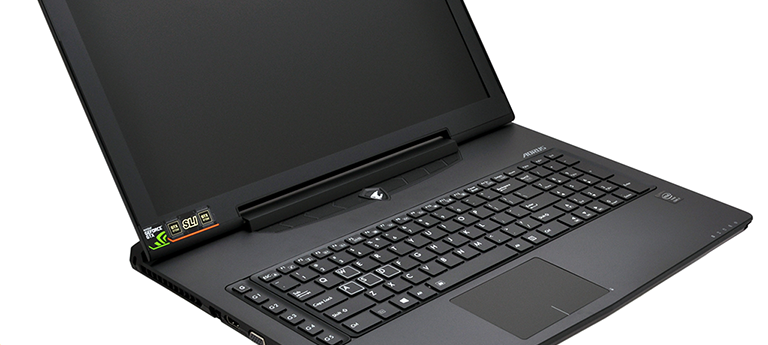 It's a sleek package that still looks impressive, particularly compared to the thick gaming laptops we're accustomed to, Aorus hasn't felt the need to make any obvious external changes. The backlit keyboard remains unaltered, as does the glass trackpad, and there's still a non-removable 73.26Wh battery on the inside. Battery life was a weak point with earlier incarnations, and we're not expecting much of an improvement here.
Staying true to form, Gigabyte/Aorus's focus is on squeezing in as much performance as possible. The company never shies away from cramming high-end components into compact systems, and we see the same trend in evidence with the X7 Pro.
The CPU has been upgraded to a quad-core Intel Core i7-4870HQ capable of hitting speeds of up to 3.7GHz, and more importantly, the dual-chip graphics configuration has been overhauled and now consists of two GeForce GTX 970M GPUs, each outfitted with a 3GB GDDR5 frame buffer.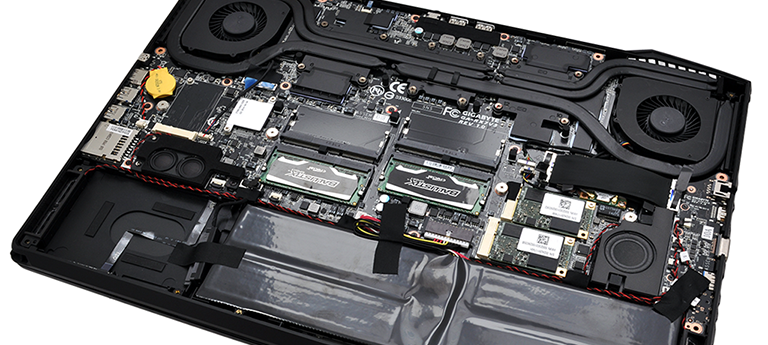 That's a 150W graphics duo which gives the X7 Pro a staggering 2,560 shaders, 160 texture units and 96 render output units. The combined core config has the beating of a single desktop GeForce GTX 980, though of course the mobile 970M GPUs do run at lower speeds - 924MHz base and 1,038MHz boost.
Though the thickness of the machine hasn't changed, we can see that the cooling mechanism has been tweaked, as Aorus's dual exhaust fans are now serviced by six heatpipes (up from five). Elsewhere, our review sample - model X7 Pro V3 CF1 - carried 16GB of dual-channel DDR3 memory and a storage volume comprised of two 256GB LiteOn M.2 SSDs. The third M.2 slot remains unused, as does the 2.5in hard-disk bay, though do be aware storage configurations will vary between regions.
Upgraded graphics are the X7 Pro's key selling point, but eagle-eyed users will be happy to hear that the 17.3in display has also been upgraded. The old TN panel has been dropped in favour of a matte IPS solution identified as an AUO219D, and viewing angles are improved as a result. A welcome enhancement, though the basic 1080p resolution is still lacking for a machine of this ilk, particularly when you consider the smaller Aorus X3 Plus already touts a 3,200x1,800 display.
Still, what we really want to know is the kind of performance on offer from the dual Maxwell GPUs, and whether or not the dual-fan cooling configuration is enough to tame such high-end parts. Let's find out.