Introduction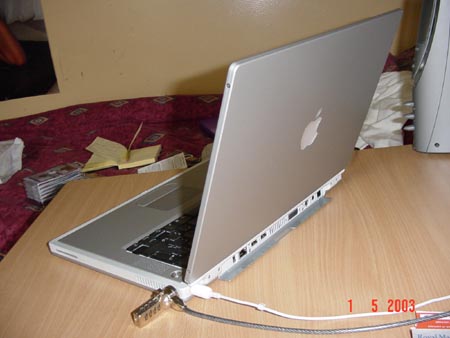 The Powerbook in the flesh



I have been devoted to the Intel and AMD driven field of computers since 1993, right up until I sold my Toshiba P3 850Mhz laptop a month ago. Searching for a new laptop that greatly exceeded my previous machine was a highly daunting task, but nevertheless exciting.

My attention was finally captured by Apple's 15" Superdrive monster in a tiny package. Even though the news, adverts and Apple PR is dominated by the 'newer' 12-inch and 17-inch models, the 15-inch should not be ignored, as it is 'almost' as powerful as Apples current flagship notebook computer.


| | |
| --- | --- |
| Model | M8859 |
| Processor | 1GHz PowerPC G4 |
| L3 Cache | 1MB DDR SDRAM |
| Memory | 512MB PC133 SDRAM; supports up to 1GB |
| Hard Drive | Toshiba 60GB Ultra ATA |
| Optical Drive | Slot-loading SuperDrive (DVD-R/CD-RW) |
| Display | 15.2" (diagonal) TFT, 1280 by 854 pixels, millions of colors |
| Graphics Support | ATi Mobility Radeon 9000 with 64MB of DDR SDRAM |
| PC Card Slot | PC Card/CardBus slot for Type I or Type II card |
| Wireless Support | Built-in 11-Mbps AirPort Card; optional BlueTooth (1.1) adaptor |
| Ethernet | Built-in 10/100/1000Base-T (Gigabit) |
| Modem | Built-in 56K V.92 |
| Ports | FireWire 400, two USB (1.1), DVI Output (DVI to VGA adaptor included), S-video output, audio line in, headphone out |
| Size and Weight | 34.1 by 24.1 by 2.6cm; 2.4Kg with battery and optical drive installed |
| Included | S-video to composite adapter, DVI to VGA adapter, modem cable, power adapter, AC wall plug, power cord |