Display and Sound
For a while there, it seemed as though laptop resolutions would stick at a paltry 1,366x768. Fortunately, we've moved on and the race to produce higher pixel densities and better viewing angles is well under way.
A noteworthy display is an essential feature to any premium Ultrabook, and though earlier systems had a tendency to disappoint, Acer's Aspire S7 impresses with a full-HD IPS panel that's a treat to use.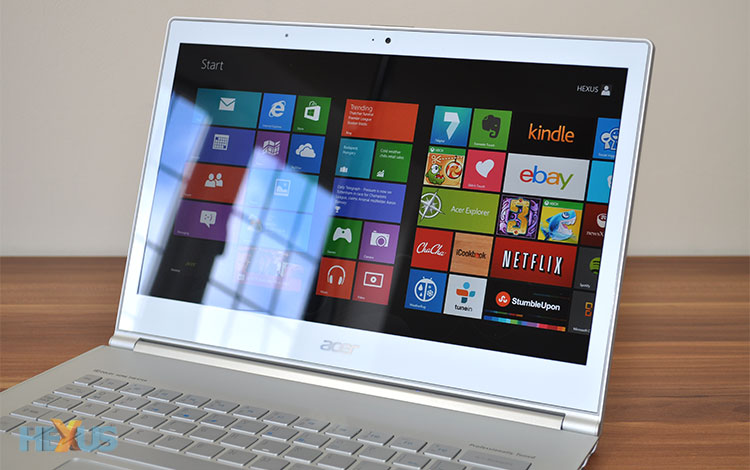 It's the sort of screen that you just sit back and enjoy, without worrying about optimal angles or profile settings. Right out of the box, the glossy IPS screen is bright, with good colour reproduction and a real vibrancy to the image. Windows 8 looks particularly crisp on the 1,920x1,080 panel, and viewing angles are excellent in every direction.
Hats off to Acer, this is one of the best 13in displays we've used, and it supports multi-touch input, too. Going hand-in-hand with Windows 8's finger-friendly interface, users can swipe in from the edges and navigate the Modern UI with ease. Paying attention to the finer details, Acer has also equipped the display with dual-torque hinges that stiffen the lid when opened beyond 100 degrees, to help prevent unwanted movement during touchscreen use.
The hardware is excellent, and the 180-degree opening angle makes for interesting table-top usage scenarios, but on a 13in panel a full-HD resolution can be counterintuitive when navigating via touch. The Windows desktop in particular is tricky to get around using the touchscreen, with small icons requiring precise input. If you're planning on making full use of the touchscreen, you may feel more comfortable changing the size of text and desktop items to 125 or 150 per cent using the screen resolution control panel.
As for the sound, let's not beat around the bush: the downward-facing stereo speakers are basic at best. They offer a reasonable amount of volume, but deliver a flat, tinny audio that will leave you reaching for a pair of headphones.
Keyboard and Trackpad
As a consequence of their thin chassis, Ultrabook keyboards can be shallow and flat during use, so is the Aspire S7 any better? Well, not really. Sure, the backlit keyboard looks fantastic and blends beautifully with the metal palm rest, but it is very, very shallow and takes some getting used to.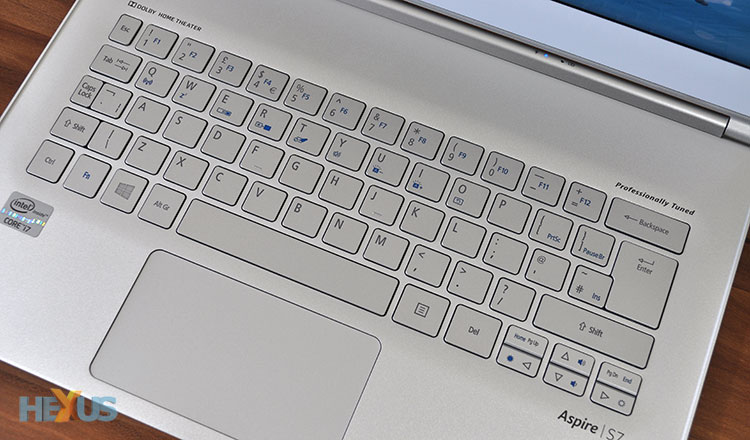 There is hardly any travel to the keys, yet they respond surprisingly well and after an adjustment period, we were able to type quite quickly with very few errors. It's certainly usable, and some may actually prefer the near-instant actuation, but I prefer more tactile feedback and, try as I might, I never felt entirely comfortable typing on the Aspire S7.
And despite using only five rows, the keyboard can at times feel cramped. This may have something to do with the fact that Acer has dropped dedicated function/multimedia keys in favour of pre-mapped shortcuts. We didn't miss the function row, and using the Fn key to access hardware toggles is hardly a chore, but in its effort to tidy the keyboard Acer has ended up doing the opposite; having so many keys carrying multiple functions makes the board look cluttered.
Anyone who still relies on Caps Lock may also be annoyed by the miniscule key, but all users will appreciate the electroluminescent backlight that uses an ambient light sensor to illuminate the keyboard automatically. In keeping with the rest of the design, it creates a unique glow that's very easy on the eye.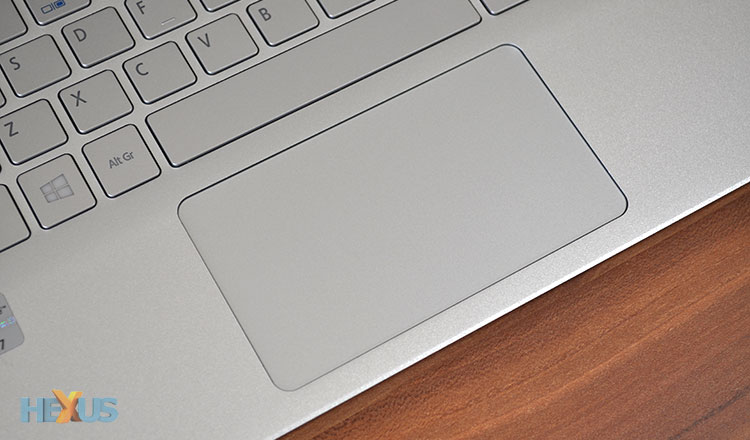 We aren't enamoured by Acer's keyboard, which is a shame, as the accompanying trackpad is really rather good. The Aspire S7 uses an Elan Smart-Pad that's nice and spacious, with a smooth glass-like surface that feels great beneath the finger. The pad offers full support for Windows 8's edge swipes and responded well to our multi-touch gestures, and Acer's integrated left- and right-buttons are well-defined and intuitive to use.
Software
Clean and precise are the terms we'd use to describe Acer's hardware. Unfortunately, the same can't be said for the large accompanying software bundle as there's plenty of unnecessary software pre-loaded on top of the 64-bit Windows 8 operating system.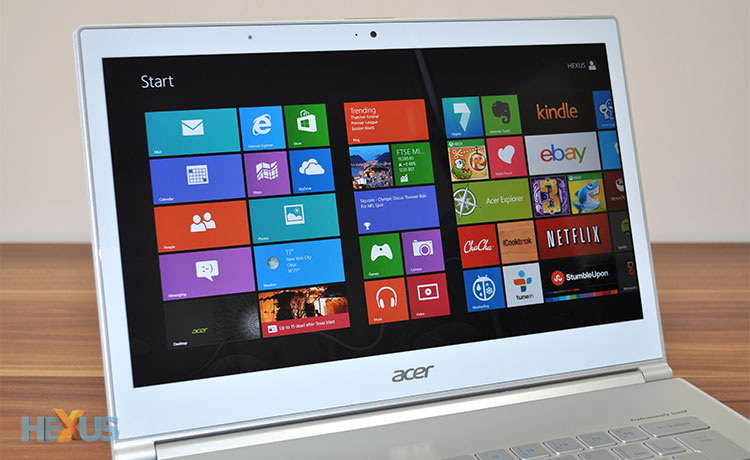 It isn't all bloatware - some of the Acer utilities are helpful for maintenance tasks - but there's plenty of software you may or may not want. The list includes 7digital, Evernote, Skitch Touch, Acer Explorer, Cha Cha, iCookbook, WeatherBug, TuneIn, Kindle, Ebay, Netflix, StumbleUpon, Social Jogger, Skype, NewsXpresso, WildTangent Games, Spotify, McAfee Internet Security and a trial of Microsoft Office. The Windows 8 apps are easily removed, but desktop programs require a little more work and 41 are listed in Windows' add/remove software dialogue. Complicating matters, performing a factory reset will retain all of the aforementioned software - the only way to get a 'clean' install is to source your own Windows 8 USB installation drive.