Introduction
It's hard work choosing the right Ultrabook as they're all so visually attractive. It's up to the consumer to look past the super-sleek designs and choose the system that best ticks all of the relevant boxes, but that's easier said than done, particularly when you're faced with an Ultrabook as alluring as Acer's Aspire S7.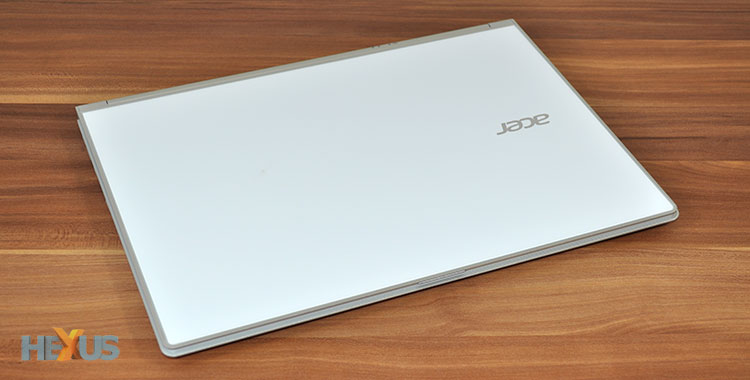 We've seen stunning Ultrabook designs in recent years, and the Aspire S7 is up there with the utmost beautiful. The silky-smooth exterior and ludicrously-thin chassis combine to stunning effect, creating a meaningful design statement. You see, Acer isn't just trying to make another good-looking Ultrabook, it's attempting to elevate its image from a purveyor of cheap-and-cheerful computers to a producer of exquisite machines that cost the best part of £1,000.
Design
There's no denying the fact that the Aspire S7 has plenty of wow factor. Although slim Ultrabooks have been with us since late 2011, you still get the feeling of "wow, that's thin" when you first get Acer's 13in system in your hands. A few millimetres here or there is hardly going to make a difference when you're carrying it around, but if you are into the numbers game, the Aspire S7 can proudly proclaim an impressively-svelte 11.9mm body.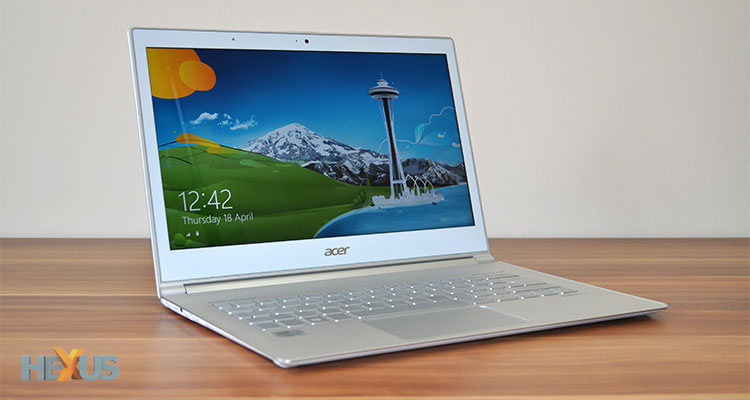 Creating a thin-and-light laptop that's stiff and robust tends to require premium materials, and in the case of the Aspire S7, Acer has made use of aluminium and magnesium alloy to build a chassis that's strong and precise throughout. There's hardly any sign of flex in the main body, and with so few visual distractions, the entire frame has a smart, elegant look about it. Topping it off is an equally-impressive lid that's lined with Gorilla Glass, giving the S7 a glossy white shell that's eye-catching, feels wonderfully smooth and has a purposeful resistance against scratches.
Despite the use of metals and glass, Acer has managed to keep weight down to just under 1.3kg, ensuring that the Aspire S7 is every bit as portable as it looks. There's no two ways about it, this is a beautiful machine, but there are a few small niggles that detract from the overall design. For instance, the edge of the palm rest is bordering on sharp and uncomfortable, and the fact that the lid is slightly smaller than the base makes opening the laptop more tricky than it perhaps ought to have been.
Specification
The Aspire S7 is available to UK consumers in a choice of two 13in configurations; a £950 model packing a 1.7GHz Core i5-3317U processor and 128GB of solid-state storage, or a premium £1,200 model that bumps up the spec to a 1.9GHz Core i7-3417U and double the storage capacity.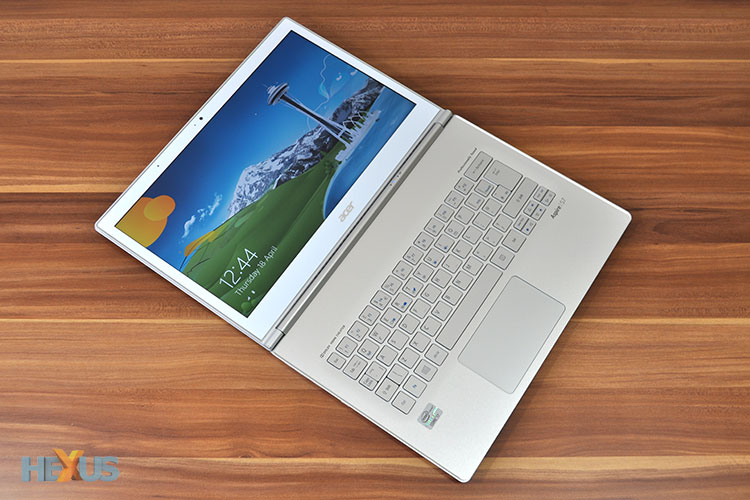 Either Intel processor will deliver quick everyday performance, but it's the storage proposition that makes Acer's Ultrabook somewhat unique, as the top-of-the-range 256GB model makes use of dual 128GB SSDs paired together in a RAID 0 configuration for maximum speed.
Save for the shift in CPU and storage capacity, both models are otherwise identical. Each carries 4GB of DDR3 memory, integrated Intel HD 4000 graphics, and an attractive 13.3in touchscreen IPS display offering a full-HD, 1080p resolution. The core components hold plenty of promise - with the display being a particular highlight - but a chassis as thin as this does introduce a couple of caveats. The Aspire S7 isn't designed to be user upgradeable, so you're stuck with the basic 4GB of memory, and the built-in Lithium Polymer battery isn't interchangeable. Given the latter's limited 2,340 mAh capacity, battery life isn't going to be stellar - more on the later.

There is of course no optical drive, as is the case with most thin Ultrabooks, but the Aspire S7's body is so trim that Acer has had to forego a couple of other full-size ports. There's no Gigabit Ethernet and HDMI is provided via a microjack that typically requires an adapter. Getting around potential issues, Acer's well-rounded bundle includes two handy dongles - micro-HDMI-to-VGA and USB-to-Fast-Ethernet - as well as a white Bluetooth mouse and a smart microfibre sleeve that fits nice and snug.
We'd like to see a Thunderbolt connector on premium laptops, but Acer keeps the Aspire S7 relatively simple. Two USB 3.0 ports are available on the right side along with a shallow card reader, while the left side houses a power connector, micro-HDMI, a headphone jack and an exterior power button that's automatically disabled when the laptop lid is closed to prevent unwanted boot-ups.