More external musings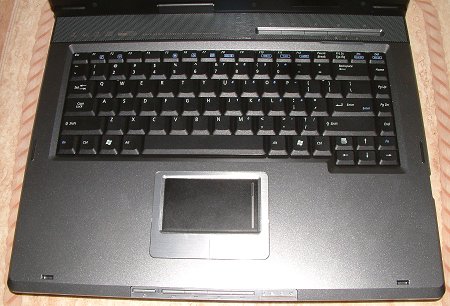 The ASUS A6JA's chassis is around 14" wide and therefore not large enough to accommodate a separate number-pad found on models with, usually, 17-inch wide-aspect displays. Both the trackpad and accompanying buttons have a satisfactory feel and just the right amount of give. The chassis doesn't get particularly warm under load and resting your palms on the area to each side isn't anywhere near as dangerous as with laptops that use 100W+ desktop processors. The keyboard also has the right amount of travel to make extended typing easy on the fingers.





Five buttons and a set of activity lights are situated near the screen, on the upper right-hand side. Four of them will be obvious to most laptop users, which, from right to left, denote power, pad-lock key, Internet browser and email client keys. ASUS's fifth key, however, is what it terms its Power4 Gear, which automatically toggles between eight power-saving modes for the A6JA, both in battery- and mains-powered modes. In particular, pressing it whilst running off the battery cycles the laptop through seven differing power-saving modes, with each mode relating to a particular facet of notebook computing. For example, some of the modes on offer are gaming, DVD playback, emailing, CD listening, etc., and each has a distinct battery characteristic. Remember that the A6JA houses a dual-core mobile processor that doesn't need to be running at 100% for menial, low-intensity tasks.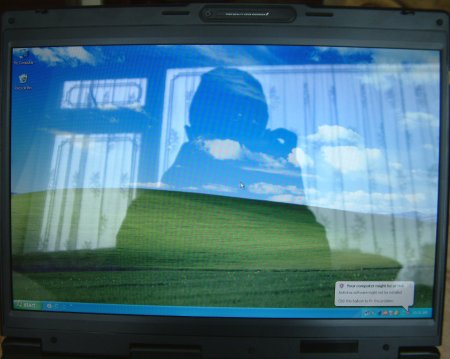 This rather exaggerated 'shot shows ASUS' 15.4" widescreen display that uses a reflective coating for a wider viewing angle and sharper picture. In low-light conditions that is the case and the screen does look good, but with a light source behind the laptop and light directed at it, the reflective coating falls down, and can make it difficult to read small text. Of course, this is an extreme situation that probably won't arise too often, yet we'd be remiss in not pointing it out to you. Our sample shipped with a WXGA screen, that is, 1280x800 pixels. We'd prefer WSXGA+ (1680x1050) on a 15.4" model, though, and ASUS doesn't offer the WSXGA+ as an upgrade. Packing in the features' count and situated at the very top is a combination sound recorder/1.3MP webcam whose single-shot resolution is actually higher than the display's. It's no Canon EOS 350D, sure, but it takes adequate pictures for emailing purposes.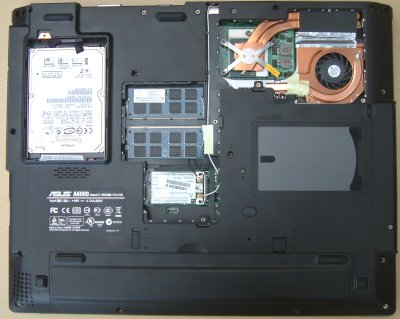 Flipping it over and you're presented with three user-accessible covers that house the CPU, RAM/WiFi card, and hard drive, respectively.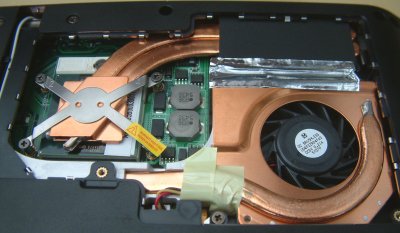 Note the diminutive heatpipe-based cooling on the sample's Intel Centrino Duo T2500 CPU (that's a Yonah dual-core CPU running at 2GHz, folks). The fan only kicks into action when the CPU's cores are given real work to do. The unit is nearly silent when browsing the web or composing an email to your nan, for example.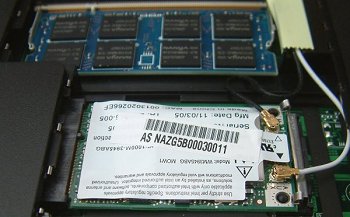 Along with the introduction of a new range of dual-core CPUs running off a 667MHz FSB, the Napa brand also requires an Intel i945-Express motherboard (present here), and the new PRO/Wireless 3945a/b/g triple-band WiFi card that's presented in a new form factor. Note that's it's actually smaller than a module of DDR2 RAM, and about half the size of the outgoing 2945 model found on Sonoma models. All shipping models, being business-class machines, will also carry Bluetooth v2.0 connectivity.

There's no simple user access to the ATI Radeon X1600 PCIe graphics card (512MB if used with HyperMemory) that uses a 128-bit memory interface to its 256MB of onboard memory. It's based on the desktop model, so it features 12 rendering pipelines, 5 pixel shaders, and ATI's clever parallel threading architecture. Our sample was clocked at 450MHz core and 750MHz memory and, gameplay-wise, should be fast enough for most games when run at the panel's native 1280x800 resolution. Further, ATI's X1600-series support Avivo, the all-encompassing 2D display technology that, amongst other things, is suited to hardware decoding of high-definition H.264 streams without unduly troubling the CPU.

The A6JA featured a slimline 8-cell 4800maH Lithium-Ion battery pack that with the laptop's low-power mobile requirement should return decent runtime. We'll find out just how long later.

Warranty

ASUS offers a 2-year global collect-and-return warranty on all its laptops, although the warranty is reduced to a single year for the battery, which seems rather harsh for a £1000+ laptop. Warranties can also be extended for an extra 12 months past the basic 2-year period for an additional cost of £105 including VAT. ASUS provides a dedicated, direct support for its range of laptops, PDAs, monitors, and it also has UK-based technical hotline, with calls charged at national-rate, should problems arise.

Software and accessories

Bundled in with the ASUS A6JA is Microsoft's Windows XP Home SP2, Norton Internet Security 2005, Nero Express v6.0, Adobe Acrobat v7.0, a raft of ASUS-supplied programs and a matching bag and optical mouse. We'd like to see an Office-type program bundled in, too.

Physical thoughts

A reasonably sleek machine that packs in all the goodies that we'd expect from a high-end mobile laptop. The obvious performance highlight is dual-core mobile CPU support.