Specs. and external appearance
Let's trot out the specification's table for some geeky salivating.


| | |
| --- | --- |
| Laptop name | ASUSTeK A6JA |
| Processor | Intel Core Duo T2500 - 2.0GHz, 2MB L2 cache, 667MHz FSB - Yonah, dual-core |
| Motherboard | Intel i945PM (dual-channel support, PCI-Express, Napa-certified) |
| Memory | 2GByte (2x 1GByte DDR2 PC5300 SODIMMs) |
| Hard Drives | Hitachi 100GB 5,400PM with 8MB cache |
| Screen | 15.4" WXGA (1280x800) - Reflective TFT |
| Graphics card | ATI Mobility Radeon X1600 256MB (512MB HyperMemory) |
| Optical drive | Samsung TS-L532M |
| Optical drive characteristics (write) | 8x DVD-R, 8x DVD+R, 4x DVD+RW, 4x DVD-RW, 2.4x DVD+R-DL, 24x CD-R, 10x CD-RW, 8x DVD-ROM (read), |
| Sound | ICH7M High-Definition Audio |
| Modem | Motorola 56k |
| Networking | Realtek RTL8168 Gigabit LAN (PCIe), Intel PRO/Wireless 3945ABG 802.11a/b/g Wireless, Bluetooth v2.0+EDR |
| Operating system | Windows XP Pro SP2 |
| Weight | 2.9kg (without charger) 3.2kg with |
| Dimensions | 354mm (w) x 284mm (d) x 35.4mm (h) |
| Warranty | 2-year global collect and return |
| Price | ~£1499.99 inc. VAT (as at 6th January 2005)for this model. £1199.99 for base model - T2300 CPU (1.66GHz), 1GByte RAM, 100GB HD |
| Shipping | Included in above price |
| Other notables | 1.3MP built-in camera, voice recorder |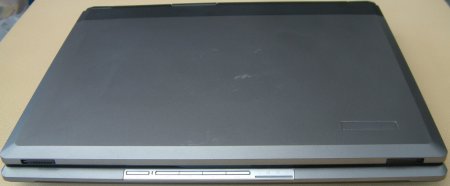 The ASUS A6JA Napa-powered machine is neither a desktop-replacement or thin-and-light notebook. Weighing in at just under 3kg and 40mm at its thickest point, its design is a compromise between portability and power. To keep weight down the A6JA's chassis is mostly plastic, which is fine, however it scuffs a little too easily for our liking; you can see daily wear-and-tear on the picture above. Build quality, however, was good, with no annoying squeaks or rattles.

The front has a number of controls that, assuming there's sufficient charge in the battery, can be used to listen to CDs without having to power up to the operating system. The sound is more than reasonable from a laptop with only two speakers, and the outward-facing nature of the ports gives the A6JA a pseudo surround sound effect. A number of LEDs, to the right, indicate power, battery charge, email (flashes when there's something new in your inbox), and WiFi activity. A couple of latches need to be opened concurrently to release the lid, so it's not a one-handed affair. There's a weighty, secure feel to the lid's motion from horizontal to vertical.





Spinning it to the left-hand side shows the multi-format dual-layer DVD ReWriter from Samsung that's relatively quiet in use. It read our dirty/scratched CD/DVDs without problems and transfer rate was acceptable. The nature of the chassis makes it look thinner than it actually is; the bottom portion, alongside the writer, is curved inwards. The contrasting black and gunmetal grey finish looks, subjectively speaking, pretty cool.





Gong from left to right, the rear is home to 4 USB2.0 ports that would have been better positioned on one side. Next, display outputs are available in both DVI and VGA formats, and only the DC input socket sits between them and the copper cooling for Intel's dual-core mobile CPUs, known to every man and his dog as Yonah. The low-power nature of the CPUs and the chassis' well-engineered cooling means that the entire current Yonah performance range is supported, as well as future processors. What's more telling is that the laptop is literally silent when you're skipping about doing non-intensive tasks. Even under 100% load the A6JA is very quiet. Hooray for power and near-silent operation in one package.





The right-hand side has a number of ports and connectivity options. That's good design considering that the vast number of you, this reviewer excluded, are right-handed. A 32-bit Cardbus slot (PCMCIA) is situated underneath a PCI-based cardreader that supports SecureDigital, Memory Stick, and MultiMedia Cards. A single (unpowered) mini-FireWire400 is to the right of where you'd expect the Infrared port to be, if specified. The S-Video connector for external display options is sandwiched between audio and Gigabit Ethernet and modem ports. Another mini-FireWire400 port wouldn't have gone amiss and a more scuff-resistant type of plastic would have been preferable. Other than that, the external appearance is just what we'd expect from a modern notebook that retails for £1000+.