Coming early next year is ATI's Mobility Radeon X1600 for laptops, aiming at mid-range mobile graphics performance. However, HEXUS has exclusively had some hands on time with an ASUS laptop featuring this GPU.. While there's a decent amount of time between now and the shipping date of the laptop, during which specifications for the Mobility X1600 could change, we now have a good idea of what to expect from the SKU.
The ASUS A7G laptop features a Pentium M 760, 1GiB of DDR-II RAM and a 256MiB Mobility Radeon X1600. However, the part we tested only had 128MiB of video memory to play with. The cooling system for the laptop is reasonably quiet, suggesting both efficient cooling and power-friendly components, although for its performance class it is a little on the heavy side.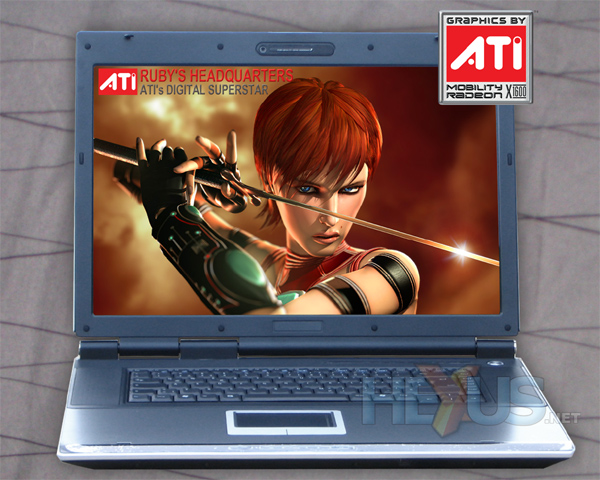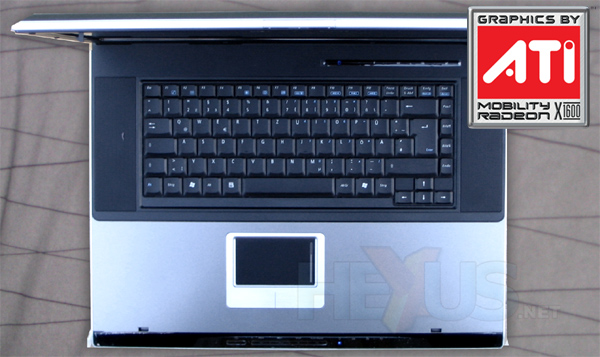 The clock speeds for the X1600 are not finalised, but the GPU fitted into the A7G we tested was towards the top of the clock range that ATI has stated.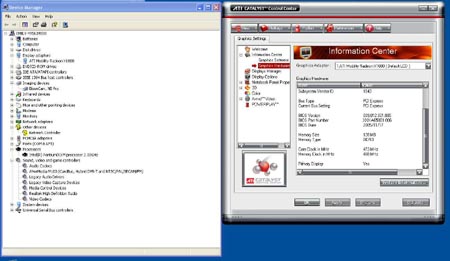 We ran the system through several 3D Mark 2005 and 2003 benchmarks to give us an idea of gaming performance:
3D Mark 2003 3.3.0
Resolution
Score
0xAA 0xAF
4xAA 8xAF
800x600
8992
4655
1024x768
6931
3507
1440x900
4971
2500
3D Mark 2005 1.2.0
Resolution
Score
0xAA 0xAF
4xAA 8xAF
800x600
4271
3169
1024x768
3739
2498
1440x900
2828
1973
In its present state 4xAA is unlikely to be too pleasant on modern games engines, but should be acceptable at a resolution of 1024x768 for older games using previous Shader Model generations. Increasing the framebuffer to 256MiB would give the system a boost in this department.
The A7G will be available in early 2006 and will have an RRP of £1399.
Mobility X1600 - what's it made of?
ATI has combined the technology of its X1000 series of GPUs with its latest mobile innovations to create the new up-coming wave of Mobility X1000s. The Mobility Radeon X1600 is manufacturered using a 90nm process technology, and we've seen countless times, shrinks like this tend to result in the ability to obtain higher clock speeds with lower core voltages, which should equate to better performance and less power consumption, if it's done properly.
Feature-wise, there's X1000's lineup of eye-candy wonders, including HDR with AA, physical simulation of rain and water, volumetric lighting and more. Avivo's in there too - let us not forget that ATI's cards aren't all about gaming power; they're about high image quality and high definition video. Laptops featuring a Mobility X1600 have the potential for HD ouput, along with H.264 acceleration and 10-bit video processing. We had an in-depth look at Avivo technology back in September.
On the power-saving front is PowerPlay 6. This consists of several power-save measures. The first is what ATI are calling Dynamic Lane Count Switching (DLCS). DLCS switches the card between 16x and 1x link mode depending on whether the system is running from AC or battery power. Next is the usual user configurable operation modes, of which there are three: performance, balanced and battery. The state of the GPU and the voltage of it can be varied dynamically depending on what the user is doing too. On paper, then, a number of measures to keep a laptop in the land of the awake for as long as possible.
Technical Insight
HEXUS Review Editor Tarinder Sandhu provides his thoughts on the X1600 and the ASUS A7G laptop:
ASUS has chosen the middle ATI SKU, X1600, as the mobile partner of choice for the A7G. Featuring an efficient architecture that takes in full Shader Model 3.0 compatibility and carrying ATI's Avivo video-processing technology, the Mobility Radeon X1600, replete with 12 pixel and 5 vertex shaders, will be well-suited to laptops priced at between £1000-£1500. Our performance look shows results that are directly in line with NVIDIA's present GeForce 6800 Go 256MB mobile GPU, a popular choice for DTR laptops from a number of vendors, and an area where ATI needs to do well in.
It was inevitable that we would see X1000-series GPUs in mobile form. It's pleasing that the initial batch has been released so quickly. If basic performance from the ASUS A7G is anything to go by, the midrange mobile war is really on!