User Experience
Keyboard and trackpad
A 15.6in notebook may not be the most portable option, but the added space tends to give manufacturers the opportunity to implement a roomier keyboard.
HP utilises the full width of the Pavilion dv6 chassis, and to good effect. The keyboard - complete with numpad - looks inviting and is generally satisfying in use. We initially found the island-style keys to be a little too shallow for our liking, but after a short period of use, we became well acquainted. There's a good amount of space between each key, there's a small amount of flex in the plastic tray but not enough to hamper the experience, and the keys remain quiet in use.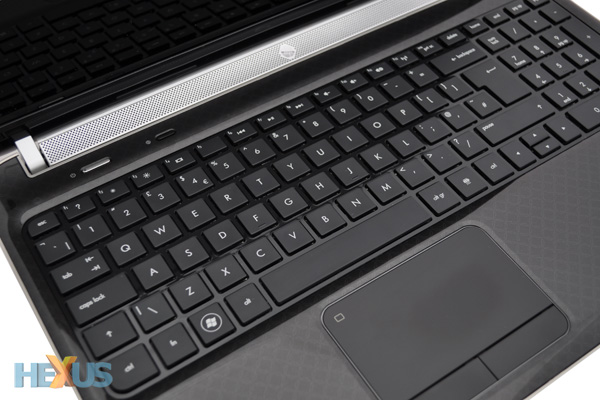 There's no keyboard backlight, which isn't really a surprise at this price point, but the left Ctrl key is where we like it - the Function key is relegated inside - both the right shift key and enter are suitably large, and the top row of function keys are configured to act as brightness and media controls by default.
The keyboard's tough to criticise, and there's nothing wrong with the trackpad, either. HP's synaptics pad is nice and big, with an expansive surface that feels luxuriously-smooth to the touch. The two dedicated buttons provide excellent tactile feedback, and the entire panel is equipped with an illuminated strip that lets you know the trackpad is enabled.
Multi-touch gestures work well, two-finger scrolling in particular, and the palm rest is similarly roomy, making for an all-round comfortable experience. HP's kept it simple, and rightly so; there are no frills here, but the trackpad works perfectly well, which is something we couldn't say for the company's premium Envy.
Display and sound
As much as we enjoyed the bottom half of the dv6, it's noticeably harder to appreciate the top. Here, a 15.6in LED display provides mixed results.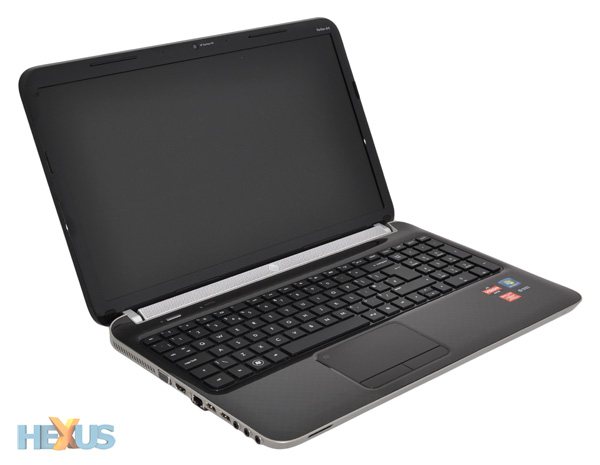 The size of the panel is great for playing back movies, viewing angles are sufficient for sharing content with neighbouring friends, and it's seriously bright, too.
The problem, of course, is the limited 1,366x768 resolution. It's a configuration that's becoming increasingly popular, but one that isn't getting any easier to digest. On a laptop of this size, the resolution makes simple tasks such as web browsing feel cramped, and for any user coming from a higher pixel count, the downgrade may be too big a compromise. A shame, really, as the accompanying sound - powered by an upward-facing speaker neatly positioned between display and keyboard - is surprisingly good.
Software
We've had mixed results with the Pavilion dv6 this far; it's great in certain areas and less so in others, and that trend continues with the pre-installed software.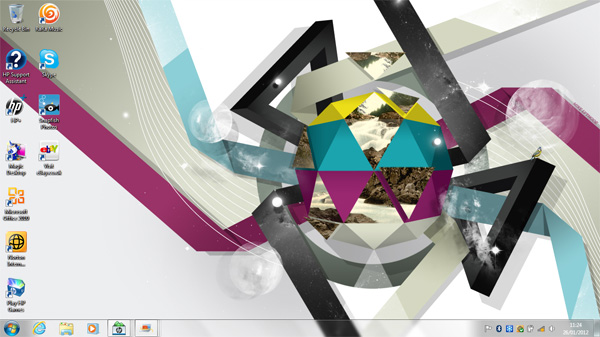 On top of the 64-bit install of Windows 7, HP includes its usual suite of in-house utilities - including Connection Manager, Setup Manager and Support Assistant. The suite makes it easy to get hold of the latest drivers and software updates direct from HP, and, generally speaking, it's unobtrusive and well integrated.
A trial of Office 2010 is standard fare, as are pre-installed versions of Skype and Windows Live Essentials, and HP opts to use Norton Internet Security as its anti-virus of choice. Not a bad foundation, but there are signs of bloatware on top as HP couldn't resist the Bing Bar and a couple of criminal desktop shortcuts to RaRa Music, Snapfish Photos and eBay.
There is an option to carry out a minimal OS installation, which should remove most of the excess, and the Windows installation disc is also included in the box.