Introduction
With Intel's attention at least partially diverted toward Ultrabooks, perhaps now's the opportune moment for AMD to stamp its authority on the seemingly old-fashioned laptop?
The team from Sunnyvale, California is arguably best positioned to challenge Intel's dominance in the market, and there are already small signs of progress. In 2011, AMD shipped 30 million APUs and established a new annual record for notebook revenue.
The manufacturer cites the amalgamation of the CPU and GPU onto a single chip as the core antagonist for this initial spurt of shipments, and reckons the introduction of the APU (accelerated processing unit) has paved the way "for continued growth in key segments and geographies".
There's merit to that argument, as AMD's 32nm APUs have proven to be competent all-rounders, but as we established in our technical analysis, AMD's problem has never been one of technology competence; it has that in spades. Rather, the company needed to ensure that top-tier laptop manufacturers launched a wave of well-integrated systems based around the APU platform.
It's been slow and steady progress, but since then, AMD has rolled out a refreshed line-up of A-Series APUs, and, right on cue, some of the industry's biggest names have arrived on hand with a range of supporting laptops.
So, for all those of you who've considered nothing other than a Core i3, a Core i5 or a Core i7 in recent months, we're putting an AMD-powered HP Pavilion dv6 through its paces to see what it has to offer.
Design
The Pavilion dv6 is available in a dizzying number of varieties. HP provides a a choice of Intel or AMD processors, varying storage capacities, differing memory amounts, and two unique chassis that introduce features of their own. The standard plastic model comes equipped with an Altec Lansing sound system, while a premium metal version ships with a four-speaker Beats Audio package.
Prices range from around £400 to £700, and the model we're taking a look at today - the Pavilion dv6-6c04ea - should arrive at retail in the coming weeks priced somewhere in the middle at roughly £550.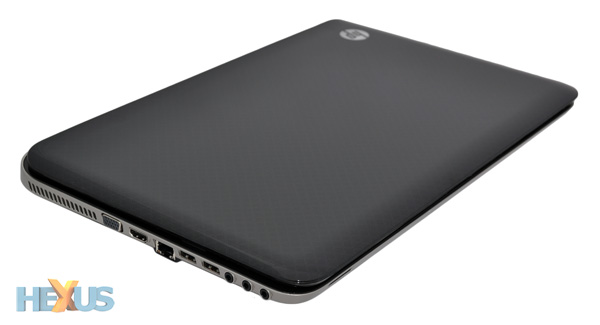 That fee doesn't include the premium metal finish, but the dv6-6c04ea is positioned as an affordable entertainment PC, and it looks and feels a lot like a traditional laptop. It isn't the thinnest around (it measures 3.5cm thick) and at a fraction over 2.5kg in weight, it isn't the lightest either.
The dv6 loses out in the thin-and-light stakes, but it's a lovely-looking machine nonetheless. HP's glossy, patterned lid is attractive without being loud, and the stylish finish extends throughout the palm rest and around the keyboard.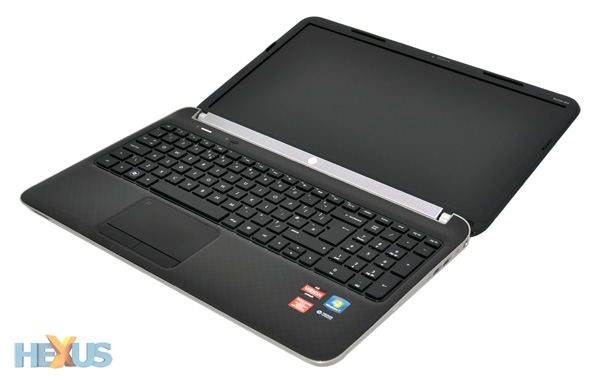 With entertainment in mind, a large 15.6in display lives front and centre, and it's joined by a side-loading DVD writer. A neat enough combination, and we like the fact that the display tilts back almost a full 180 degrees on strong hinges, but it's a setup that's let down by a limited 1,366x768 display resolution.
Number of pixels aside, the dv6 feels well put together, and while the system isn't the most portable, HP's specification allows it to function as a well-rounded desktop replacement.
Specification
We've mentioned that the dv6 is available in a multitude of flavours, but our dv6-6c04ea review sample is an all-AMD affair. At the heart of the laptop there's an A6-3430MX APU that offers four CPU cores clocked at a default 1.7GHz with the ability to dynamically Turbo up to 2.4GHz, as well as an integrated Radeon HD 6520G graphics processor that provides 320 cores operating at 400MHz.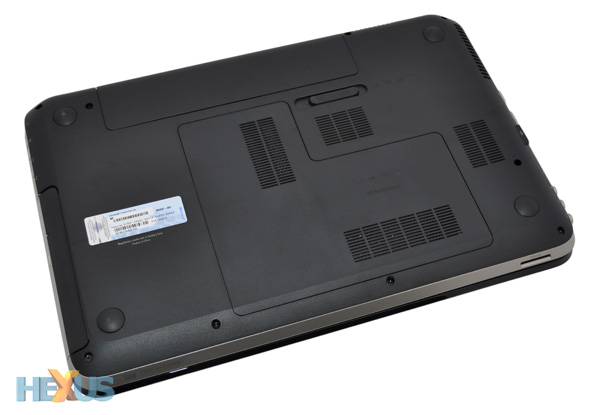 AMD isn't lacking in graphics pedigree, so HP handily builds on the Radeon HD 6520G IGP with a discrete Radeon HD 7470M graphics card armed with 512MB of DDR3 memory. The latter may sound as though it has a lot in common with the 'Southern Islands' architecture that debuted on the desktop earlier in the year, but don't let the 7000-series nomenclature confuse you. The Radeon HD 7470M is a 40nm 'Seymour XT' GPU that, for all intents and purposes, is last year's Radeon HD 6490M going by another name.
We'll find out exactly how potent the CPU and GPU combinations are later in the review, but what's useful to know is that both the IGP and discrete graphics solutions are tied together in CrossFire. What this means is that if the situation demands it, the two will happily work together to dish out greater graphics performance.
Elsewhere, HP equips the dv6-6c04ea with 6GB of DDR3 memory (1x2GB, 1x4GB), a 750GB Toshiba hard disk that operates at a basic 5,400RPM, an integrated webcam, a six-cell battery as standard and a 64-bit install of Microsoft's Windows 7 Home Premium operating system.

HP Pavilion dv6-6c04ea left edge: VGA, HDMI, Gigabit Ethernet, USB 2.0 (x2), Mic-in, Headphone-out (x2)

HP Pavilion dv6-6c04ea right edge: DVD-RW, USB 2.0 (x2), Kensington Lock, Power
There's a healthy set of connectivity options on both sides - as well as an SD card reader up front - but HP has surprisingly opted not to include USB 3.0.
Wi-Fi and Bluetooth connectivity both feature as standard, but is the limited display resolution and lack of USB 3.0 connectivity going to detract from an otherwise useful package?