User experience
Keyboard and trackpad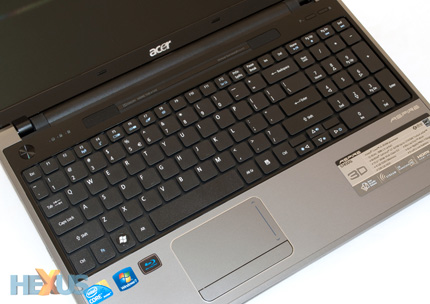 Making full use of the notebook's width, Acer's keyboard features large island-style keys and a dedicated numpad.
During use, we found little reason to fault it. The keys feel lovely and soft, resulting in a smooth typing action, and we were able to touch type immediately. If we were being picky, we'd have preferred a double-height Enter key and larger arrow keys, but really, this is a great 15.6in keyboard.
And the trackpad's rather nice, too. It's suitably large and multi-touch enabled, and it's supported by a well-sized mouse bar. The trackpad does lean a little close to the notebook's left side, and users with big hands may find they accidentally brush the touch-sensitive surface whilst typing, but you can disable the trackpad via a dedicated shortcut key.
The 3D angle
Unlike Acer's previous 3D notebooks, the Aspire 5745DG drops TriDef 3D software in favour of NVIDIA's 3D Vision.
Anyone who's familiar with NVIDIA's solution should feel right at home. For those who aren't, the 3D Vision requirements are quite simple; you need a system with a half-decent GPU, a display that supports a true 120Hz refresh rate and a set of active-shutter glasses. The Acer Aspire 5745DG of course provides all three.
It sounds complicated, but the way in which 3D works is practically seamless and requires little user intervention. When viewing 3D content, the active shutter glasses sync to the notebook via infra-red and rapidly display alternate images to each eye. It all happens so quickly that the user sees a single three-dimensional image at 60Hz per eye.
How good is the 3D effect? It's actually very good, so much so that it left us impressed during our time with the Acer notebook. NVIDIA's sample material - including images and movies - all show off great three-dimensional depth, but they are merely samples.
Unfortunately, there isn't a whole lot of 3D content currently available. The number of Blu-ray 3D titles is presently limited, and while NVIDIA's software will cleverly add 3D effects to over 450 games, which include the vast majority of popular games, only 11 titles are listed as truly 3D Vision Ready. And, if 3D gaming is what's of interest, you may find that the GeForce GT 425M GPU doesn't quite rise to the challenge - more on that later.
Content isn't a long-term problem, however, and when you do get your hands on 3D media, the Aspire 5745DG makes it immersive and highly enjoyable.
Looking ahead, NVIDIA will soon be adding further value to its 3D Vision proposition by releasing 3DTV Play. Launching as a free update to all existing 3D Vision customers in the coming weeks, 3DTV Play will allow users to output 3D content to a big-screen 3D TV using a HDMI 1.4 output - like the one found on this Acer notebook.
If you own a 3D TV, the Aspire 5745DG may just have become a whole lot more interesting as it could double as your living room's 3D Blu-ray player.
Nonetheless, 3D is clearly an emerging technology, and though Acer's implementation is solid, we have to ask; would we miss 3D Vision if the notebook didn't have it? Probably not. In fact, we'd almost certainly be willing to swap 3D Vision in favour of battery-saving Optimus technology if we had the choice.
Ports

Running through the ports, we get a Kensington Lock, VGA and HDMI 1.4 output, Ethernet, USB and audio jacks on the notebook's left edge.

The right edge provides a further three USB ports, a Blu-ray/DVD-RW combo drive and a power input. A multi-card reader is housed along the front edge, along with status LEDs for power, charging and wireless.
Notice the unusually-high incline? We're not propping the notebook up, that's the work of the chunky 99Whr battery.
Display and sound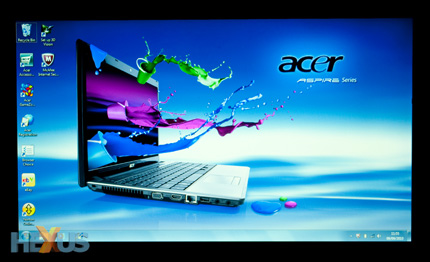 We were a little disappointed by the fact that the Aspire 5745DG's display offers just a 1,366x768 resolution, but that's probably the only criticism we have.
The LED-backlit panel provides vivid colour, excellent black levels and good viewing angles. The glossy screen can become a distraction during dark scenes, but the display generally provides a fantastic movie-watching experience. Blu-rays in particular are a treat.
Furthermore, despite this being a 3D notebook, the 120Hz display provides an obvious benefit when watching 2D content; the quick refresh rate minimises judder and motion blur, creating a silky-smooth on-screen picture.
Going hand-in-hand with the excellent display is a set of Dolby-optimised stereo speakers. Facing up, the speakers are able to reproduce convincing audio, with speech and music notably crisp and clear during movie or music playback. There is an obvious lack of bass, but the display and speakers combine to create a very enjoyable multimedia experience.