Introduction
High definition may have been the buzzword of recent years, but the two letters that best define the 2010 multimedia experience are undoubtedly 3 and D.
Having appeared to have peaked in the '80s, 3D technology is now back in the limelight and seemingly destined for mainstream domination.
Blockbuster movies are being released in 3D on the big screen, 3D-capable TVs are readily available on the high street, and major broadcasters are in the process of rolling out the first 3D TV channels.
And the three-dimensional juggernaut isn't stopping there; game consoles, PCs and notebooks have all signalled their intention to move into the third dimension.
We've enjoyed 3D at the cinema, and 3D gaming has its moments, but 3D on a notebook... is there really any need? And more importantly, is anybody going to be willing to wear those funny-looking specs whilst on the move?
To find out, we're taking a look at the £1,000 Acer Aspire 5745DG, a 3D-ready notebook designed to offer the ultimate mobile multimedia experience.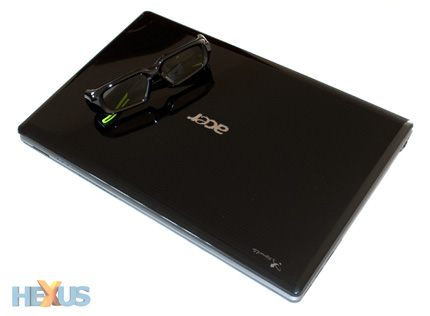 It might look a little simple, but there's more to this 15.6in machine than meets the eye.
Inside that glossy exterior lives a 2.4GHz Intel Core i5 450M processor and a new Fermi-derived GPU from NVIDIA in the form of the GeForce GT 425M. The latter, teaming up with the notebook's 120Hz display and a set of bundled active shutter glasses, is in place to provide complete support for NVIDIA 3D Vision.
For the not-so-technical reader, here's a translation; put on the bundled specs and the Acer Aspire 5745DG lets you play games in 3D, watch Blu-ray 3D movies, or view 3D photos.
Design
The first thing that strikes you when you see the Aspire 5745DG is that this is a big notebook, even in 15.6in terms.
Measuring around an inch-and-a-half thick, it's a chunky unit and it's heavy too, weighing just over 2.8kg.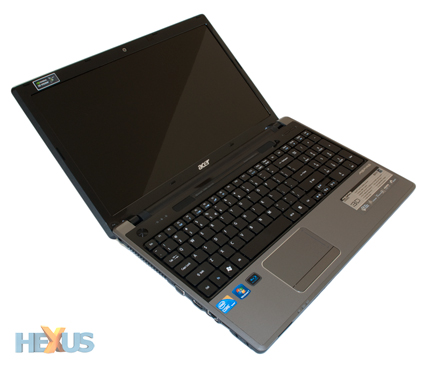 But the big dimensions are put to good use; the notebook feels particularly robust and it comes equipped with a full-size keyboard - including numpad - and a large, smooth trackpad.
Finished in a glossy-black lid - with a subtle striped pattern and an embedded Acer logo - it's surprisingly good looking, and the aesthetic appeal is continued under the lid, too.
The keyboard is housed in a glossy-black surround that features a hi-fi-style power button and a set of Dolby-optimised stereo speakers. Completing an all-round classy package, the palm rest is coated in a brushed silver that's subtly sophisticated.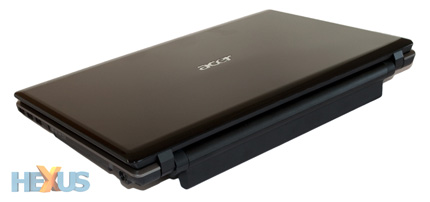 Top marks for looks? Not quite, as our sample comes equipped with a massive 12-cell battery that protrudes from the chassis by about an inch. The battery's an eyesore, and by not extending the full width of the notebook, it can leave your legs sore after a short spell of lap-top use.
Specification
A system of this size should house a powerful set of internal components, and Acer doesn't disappoint.
Although retail models may vary, our pre-release sample arrived with a 2.4GHz Intel Core i5 450M processor, 4GB of DDR3 memory and NVIDIA GeForce GT 425M graphics.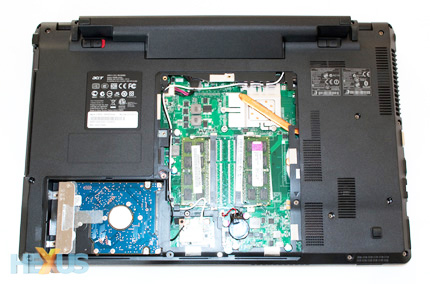 Sounds like a notebook that's perfectly suited to dynamic GPU switching via NVIDIA Optimus technology, but apparently not. According to NVIDIA, Optimus technology is currently unavailable to notebooks designed to support 3D Vision.
By default, the Intel processor's IGP is disabled and NVIDIA's discrete GPU is in action at all times. That might explain the need for a hefty 12-cell battery.
A 500GB hard disk provides ample storage, and your high-def multimedia is catered for by an integrated Blu-ray disc drive. Unfortunately, the 120Hz 15.6 CineCrystal LED-backlit display isn't full-HD-compatible and won't be able to make the most of Blu-ray visuals with its limited 1,366x768 resolution.
Rounding off the spec sheet is Wireless N, Bluetooth 3.0 and Ethernet connectivity, HDMI and VGA output, Dolby Home Theater-optimised speakers, a multi-card reader, four USB ports and a pair of NVIDIA's 3D Vision glasses.