A look around
MSI equips the Wind 12 U230 with a glossy lid that looks the part. It might not appeal to all users, however, as it's prone to attracting finger prints.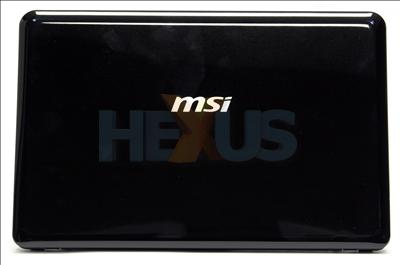 The rounded edges ensure the latest Wind keeps an element of cuteness. We're assuming the system will ultimately become available in multiple colours, and light shades of pink or blue are only going to enhance the cute factor.
Despite the almost toy-like appearance, the system feels solidly built and there's very little flex in the chassis. Unlike some of the cheaper netbooks we've come across, there's no sign of creaking, either.

Not a whole lot to see at the back, but with the battery removed, the Wind 12 U230 shows its true slim ambition.

To the right-hand side, the notebook features microphone and headset audio connectors, two USB ports, a multi-card reader, Gigabit Ethernet connectivity and a Kensington lock.

Sleek, smart and smooth up front - how all ultra-portable notebooks should be. There's no hatch for the lid, but MSI's hinges are rigid enough to ensure the system remains closed when not in use.

The left offers a port for the bundled power adapter - which is very small and attached to a nice, lengthy cable - VGA output, a vent for the notebook's internal fan, HDMI output and a third USB port.
We've noticed that the vent pushes out a substantial amount of air, and that the fan is clearly audible whilst the system idles. Put it under load and the fan becomes very noisy, whilst the notebook remains cool. Once again, we're hoping fan noise is a problem isolated to our early engineering sample.
The final retail product may ship with a different bundle, but our early review sample is accompanied by just the six-cell battery, a power adapter and a recovery disc.