The MSI Wind 12 U230
Before we start our examination of the MSI Wind 12 U230, we should point out that our review model is an early engineering sample. MSI suggests that the U230 hasn't yet entered mass production, and may see a few minor changes prior to retail availability in January.
The below specification, however, is unlikely to be altered and give or take a few configuration options, this is how the Wind 12 U230 is likely to be kitted out:
| | MSI Wind 12 U230 |
| --- | --- |
| Processor | 1.6GHz AMD Athlon X2 Neo L335 (dual-core) |
| Operating system | Windows 7 |
| Chipset | AMD 780M + SB710 |
| Memory | 2GB (DDR2-667) |
| Display | 12.1in, 1,366x768 |
| Graphics | ATI Mobility Radeon HD 3200 |
| Audio | HD audio, stereo speakers |
| HDD | 320GB SATA hard disk |
| Webcam | 1.3 megapixel |
| Card reader | Multi Card Reader |
| Communication ports | Gigabit Ethernet, Wi-Fi 802.11b/g/n, Bluetooth |
| I/O Ports | VGA out, HDMI out, USB 2.0 port (x3), Mic-in and headphone out, Ethernet |
| Battery | Six-cell (58WHr) Lithium-Ion |
| Dimensions | 297mm x 190mm x 24-40mm |
| Suggested retail price | £399 (availability scheduled for January) |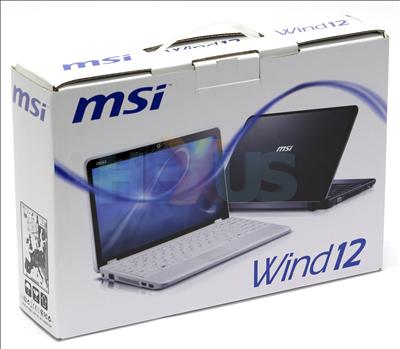 MSI's packaging rarely seems to change, and the Wind 12 is no exception. A familiar-sized box outlines a brief specification and pictures the notebook with black or white colour schemes, suggesting that both tones will be available at retail.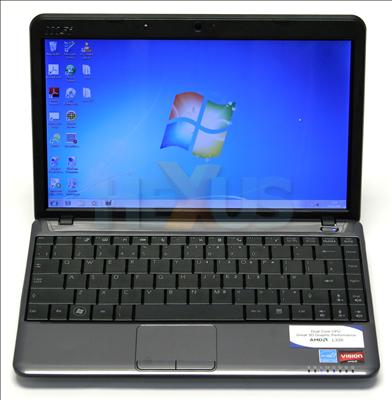 Our test system, featuring an all-black exterior and a silver interior, is as simple-looking as most smaller netbooks, with sleek lines and little in terms of aesthetical touches.
MSI's 12.1in LED-backlit display offers a 1,366x768 resolution, making it ideal for 720p movie playback and comfortable for everyday use. There's a decent amount of desktop real estate for a device of this size, and the LED-backlight ensures colours remain bright.
However, like so many other notebooks, the Wind 12 U230's screen is given a glossy finish and is highly reflective as a result. Although image quality is decent, it's hindered by the fact that you're also looking at a reflection of yourself the majority of the time. Furthermore, road warriors should be aware that the reflective screen makes outdoor use a fruitless experience.
What we do like are the system dimensions. At 24mm thick at the thinnest point, the Wind 12 U230 is very much an ultra-thin portable machine. Weighing roughly 1.3kg, it's suitably light, too.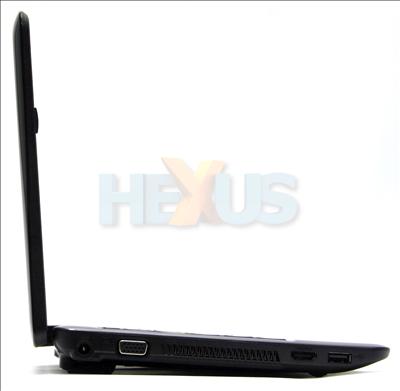 Unfortunately, the notebook's general thinness is somewhat negated by a bulky six-cell battery that protrudes from the system's underside. With the six-cell battery attached, the system measures some 40mm at its thickest point. Users can take solace by the fact that the raised profile actually makes desk-top use surprisingly comfortable.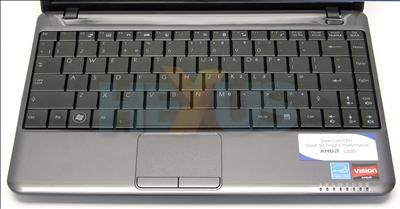 MSI's keyboard and touchpad are world's apart in the fact that one is really quite good, whilst the other is unforgivably poor. The keyboard, taking full use of the system's 12in frame, is well sized and comfortable in use. There's a slight flex at the center of the keyboard, but not enough to hamper a user's typing, and key presses are suitably responsive and quiet in use.
The trackpad, on the other hand, is sub-standard. The size of ultra-portable notebooks may be a limiting factor, but the Wind 12 U230's real problem is the two trackpad buttons - both provide an emphatic click when pressed. It's very, very annoying. We're hoping MSI can tone down the buttons before retail availability as they're currently unusually loud.
As with other recent Wind systems, the front edge is lined with eight activity LEDs.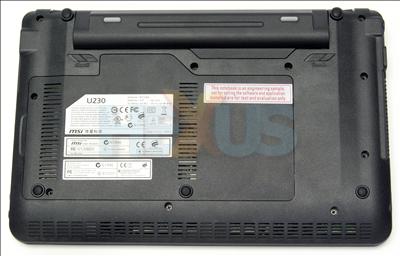 Not a whole lot going on underneath, but it's worth noting that the Wind 12 U230's stereo speakers are mounted at the underside's front edge. Sound quality is surprisingly decent, and ample for casual music playback or VOIP use.