Introduction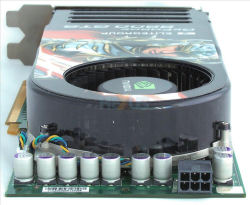 Background
The GeForce 8800 GTS 320MiB SKU, released a few short weeks ago, brought down the price of NVIDIA's excellent G80 architecture to under £200 for a retail card.

Pointing out the differences, the 320MiB GTS SKU differs from the 640MiB model by, obviously, having half the framebuffer, and the reduced on-board memory will result in comparatively degraded performance once ultra-high resolutions and /or extremely high levels of image enhancement are used. Other than this, however, the two GTS models are identical.

What that means is that the GeForce 8800 GTS 320 is the hottest property the low side of £200. ECS wants in on some volume G80 action and was kind enough to send in a sample. Priced at around £180 and slightly overclocked, it looks to be a winner on paper. Let's find out if that holds true on closer examination, shall we?