PowerColor Radeon X1900 XT 512MB
PowerColor Radeon X1900 XT 512MB

In a super-quick transition between high-end GPUs, ATI has replaced its Radeon X1800-series, released just 4 months ago and selling strongly, with the X1900 range that initially encompasses the All-In-Wonder Radeon X1900, Radeon X1900 XT and Radeon X1900 XTX SKUs.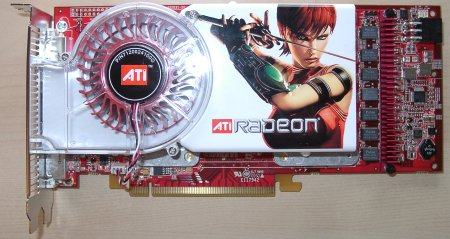 A look at PowerColor's Radeon X1900 XT 512MB card shows striking similarities between it and a regular ATI Radeon X1800 XT 512MB. A closer look shows the cooler to be identical. The general PCB layout, too, is very, very similar to an X1800 XT's. In fact, it would be very difficult to tell the SKUs apart with a quick visual look. Given the obvious similarities, then, the cooler remains noisy and obtrusive when the card is placed under load, with the temperature-controlled 65mm fan spinning at up to 5,000RPM. We had hoped that ATI/PowerColor would re-engineer it for the X1900 range.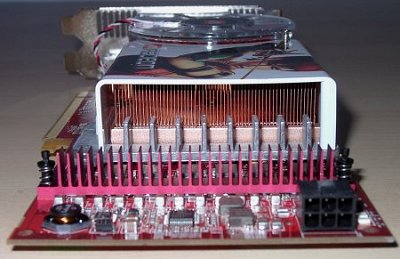 A look at the very front shows the same beefy cooling found on X1800 XTs. PowerColor clocks its X1900 XT 512MB card in at a reference-like 621MHz core and 1440MHz memory (effective). That's the same speed as the X1800 XT's core, although memory frequency is down by 60MHz. Remember, though, the massive pixel-shading power, when evaluated using games that make good use of it, will see the X1900 XT streak ahead. In pure memory bandwidth concerns, though, the PowerColor card, like most other AIB's, is found a little wanting when compared to the GeForce 7800 GTX 512.





A side-on shot also shows the double-height nature of the card's cooler. PowerColor has been keen to launch a retail sample at the earliest opportunity, so the basic card is no different from the reference model we looked at in our technology review. The X1900 XT GPU, manufactured on a 90nm process, contains around 384-million transistors, amounting to an additional 60-million over and above the X1800 XT GPU. The extra transistors, in the main, are required for the substantial increase in pixel-shader processing. An extra 32 pixel shaders need to be located somewhere, right?.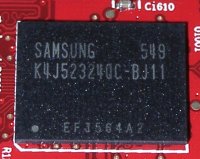 512MBs of GDDR3 RAM, provided by Samsung, is aligned in 8 512MBit chips on the upper side. Note the 1.1ns speed rating of the devices. It's interesting to note that NVIDIA's GeForce 7800 GTX 512 cards use similar ram, and it's specified to run at an effective 1700MHz at 2.0V. PowerColor/ATI clocks it in at a lowly 1440MHz, so there should be ample frequency headroom.





The rear highlights one of the X1900-series' key non-3D features. Twin dual-link DVI transmitters allow you to connect a couple of ultra-high resolution displays off just one card. With Dell debuting its 30-inch WQXGA panel a couple of weeks ago and Apple having its own 2560x1600 display around for some time, dual-link DVI screens may well be what the well-heeled buyer will pair up a couple of £365 cards to. All X1900-series cards are compatible with ATI's CrossFire multi-GPU technology, with master cards running at the same frequency as XT models.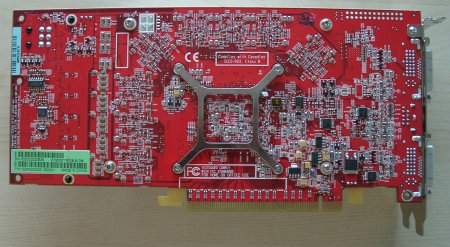 Unsurprisingly, the rear is the same as ATI's Radeon X1800 XT. A small sticker, on the left-hand side, is the only indication that this is an R580-based card.

A same-sized PCB, identical cooler and similar DRAM makes the PowerColor X1900 XT 512MB card an easy replacement for its own X1800 XT 512MB. That's why immediate retail availability is good; it's a small step, in terms of physical changes, from R520 to R580.