Super-duper
Graphics have historically been the domain of NVIDIA and AMD's partners specialising in cards alone. The recent trend, from our vantage point, indicates that the big three motherboard manufacturers - ASUS, Gigabyte and MSI - have all been putting greater focus on graphics, for both sets of GPUs, and actually choosing a particular card is becoming more difficult by the day.
Gigabyte has been enjoying a good VGA run of late; its Super Overclock GPUs have, on the whole, been well-received by the press. Marrying reference-beating speeds and cooling, with little price premium, the firm now brings its SO (Super Overclock) treatment to NVIDIA's high-end GeForce GTX 570 GPU.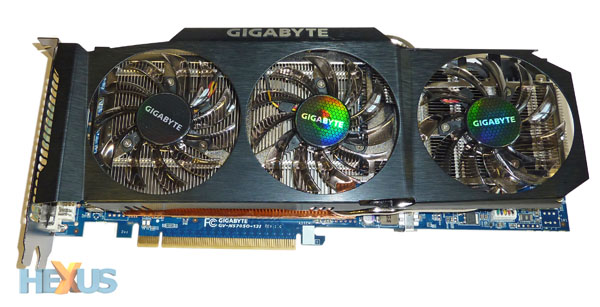 Said GTX 570 SO is an all-business card, equipped with a three-fan cooler that's seemingly identical to the one found on the equivalent GTX 580 Super Overclock.
The card-long WindForce 3x heatsink is made for heavy-duty heat dissipation. Three PWM-controlled fans, 80mm in diameter, blow right across the PCB. Spinning at a near-silent 1,740rpm when idling, they can be manually forced to run at 3,360rpm via the firm's bundled OC Guru software, which also enables voltage manipulation for the GPU core and, unusually, the memory.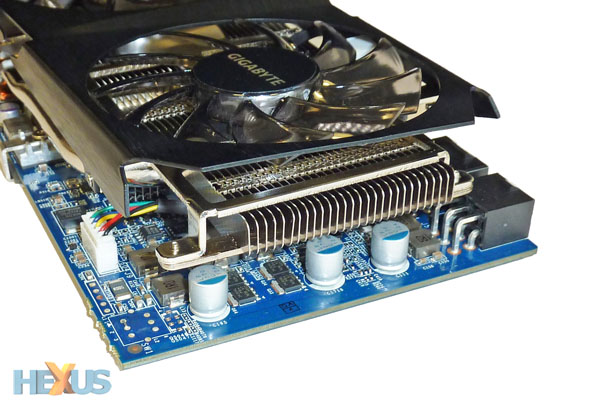 Examine it closely and a few differences to become apparent between the Super Overclock duo. While the PCB is the same size, Gigabyte does without a second BIOS - used on the GTX 580 for super-insane LN2 cooling - and rearranges a few onboard components around. Make no mistake however, this is a high-end card with performance very much the primary criterion.
Gigabyte has a range of suitably tech-sounding names that describe various features - Gauntlet sorting, Ultra Durable VGA, 2oz copper, Proadlizer, for example - but what you need to know is this card's the fastest GTX 570 in the company's stable.
Clocked in at 845MHz core, which is over 100MHz faster than default, the SO's 1,280MB GDDR5 memory, for some reason, is kept at reference speeds of 3,800MHz. Back-of-the-envelope calculations suggest it should be around 10 per cent faster than a vanilla GTX 570.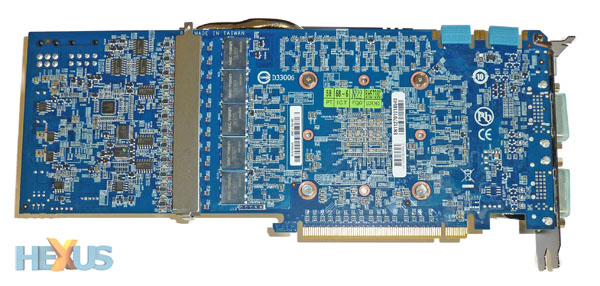 12 LEDs indicate the number of power phases active for the GPU and VRMs. Idle in Windows and two are lit, while load a game and the full complement of green LEDs is visible if you peer into the chassis. A further two power phases, without corresponding LEDs, are reserved for the memory.

Built for overclocking and overvolting, this GTX 570 uses a GTX 580-like 6-pin and-8-pin power-delivery setup - see it on the far left-hand side?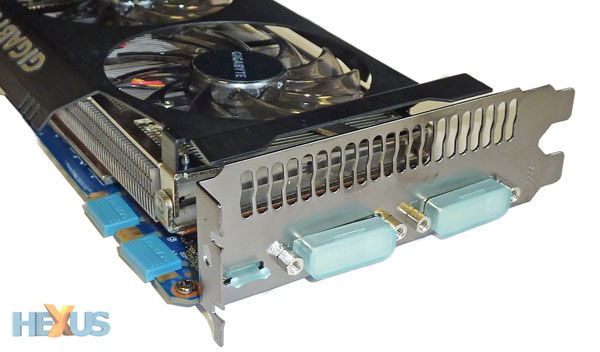 But the rear is far more conventional for this class of GPU. A couple of dual-link DVI ports and mini-HDMI are standard for GeForce GTX 500-series. The design of the card means the vent is more for show than substance; there's little air being pushed through it.
Chock-full of features that separate it from a reference card, the Gigabyte GTX 570 SO's current retail price is £300, compared with £240 for the cheapest (generic) GTX 570 we can find in-stock. The 25 per cent premium is hard to stomach, especially when the fastest single-GPU from NVIDIA, GTX 580, is available from £340. But before passing final comments, let's see just how it performs.