Final thoughts and rating
Technology aficionados will remember March 2011 as the month when AMD and NVIDIA launched their very best graphics cards in quick succession.
AMD threw done the gauntlet with the Radeon HD 6990 (OC) card on March 8. This dual-GPU beast takes in two slightly underclocked HD 6970 GPUs on one board, hooks them together via CrossFire and wreaks havoc on our range of benchmarks, thrashing all other cards.
NVIDIA has now brought its own dual-GPU behemoth to bear. The GeForce GTX 590 fits in two GTX 580-like GPUs on to one board and connects them via established multi-GPU technology known as SLI. Knowing that GTX 580 is arguably a faster GPU than Radeon HD 6970, the spoils are NVIDIA's to be enjoyed, you would think.
But the GTX 590's two graphics processors are hamstrung by core and memory frequencies that are far below a GTX 580's clocks, to the extent that the pair run almost 20 per cent slower. The obvious reason for this significant downclocking lies with ensuring the dual-GPU board doesn't pull an inordinate amount of watts from the PSU, thereby directly impacting upon cooling and noise.
Yes, the GTX 590 is (slightly) smaller and definitely quieter than AMD's Radeon HD 6990, and now the ability to run three screens - 3D, even - off one card is a solid, desirable addition, but dollops of performance is what the ultra-high-end of the graphics market is all about: you don't buy a £550-plus dual-GPU card for its energy efficiency or looks, right?
Judged by the gaming performance metric alone, and it's the first aspect many enthusiasts will zoom in on, NVIDIA's GTX 590 is simply outclassed by AMD's chief performance protagonist in many games, to the tune of 25 per cent in worst-case scenarios. We can infer that CrossFire's excellent scaling coupled with AMD's insouciance for a well-balanced solution - HD 6990 really puts foot-to-the-floor performance first - are two reasons why the big-ass Radeon is so fast.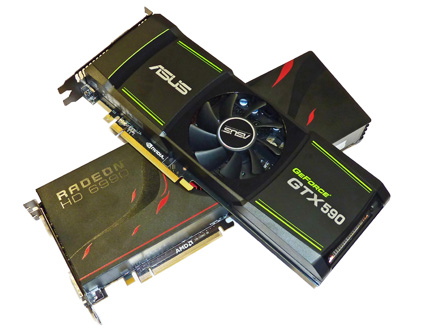 Occupying space in a niche market where one lives or dies the performance sword, a cynic may say the bone-stock GTX 590 should make preparations for seppuku, though a stay of execution may be granted by partner cards that arrive with generous overclocking - we're hearing of AIBs increasing both core and memory frequencies by up-to 15 per cent.
Value generally tends to be of little concern when dealing with products catering for the extreme market. Here, too, NVIDIA falls foul of AMD, because the GTX 590 is projected to ship at £570, or £40 more than AMD's finest.
Ultimately, NVIDIA's dual-GPU GeForce GTX 590 3GB fails in dethroning the Radeon HD 6990 as the world's fastest graphics card. Worse still, cheaper dual-card setups - GTX 570 SLI or HD 6950 CF - offer similar performance for a smaller outlay.
Does this make the GTX 590 a bad buy, then? Far from it, because we feel the super-fast card's potential still has some way to go before being fully realised. The real GTX 590 will step forward when partners start overclocking it to with an inch of its life, realising the headroom that exists in the card. It wouldn't be at all surprising to see a GTX 590 Ti make an appearance soon, outfitted with 700MHz core and 4,000MHz memory clocks.
Bottom line: AMD has won the battle of the reference cards, no doubt, but matters may just turn in NVIDIA's favour once a slew of partner cards have been through the labs.
The Good
Smaller and quieter than Radeon HD 6990
3D Vision Surround from one card
Has significant overclocking potential
The Bad
Slower than the Radeon HD 6990
Matched by multi-GPU solutions costing £150 less
Priced too high given the performance
HEXUS Rating

NVIDIA/ASUS GeForce GTX 590 3GB
HEXUS Awards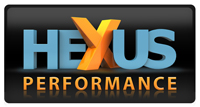 NVIDIA/ASUS GeForce GTX 590 3GB

HEXUS Where2Buy
HEXUS Right2Reply
At HEXUS, we invite the companies whose products we test to comment on our articles. If any company representatives for the products reviewed choose to respond, we'll publish their commentary here verbatim.