Single-slot cooling for GTX 460?
Nascent NVIDIA partner KFA2 has tried hard to differentiate itself from the horde of other add-in board partners by appealing to the enthusiast's sensibilities. It started off by custom-designing a GeForce GTX 460 board, complete with detachable fan, and then moved through the gears with a crazy-cooled GeForce GTX 480 card, suitably dubbed Anarchy.
The well-received GTX 460 1GB GPU has been a safe, solid choice for any enthusiast since its release in July 2010. Now priced at below £150, our opinion is that meaty mid-range performance makes it the best pound-for-pound NVIDIA card going.
KFA2 is starting off 2011 with another take on the GTX 460, this time by bringing a single-slot 1GB card to the table, dubbed Razor. A full-fat GTX 460 1GB consumes some 160W of power - more when run with out-of-spec. applications such as FurMark - so releasing a single-slot cooler is no mean feat.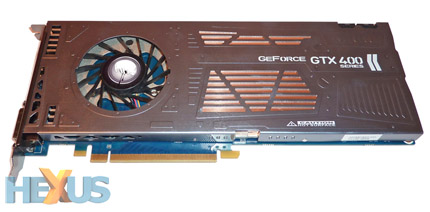 KFA2 manages to keep a low profile by using a custom PCB that's stretched out from the regular 8.25in to 10.5in on this model. This makes it as long as the range-topping GeForce GTX 580 and negates some of the benefits of having a single-slot-cooled card, which is primarily designed to fit into space-constrained chassis.
But KFA2 sticks with the reference 675MHz core and 3,600MHz memory frequencies mandated by GTX 460 GPUs, and with this being a card of the 1GB persuasion, there's a 256-bit memory bus for oodles of mid-range bandwidth.
Shipping from the factory with 1.02V going through the GPU, KFA2's Xtreme Tuner HD software, which is bundled, offers voltage adjustment from 0.825V to 1.1V, as well as fan control, profile saving, and an option to update the card's BIOS.

An aluminium cover is screwed in place to direct the 70mm fan's airflow around the heatsink. However, with little venting opportunities from any part of the card, heat is free to build up around the GPU.
Strangely, KFA2's omits the usual SLI connector found on the GTX 460. This seems like an oversight and will force users to run the multi-GPU technology through the motherboard's PCIe bus, which will lead to degraded performance.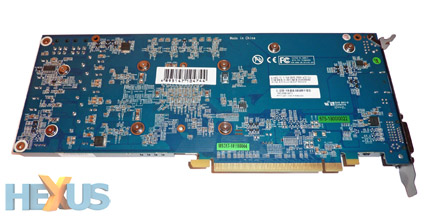 The stretched-out card's PCB shows that the additional length isn't down to component restrictions. Rather, the extra 2.25in is used to house a longer, flatter heatsink.

And a knock-on effect of keeping everything to one slot is limitations in outputs. The Razor is kitted out with dual-link DVI and DisplayPort. HDMI, then, gets the boot, which means the card cannot connect up to modern A/V receivers and still offer bitstreaming support for Dolby True HD and DTS-HD Master audio, and this fact may well deter it from a supposed target market for HTPCs.

Two six-pin PCIe connectors are squeezed in on the other side of the Razor, and both need to be connected for the card to operate correctly.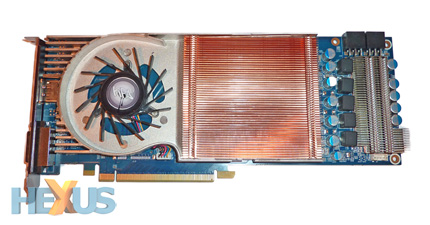 A proper look at the cooling is made possible by removing the cover. What we see is that KFA2 uses a finned copper block that draws heat away from the GPU. A smaller heatsink is used to limit the temperature of the hot-running power-delivery components on the right-hand side.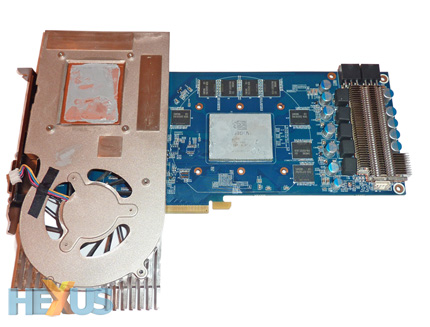 Remove the one-piece cooler and it's a straight-up slab of copper, and there's not enough space to house the usual array of heatpipes seen on high-end cards. Underneath, the 1GB frame-buffer is provided by Samsung chips that are in contact with the long-ish heatsink.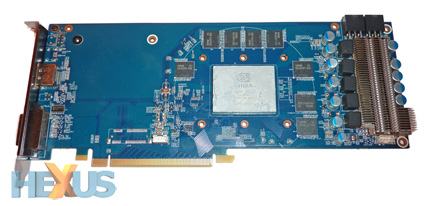 Here's proof, if you need it, that the PCB's size is determined by the cooling, because it's barely used on the left-hand side. While we applaud KFA2 for being the first European manufacturer to launch a single-slot card, we can't help wondering if it could be made with a shorter PCB - a consideration which is important given that potential buyers may not have 10.5in of graphics-card room in their chassis.
Interestingly, an additional fan header on the right-hand side indicates that the PCB is designed to take at least two fans.
First-page summary
Backed by a two-year warranty and priced at around £160, the strange-looking Razor is novel insofar as it's the first single-slot GTX 460 1GB card we've come across. The implementation calls for a longer-than-normal PCB and restricted outputs, though.