Reference, with a twist
It's good to be a large graphics-card producer such as ASUS. The company's vast catalogue spans all AMD and NVIDIA GPUs. This means it never really loses out at a new launch, because if a particular NVIDIA card is well-received by the press, ASUS can run with that. Similarly, should AMD hit a home run and be flavour of the month, out come a bevy of Radeon cards.

At the time of writing, ASUS has just two cards in its Radeon HD 6800-series arsenal. There's the custom-built Radeon HD 6850 DirectCU and the reference-looking Radeon HD 6870. Both cards are pre-overclocked and feature the firm's Voltage Tweak technology as standard.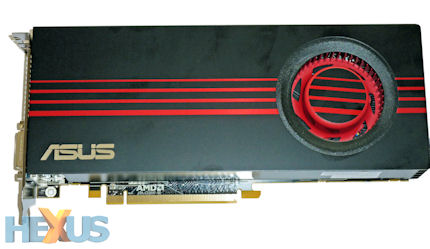 The Radeon HD 6870 is the faster of the two new GPUs, clocking in at 900MHz core and 4,200MHz memory. Backed up by 1,120 shaders and a tidy architecture, performance is better than a Radeon HD 5850's and relatively close to a GeForce GTX 470's.
ASUS indulges the enthusiast with a slight bump in frequency, inching up to 915MHz core but keeping memory at a default 4,200MHz. The increased core will push the card's performance a few per cent above stock-clocked cards, although you'd be hard-pressed to see it in games unless using FRAPS is a hobby of yours.
Priced at £190 on pre-order, the card competes with bone-stock GeForce GTX 470 GPUs and, naturally, other Radeon HD 6870s.
Speaking of similarities, the ASUS board is otherwise physically identical to the reference HD 6870, and both have built-in voltage regulation for the GPU core. ASUS' Voltage Tweak software, therefore, isn't a company-specific feature.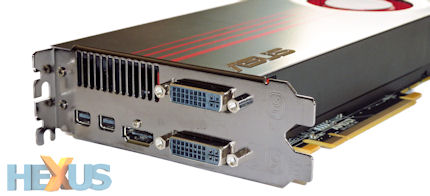 Outputs are generous. There's HDMI v1.4a - good for transporting 3D Blu-ray data - twin DisplayPort v1.2 and two DVI ports. Be warned that the bottom DVI can only transmit single-link video, that is, 1,920x1,200, but we don't imagine this to be a problem for most users.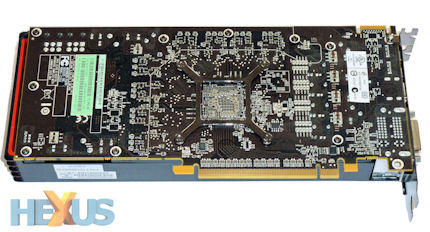 The new 6000-series GPUs ship with a single CrossFire connector - good for two-way rendering - and frame-rate improvements from attaching a second card are excellent. Be sure to fasten the card into the motherboard and chassis slots securely; it's a meaty affair that weighs almost a kilogram.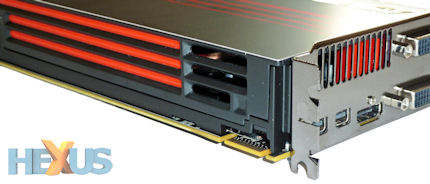 The GPU heatsink is equipped with three copper heatpipes that connect to an array of aluminium fins. Air is driven over the fins and pushed out of the vents on the side and the rear. ASUS/AMD employs a frame-type cooler that's similar to that found on the GeForce GTX 470 and 480 GPUs.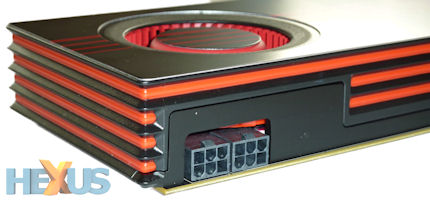 Radeon HD 6870 ships with the same 151W TDP as found on the Radeon HD 5850. This is why two six-pin PCIe connectors are required to power the card. Compare this with a single six-pin on the lower-power HD 6850. Moreover, two connectors give you free license to push the GPU to the limit without worrying about power-related issues.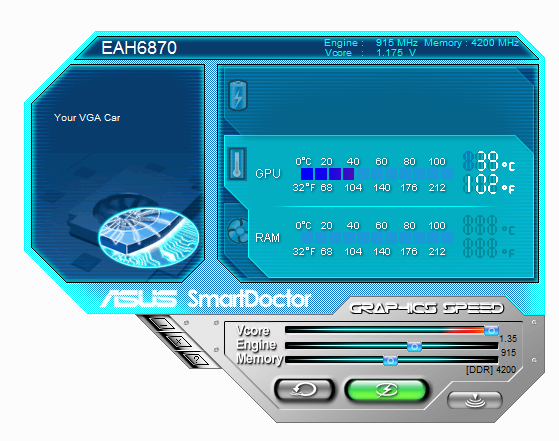 The GPU's voltage, which defaults at 1.175V, can be tuned from 0.95V through to 1.35V via the bundled SmartDoctor application. While we applaud the extra voltage on offer, the reference heatsink isn't particularly capable of dissipating the heat introduced by over-volting. Run at anything above 1.20V and the fan, whose speed is configurable in Smart Doctor, needs to be set to an ear-splitting 75 per cent.

First-page verdict

The ASUS Radeon HD 6870 1,024MB graphics card is cloaked in the reference heatsink and released with the core a smidge higher than other cards. Pricing is average for an HD 6870, coming in at £190.