Introduction
NVIDIA's Fermi may have gotten off to a shaky start early in 2010, but the latest mid-range iteration - the GeForce GTX 460 - has hit a sweet spot.
The card, available in both 786MB and 1GB flavours, offers decent performance at the sub-£200 price point, and there's no shortage of custom designs on the market.
We've had a look at a stock-clocked card from ZOTAC and a heavily-overclocked alternative from KFA2, but how about something in between?
That's where the Inno3D GeForce GTX 460 OC 1GB slots in.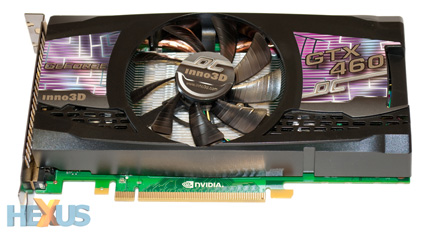 Featuring a GF104 core, the card comes pre-overclocked at 750MHz for the GPU, 1,500MHz for the 336 CUDA cores and an effective 3,800MHz for the 1GB GDDR5 frame buffer.
Compared to NVIDIA's reference speeds - 675MHz, 1,350MHz and 3,600MHz, respectively - that's a very healthy all-round-average bump of nine per cent.
Inno3D's custom design is a bit of a looker, too. A few branded stickers help bring a touch of colour to the black plastic shroud, but it's the translucent smoky-grey fan that's the highlight.
Measuring 90mm in size, the fan keeps noise levels at a minimum - more on that later - whilst providing decent airflow to the aluminium heatsink and dual copper heatpipes housed underneath.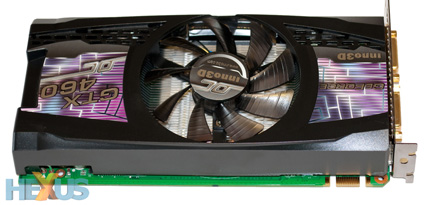 A single SLI connector permits two-way GTX 460 action, and at 210mm in length, the card's the same size as NVIDIA's reference design. That's almost 60mm shorter than the top-end GTX 480, remember.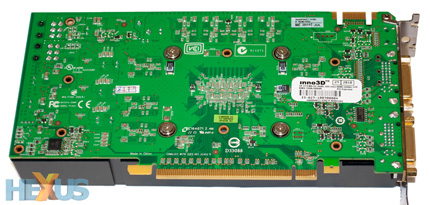 Not a whole lot to see at the rear, but it's a shame Inno3D didn't finish the PCB in black. Surprising, too, when you consider that the company's stock-clocked model does feature an all-black board.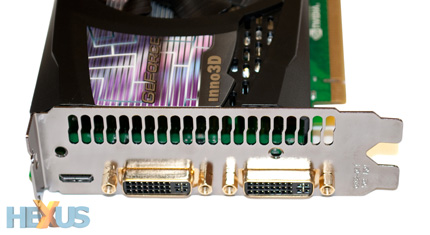 Sticking to NVIDIA's default layout, Inno3D's dual-slot card offers a pair of dual-link DVI ports and a mini-HDMI connector.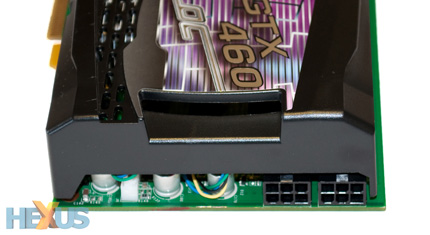 Housed at the opposite end are the card's two required six-pin PCIe power connectors.
It's a seemingly well-rounded offering, but at £185 it demands a £15 premium over a stock-clocked alternative. And Inno3D's lacklustre bundle - featuring only a DVI-to-VGA adapter, a molex-to-PCIe power cable and a driver disc - hardly stands out from the crowd.
Nonetheless, 3D performance and low noise could be what sets the Inno3D GeForce GTX 460 OC apart. Let's take a closer look.