Radeon HD 5870 Eyefinity 6 Edition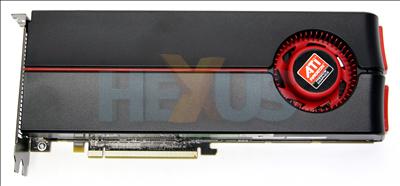 AMD's card look familiar? It should, as it's almost identical to the standard Radeon HD 5870 introduced back in September 2009. Readers wanting to know more about the architecture that makes the card tick can do so in our in-depth Radeon HD 5870 review.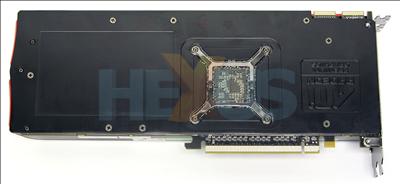 Cutting to the chase, the Radeon HD 5870 Eyefinity 6 Edition - which should be priced at around £400 - features the same 850MHz GPU as the standard Radeon HD 5870, but there's a significant change under the hood. Doubling up on the original design, AMD equips the Eyefinity 6 Edition with a massive 2GB frame buffer that should prove to be useful when gaming at mega-high resolutions.
Keeping to reference speeds, the GDDR5 memory operates at an effective 4,800MHz and connects via a 256-bit bus.
With 2.72 teraFLOPS of processing power on tap, AMD's fastest GPU should be potent enough to power Eyefinity's ultra-high resolutions. Those who're feeling a little bit adventurous, though, can daisy chain additional horsepower via the card's CrossFire links.

That's new, too. Requiring a little extra in terms of power, the 2GB Radeon HD 5870 Eyefinity 6 Edition necessitates both six-pin and eight-pin PCIe connections, as opposed to two six-pin connectors on the standard 1GB alternative.
As a result of the larger frame buffer and its ability to power six displays, the card pulls more power than a standard 5870, drawing 228W under full load and 34W when idle. An increase of 40W and 7W, respectively.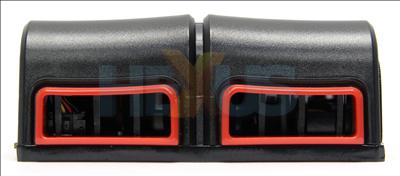 The minor bump in power draw doesn't necessitate a change in cooler.

It's all change at the rear of the card, though. Out go AMD's original array of dual-link DVI, HDMI, and DisplayPort outputs, and in come six Mini DisplayPort connectors made possible by multiple DisplayPort pipelines attached to the GPU.
Using the supplied adapters, the Eyefinity 6 Edition card supports only two legacy (DVI, VGA or HDMI) displays, so you'll need to ensure you have DisplayPort connectivity on the majority of your monitors. Users aren't required to use all six outputs, of course, but there's a distinct sense of gratification in knowing that you have the ability.
And here's what makes the card special. Multi-monitors configurations aren't exactly new, the technology has been available for some time via multiple GPUs, and AMD's existing range of Radeon HD 5000-series products are already able to power up to three displays at once. The Eyefinity 6 Edition, however, is the first single consumer graphics card able to power six displays.
Why haven't we seen a card try to do it before? Quite simply, prior GPUs haven't had the power available to drive 3D gaming across half-a-dozen displays - AMD reckons its fastest GPU, Cypress, is the first to offer enough performance for massive multi-monitor setups.
Users can connect one, two, three, four or six monitors (not five, curiously) in an array of configurations. And no, CrossFire configurations won't support 12 monitors. Officially, the card supports a maximum theoretical resolution of 8,192x8,192 - though, even with six 30in 2,560x1,600 displays in a 3x2 landscape configuration, you're only going to hit 7,680x3,200. It's time to find some higher-res desktop wallpapers, folks, 2,560x1,600 just won't cut it anymore.