Introduction
Remember when the PC gaming market was a champion for revolutionary technologies? Over the years, the PC industry has pioneered the growth of online gaming, given rise to first-person-shooters with the tireless keyboard and mouse, introduced innovative new peripherals ranging from steering wheels to 5.1 headsets, and dramatically enhanced the graphical capability of our modern systems.
That's just scratching the surface of what PC gaming has achieved in a relatively short space of time, but in today's world, a large chunk of innovation appears to be coming from the console space - where Nintendo has in recent years transformed the gaming landscape through casual games made available via its low-cost Wii and DS consoles.
Sony's PlayStation 3 has introduced Blu-ray, and will soon try its hand at Wii-like motion with the launch of the upcoming PlayStation Move, whilst Microsoft - whose Xbox 360 has arguably taken the best of PC technology and repackaged it into a single, easy-to-use solution - hopes to revolutionise the industry with Project Natal.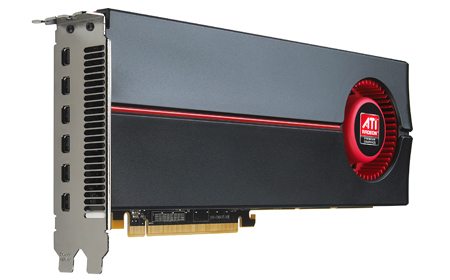 But fear not, as PC gaming isn't just about pushing out class-leading frame rates. There's still some innovation on offer, and the latest development from AMD - the ATI Radeon HD 5870 Eyefinity 6 Edition graphics card - could become one of the hottest gadgets of the year.
The card, pictured above, takes the September 2009 HD 5870 "Cypress" GPU and equips it with six Mini DisplayPort outputs courtesy of ATI Eyefinity technology, allowing the user to connect six displays to a single card.
For the gamer, that means you could combine six 30in monitors to create a single virtual display with a jaw-dropping 7,680x3,200 resolution. Try pushing that many pixels with your Xbox 360 or PlayStation 3 and see how far you get.
Sounds rather good, we reckon, so we've decided to put it to the test.