Gigabyte GeForce RTX 3090 Gaming OC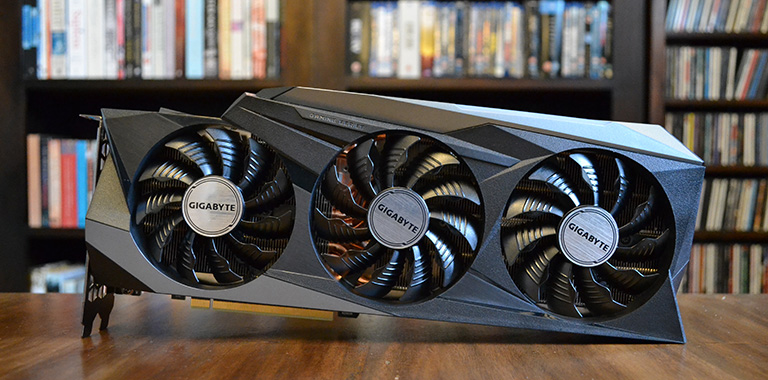 There's no need to be shy when building a cooling solution for a board that consumes at least 350W when under the pump. Gigabyte and subsidiary Aorus jumps on the RTX 3090 bandwagon with five distinct models named Turbo, Eagle, Gaming OC, Master and Xtreme. RTX 3080 models generally use the same cooling but add a Vision board into the mix. Plenty of choice, then.
Gaming OC's cooler and overall presentation is, as far as we can discern, identical for RTX 3090 and 3080. Makes sense as their TGP is similar. As expected, the package is large, measuring 320mm long, 129mm high and 55mm wide. Common graphics parlance describes this as a 2.x-slot board yet consider it a full three slots because you'll want to keep the fan area clear for optimal airflow.
Build quality is solid even though it uses a largely plastic shroud on top of the three fans that switch off at low load. It's interesting that the left-hand fan is 80mm while the other two are 90mm. As is becoming the norm, the outer pair spin anticlockwise whilst the central fan goes clockwise; the theory being that such an arrangement leads to lower turbulence. The fans transition between idle and load reasonably smoothly, but the increase in noise is noticeable when they are called into action.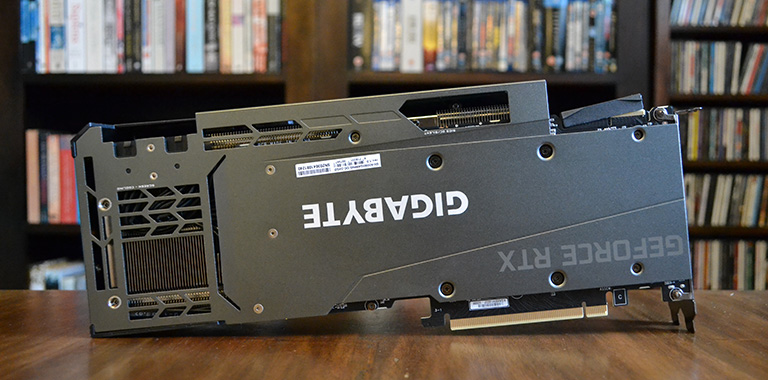 The reason for the flared shroud is to accommodate a larger, taller heatsink and fin-stack assembly than on lower-wattage cards. Underneath, seven heatpipes, split across two heatsinks, converge at a copper plate in contact with the RTX 3090 GPU. VRMs and that 24GB of GDDR6X memory is cooled by heatsinks also in contact with the card-wide aluminium fin-stack. All told, every important electrical component on this 19-phase (15+4) monster has some form of cooling, leading to this Gaming OC tipping the scales at 1,387g.
A metal backplate takes care of transferring heat away from the rear-mounted memory chips whilst also providing extra rigidity, and the top section acts like a mini carry handle. The PCB doesn't run the full length of the heatsink. Rather, it finishes to the left of the exposed fin-stacks. In theory, like the Founders Edition card, there's room for air to pass through this area - named Screen Cooling - and out and up towards the CPU area. That does happen yet the effect is compromised by Gigabyte shoving a whole bunch of power cables into this area.

Those cables emanate from the dual 8-pin power connectors you see in the above picture. We like that the massive shroud serves to partially hide the PSU power connectors from immediate view. RGB is limited to the Gigabyte logo. It's clear and bright, and the downward-facing nature means it illuminates the bottom part of your chassis as well as the card itself. The central fan's wire, however, is untidy in its natural position; Gigabyte ought to find a way to route it better. And though ours is a sample of only one, there is noticeable coil whine on certain games.
There's a small BIOS switch which toggles between the default OC mode and a silent profile aimed at lowering noise. As shipped, the card is equipped with a 1,755MHz boost speed for its 10,496 shaders, up from 1,695MHz for Nvidia's official specifications. Don't read much into that, however, as RTX 3090 hits a TGP wall that inhibits core frequency - more on that later. The 24GB of GDDR6X hums along at a reference 19.5Gbps.

Turning the card around shows that Gigabyte goes for a more enclosed design than much of the competition. We like the squared-off profile and angular vents. To that end, we also like the overall stealthy look.
A second card can be added for SLI under NVLink, which is a feature specific to the RTX 3090. Just be sure to have a huge case and large PSU to house and power two boards. Nvidia recommends at least a 750W PSU if running a single card alongside a decent CPU, and we'd recommend at least 1,000W for a dual-board setup.

Gigabyte opts for dual HDMI 2.1 and a trio of DisplayPort 1.4a, though only four can be used at one time. The card has a standard three-year warranty that is extended to four years if registered within 30 days of purchase.
Going down the RTX 3090 route certainly isn't cheap. This Gaming OC arrives at retail armed with a £1,449 price tag. Knowing that demand will far outstrip supply, initially at least, we wouldn't be surprised to see it listed north of £1,500. Worth it? Let's find out.