Inside the lab
HEXUS recently had the chance to visit ASUSTeK's Research & Development labs in their new Headquarters. We sniffed out their dual 6800GT and Ultra cards to bring you pictures and benchmarks from inside the labs!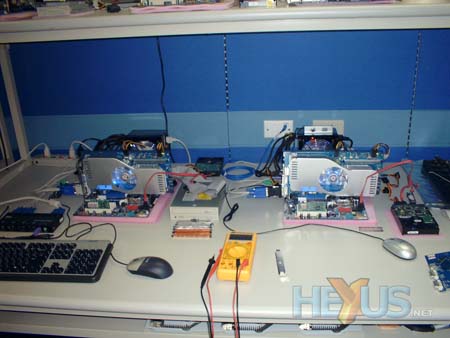 Click to enlarge
ASUS EN6800ULTRA (left) and EN6800GT (right) primed and ready for action on the ASUSTeK R&D test beds within ASUSTeK HQ.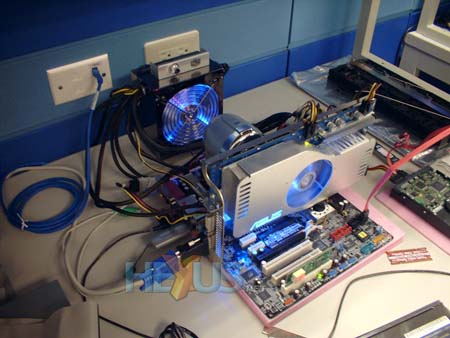 Click to enlarge
Ready to rock
NVIDIA GeForce 6800GT SLI based ASUS EN6800GT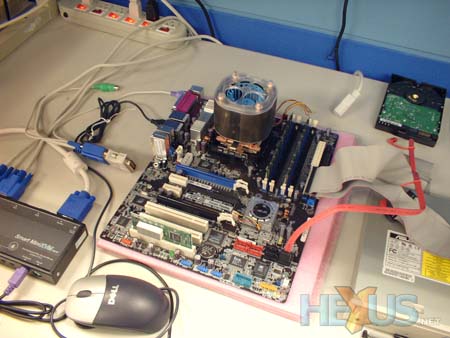 Click to enlarge
Ready to shock
Here we have one of the test-beds which can be found in the R&D labs. This system was testing a NVIDIA GeForce 6800 Ultra SLI based ASUS EN6800ULTRA, which has been removed in this picture. Items of note are the special PCI card for diagnostic purposes and, surprisingly, a GIGABYTE CPU cooler.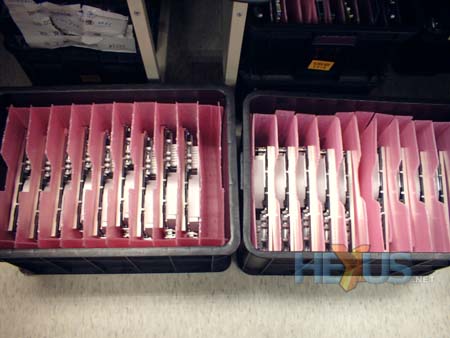 Click to enlarge
All the love in the world
Exclusively speaking to HEXUS, ASUSTeK indicated that this is the sum total of all the ASUS EN6800GT and EN6800ULTRA which, to date, have fully passed the stringent QC (Quality Control) tests which ASUSTeK sets down for itself. in fact these three boxes, which arrived whilst we were swapping shameful girly-bar stories, are destined for the media around the world.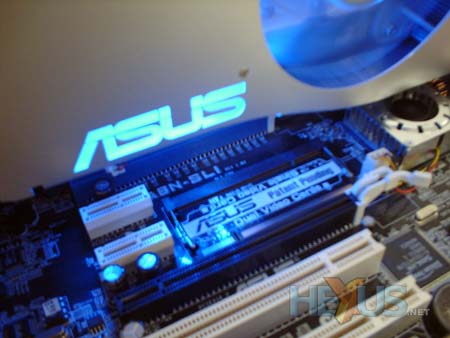 Click to enlarge
Up close and personal
The mainboards used are rev. 1.02 ASUS A8N-SLI Deluxe, which HEXUS tested here. Note that for correct operation of ASUS EN6800GT and EN6800ULTRA, the PCB must be set to 'Single Video Card Mode'.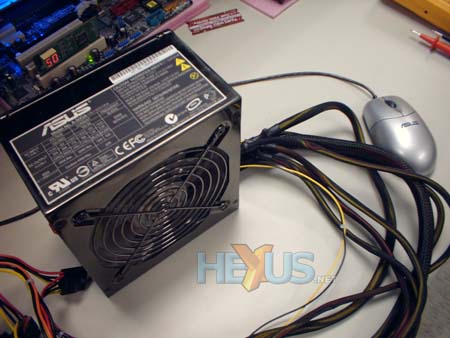 Click to enlarge
Both test rigs were also equipped with ASUS Power Supply Units
Yep - you done read it right - ASUSTeK are set to introduce a series of its own PSU. apparently ASUSTeK worked with a third party specialist to develop these PSU, but unlike AOPEN, which has a manufacturing relationship with specialist PSU manufacturer FSP Group, ASUSTeK will be manufacturing its own PSU.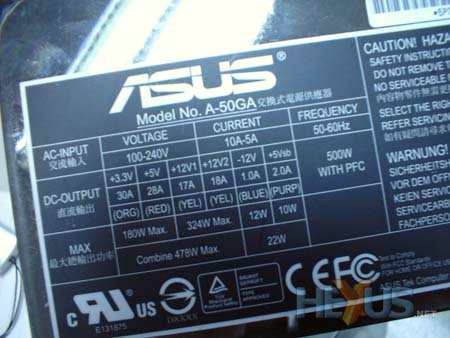 Click to enlarge
35A from the two 12V rails on the ASUS PSU keep things ticking over.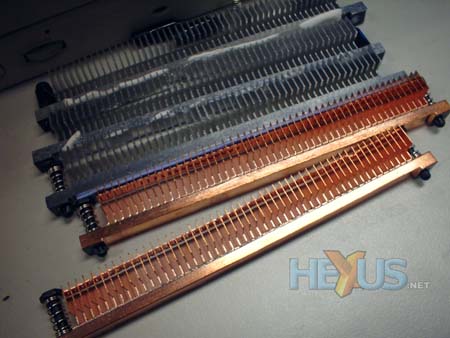 Click to enlarge
All that glitters...
As can be seen here, ASUSTeK R&D investigated both copper and aluminum heatsinks for VRM cooling.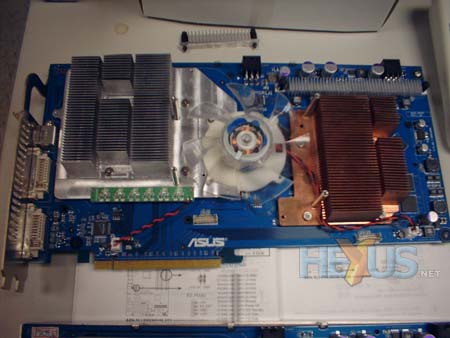 Click to enlarge
...is definitely not gold.
And the same for the GPU heatsinks. Believe me, when holding this ASUS EN6800, which has one aluminum and one copper heatsink, you can really feel the dramatic weight difference between each side of the card.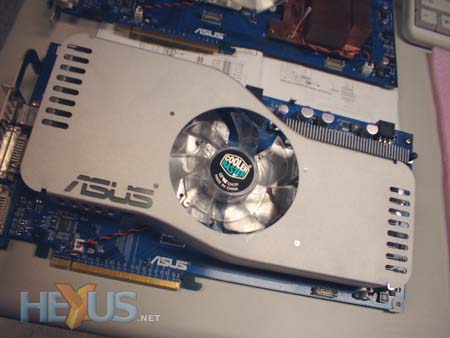 Click to enlarge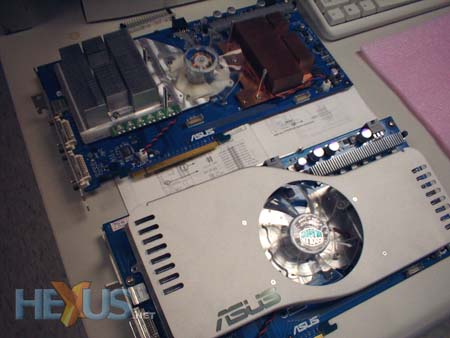 Click to enlarge
More HEXUS exclusive shots
Note the CoolerMaster label on the fan - apparently CoolerMaster assisted in the development of the ASUS EN6800GT and EN6800ULTRA thermostatically controlled cooling system.
Now, you've had your taste of the ASUSTeK labs. Interesting, I'm sure you'll agree. We didn't stop there though, as we managed to fire up 3DMark 2005 and bring you benchmarks.