Power to the people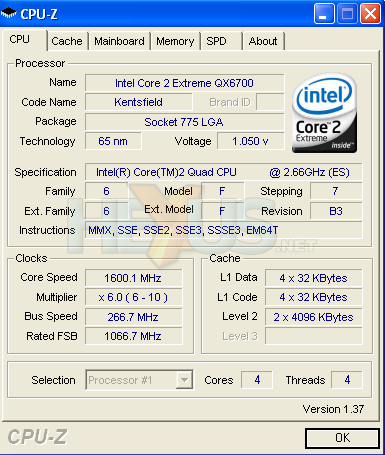 With EIST enabled, the Core 2 Extreme drops down to its lowest 6x multiplier when idle, making for a much lower 1.6GHz clock speed. The core voltage also dropped to a tad over 1V as well. We tested power consumption when idle by hooking up a watt meter to the socket supplying the PC. We then measured the average power consumed with the PC idle, allowing EIST to drop the clocks down to the minimum. We then tested the consumption with a full load of 3DMark05 running at 1,920 x 1,200 with 4x AA and 16x AF.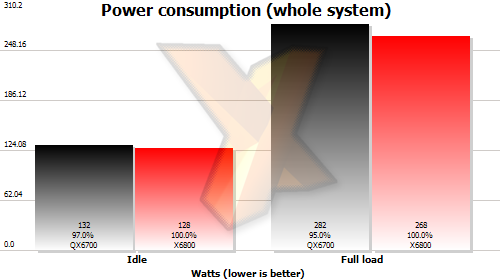 The end result was a total system power consumption which wasn't that far off the Core 2 Extreme X6800. Admittedly, this isn't with all four cores running at full pelt. But single-threaded gaming still represents the most consistent heavy usage this processor will be getting from enthusiasts. Cranking up the workload by utilising all available cores, the power requirement delta between the Core 2 Extreme QX6700 and Core 2 Extreme X6800 rises to 45W or so.
Overall, we found the Core 2 Extreme fairly easy to tame with our Arctic Cooling Freezer 7 Pro HSF. Even with four iterations of the Prime95 Torture Test running, we didn't see the temperature rise above 59C, which is well within the safety zone for these Intel cores. This was with the processor installed in a chassis equipped with a 120mm exhaust fan running at around 1,200rpm and ambient room temperatures of between 21 and 22.5C. In comparison, the Core 2 Extreme X6800 topped 54C under the same conditions. So the Core 2 Extreme is not as hot running as you might expect for a processor with four cores, although you're best advised to use at least top-notch air cooling such as the Freezer 7 Pro, especially if you don't want your HSF running on an ear-splitting maximum most of the time.