The all-new Intel HD Graphics
GPU performance increase

Let's get granular on the graphics. Now simply known as Intel HD Graphics, they're consistent over both the desktop and mobile chips. What's more, Intel is differentiating them on clock-speed alone, meaning that the architecture is identical irrespective of which Clarkdale and Arrandale CPU is in the socket.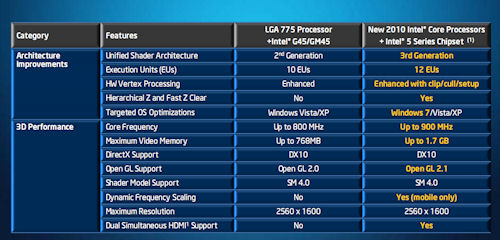 Staring off with the 3D features first, the number of execution cores - shaders, if you will - goes up from 10 to 12. Now, this doesn't tell us an awful lot - how potent is a 'new' EU, for example - but Intel claims that it's included more fixed-function logic and caches than before. There's hierarchical Z (finally) to remove unseen pixels, and better handling of vertex processing.

All in all, the HD graphics should be around 50 per cent faster than X4500 HD, representing a decent leap in generations. Remember, though, that AMD has a comfortable lead in the IGP 3D performance arena, and HD Graphics would do well to bridge that gap.

We enquired as to why DX10.1 (and even DX11) aren't included in the API library. Intel's response was that the HD Graphics are useful for casual gaming and that DX10.1 gains cannot be fully realised on integrated solutions.

As a company, Intel is notoriously conservative in terms of new graphics technology, catering as it does to a huge install base, so there's no real surprise to not see DX10.1/11 present. What we will need to evaluate is whether the DX10 support is worth the PDF it's printed upon, going by the compatibility woes of previous generations.



Multimedia feature-set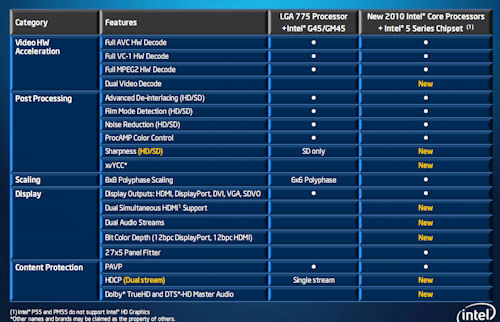 Greater focus appears to have been put towards the multimedia feature-set. Like AMD's UVD 2, the HD Graphics support dual video stream decode and Picture-in-Picture mode, ensuring that it meets the requirements of BD-Live Profile 1.0. Unlike NVIDIA and AMD, it doesn't support the recently specified Blu-ray 3D.

HTPC fans will be pleased to see that Bitstream support is included, intimating lossless Dolby TrueHD and DTS HD Master Audio transported over HDMI (v1.3a). Connectivity-wise, you'll see boards outfitted with HDMI, DVI, VGA, and DisplayPort, and you'll need the latter if driving a 2,560x1,600 monitor; the HD Graphics don't support dual-link DVI.

The IGP promises to increase visual fidelity by having a wider colour gamut and deeper bit depth, as well. Prima facie, the 2D feature-set appears to be competitive against what is offered on competing chipsets.