Core Heatsink
Well well well, here we are again reviewing a new bit of kit, but this is more interesting to review than a lot of the other kit we review, especially coolers, yes we find reviewing hundreds of coolers rather dull, never mind we say, our readers want to see them ;)
The Unit :-
The Unit as it stands.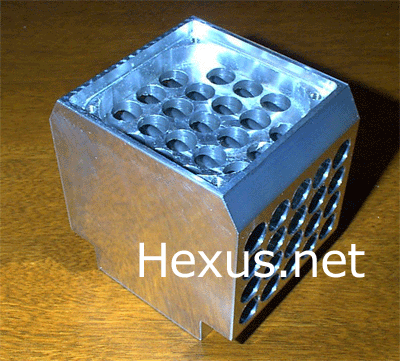 The Top of the Unit :-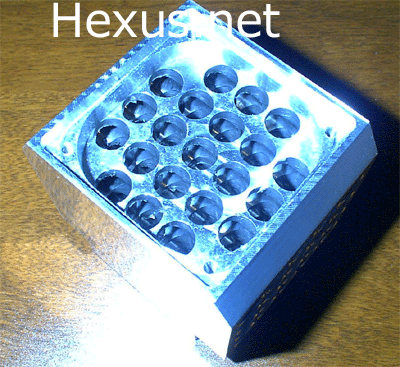 This is the latest creation from the boys over at CPUfx, it is massive, we received some pictures of this several weeks ago after they did the initial run, we were most impressed and I believe my words were "WHERE IS MINE" I have watched the development of this and have been over impressed with how efficient it has been. They have developed a Duo-Mounting system, you can use little sidearm to hold it on your motherboard or you can use 4 plastic screws, both ways are good, perhaps the latter could be regarded as stronger ;)

Right, so what is this "core"? Well CPUfx as I have said has made this. It is a huge heat sink, which has been CNCed from a single block of Aluminium 3" X 3" in size. Total CNCed. These guys show people how to make proper heat sinks unlike companies such as Kanie who just "make" them, these guys develop them methods too. This unit is made as nice as any alpha based unit. Around the top of the unit there is a shallow lip from which a delta 60MM fan can be mounted. on the bottom there is 2 "gouges" which avoid anything on the motherboard and no limit who it can help. The advantage of having the rim around the top of the heat sink means that you get clean airflow and no air is "lost". Included with the unit you get some mounting screws and of course a copper shim to avoid crushing ;)

The product sample which we received was a pre production model it didn't have the new "flaps" for mounting, therefore to mount this unit you need to use the screws, to mount this cooler you need to remove your motherboard from your case, and then mount it using the 4 holes around the Socket interface, this I feel is an amazing way to mount them purely for the strength and there isn't any chance it will just fall off. They have developed the new mounting system where they will use the clips, but I prefer this method in a way. Yes it is a pain to remove your motherboard but it will give you peace of mind in the long run.

Installation.
Remove Mobo
Rip off old cooler
Install new one, slowly, then put the new heat sink on, tighten all screws, check it is flush then rock and roll ;)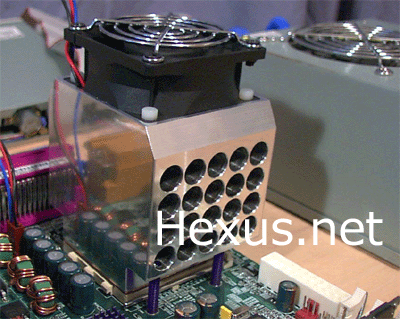 Right testing.

To test this we installed it on a 1.2 Ghz DDR rig, this meant we were using the latest technology; we decided to compare it with a Hedgehog, and the standard alpha. We installed this on an AMD reference board; we recorded the temperature after running seta on it (full load) for 2 hours. We tested the temperature by installing the probe under the unit (Senfu Sensor).

We ran the CPU at 1.2 Ghz standard voltages, without doing any overclocks. The case air was still with no fans turned on; also the case side was sealed.

| | |
| --- | --- |
| Cooler | Temperature Under Load |
| Hedgehog | 47 |
| Alpha | 51 |
| Core | 44 |
(Standard Arctic Silver Paste used, and a shim in all 3 cases All using the Black label Delta fans, with a standard grill installed on top)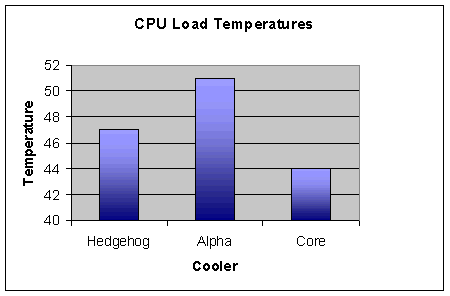 After doing the testing this core is a very powerful cooler, with its side vents and flowing air it means that the unit can do some serious air movement. The Hedgehog used to be our system's standard cooler, this is no more, and the core has taken place. Being in the UK it is cold ;) hey these things happen, we are used to the cold, and now are CPUS are.

One thing I have to say, I think we need to get some hit men on CPUfx, to stop them releasing too many products like this, it is unfair on the competition ;) hehe ;)

Summary

This unit is amazing, it is very powerful, and we will run this in our test rig from now on and see how it works long term. I have been told that they have made some side arms to mount it direct on to the Ziff socket, this can help for people but I prefer not to run this style of system, I feel the enclosed system is better (running via the 4 holds) I think this heat sink performs well and cant wait to play with a final model.

There are a lot of heat sinks on the market, which look nice, the thermal takes for example but they just don't cut it enough for us, this unit is very powerful. For the money it is good it is expensive at $70.00. Included with the product you get, the Unit, CNCed from the Alu block, Copper paste, a fan with grill, mounting systems (both types). It is a pricey unit but at the end of the day your paying for the fact it is CNCed and made over in the USA.

This unit performs well, but you must remember it is a pre production unit, it isn't final, we aren't going to offer it any awards until we get to test out the new mounting system, which is from 2 pieces of stamped stainless steel.

We would like to offer CPUfx congratulations on a storming product showing a lot of potential to make a change on the market.
One Last image, how about a size comparison with one of the largest coolers on the market :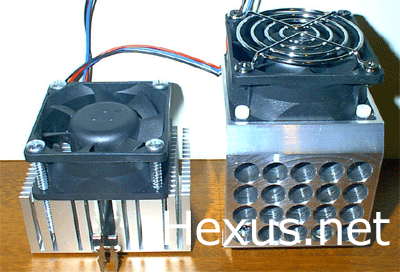 A Thank you to Scott at ClubOC for this imagery help!