Introduction
It was a little over a month ago during the IT world's annual migration to Germany for the CeBIT show in Hannover when we reported on a new micro-ATX system case from SilverStone, the Sugo SG-03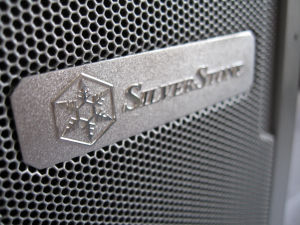 The SG-03 sparked a fair bit of enthusiasm from our community and some who attended the pitiful Channel Expo 2007 reported seeing it there, too.

Many who witnessed the SG-03's first outing were surprised at just how small it was – and even more surprised to see it was running quad SLI at the time!

Fast forward to today and a few resellers are listing the SG-03 at £80-£85, though none has stock. Shipments won't be long now but we are one of a select few to have been sent the SG-03 from the first production run at SilverStone's Chinese manufacturing facility - the case having been flown into us directly.

We must stress that SilverStone has advised us it's had no chance to tweak bits and pieces. Consequently what we're giving you right now is our take on a production sample.