PARS Scorpio
Another great product for review at Hexus; a pars Scorpio case. You may not have heard of PARS before. They are a large company who are making a big impact. They've got some great and very unique products. Well after a few chats with them I received their version of a Scorpio case. PARS had a lot of input into the design of the Scorpio case infact they helped design the new front bezel which I think is a great improvement on the previous model.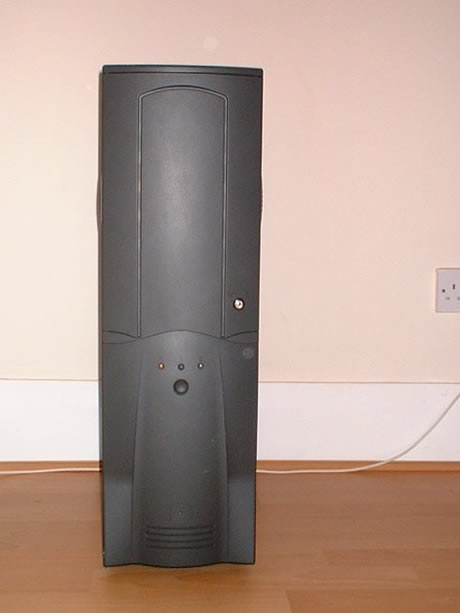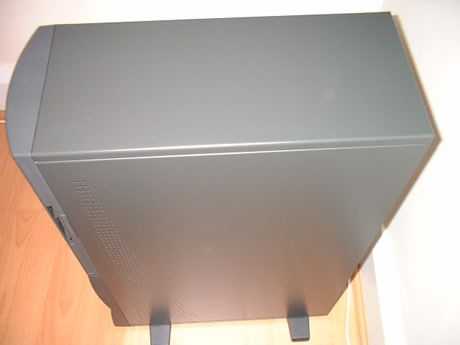 Now these Scorpio cases come in a wide range of colours and sizes. I chose the black option but they are available in purple and silver. Very funky and individual, brilliant to get some attention at a LAN.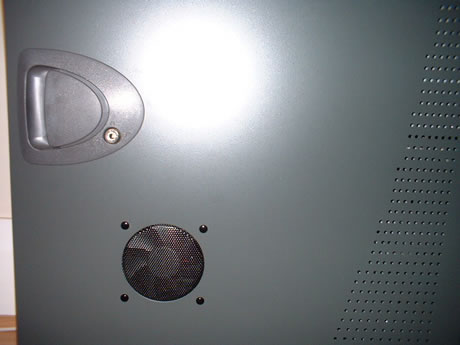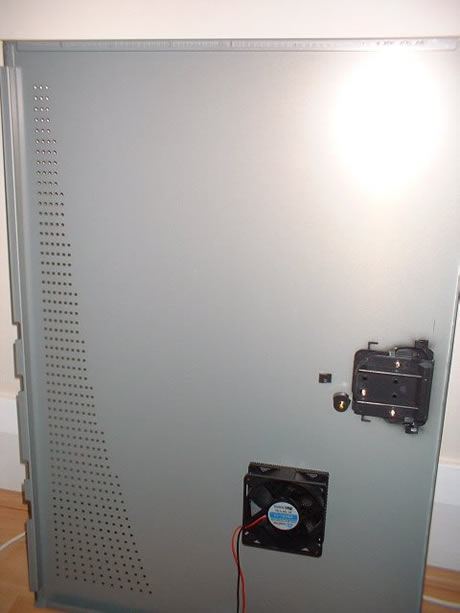 PARS provided a 340watt power supply with this case. The PSU looks a lot more solid and weighs a bit more than your average manufacturers PSU. It has a larger switch which I like as I'm always reaching round the back of cases trying to find that little off switch on the PSU.

Let's get a feel for the specs of the case:

Width Depth Height (in mm): 200*480*680
6* 5.25" bays
2* exposed 3.5" bays
4* hidden 3.5" bays

This case is definitely aimed at the computer enthusiast market. They have included a pre-made 80mm blowhole on the side of the case where the CPU would normally be held. That is a superb idea and saves all the hassle of breaking out the holesaw for some modding. The blowhole has a filter fixed on it, which looks rather cool and helps keep your pc dust clean. Sadly I couldn't find how to remove the fan so you are stuck with the original fan unless you can somehow manage to remove the fan without breaking the plastic clips.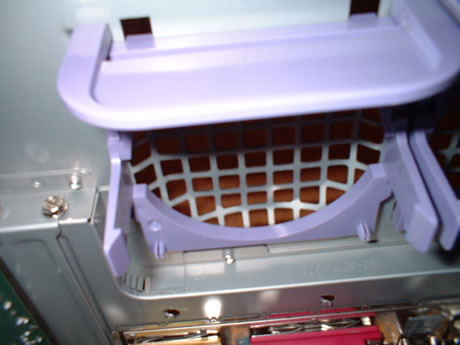 This case also uses drive rails that aren't particularly liked by me, as I tend to loose the rails then when I want to install a new drive I have to modify some other rails. However I do actually like the drive rails offered by PARS. Not only are they plastic and easy to install and line up on a drive but they also provide a little storage clip for the rails so I can put them somewhere safe. Unfortunately you have to remove the front plastic bezel if you wish to install a 5.25" drive which is a little bit inconvenient. However the 3.5" caddy is easily removable for hard drive installation.

Unfortunately there is no removable motherboard try but the sheer size of the motherboard compartment makes installing a new motherboard easy. Another good point is that there are holes cut specifically for certain cables so helps keep your PC nice and tidy inside.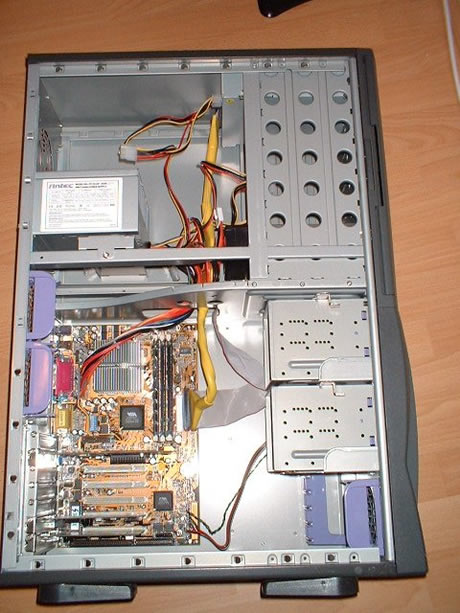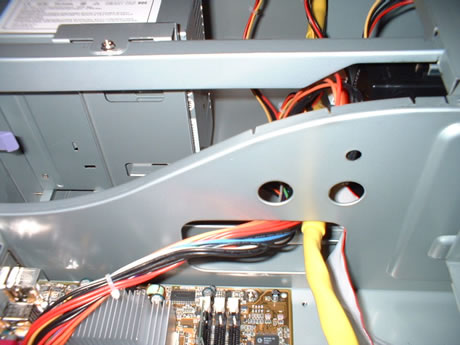 I matched the case up with my old matt black CD ROM I sprayed with Halfords paint. Unfortunately black isn't pure black, the front bezel is IBM black which is a tiny bit lighted. As you can notice from this photo of the minor colour difference between the front bezel and top panel. Doesn't make a noticeable difference it's only when you take a closer inspection. The drive colour doesn't really matter to me as the case has a handy door over the drives so I never notice. The door can be simply removed if you wanted but I prefer it left on.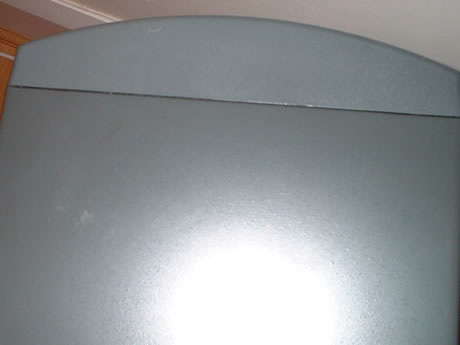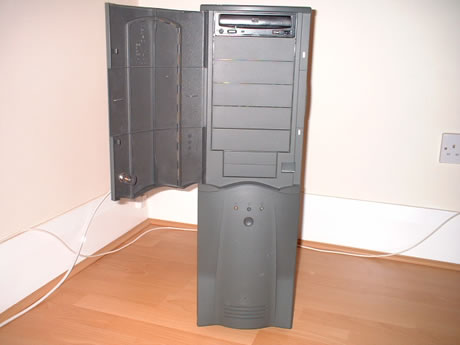 The front bezel was in part designed by PARS. A nice improvement on the older models I think. Every bit of the case oozes quality. The door is lockable which is a neat little feature. The buttons are well built and feel solid unlike those cheap generic cases you see.
To open the case you simply unscrew the two thumbscrews and pull the handle on the side panel. On problem I noticed was the 4 pin molex connector on the fan often got in the way when putting the side panel back on but a couple of cable ties fixed that. Both side panels have pre-drilled holes at the front which will help ventilation a bit and also adds a bit of variation to make the normally dull side panels look slightly more interesting.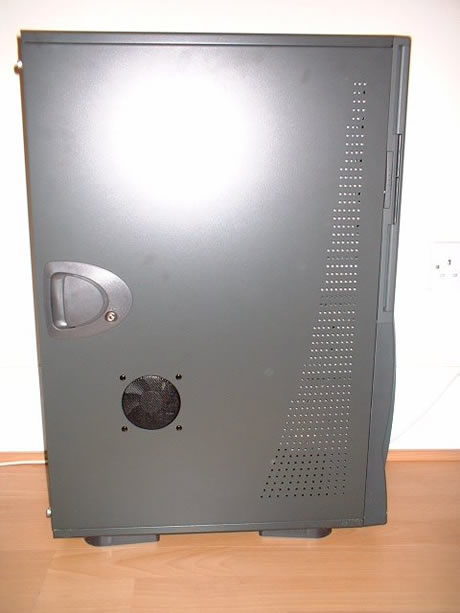 At the back there is a removable plate where the PSU is installed. You have options of either having 1 ATX PSU and a 92mm Fan hole or 2 ATX PSUs. Another good feature, I think this case is perfect for a watercooling setup as there is plenty of room. Also another use would be a relatively cheap server case which is what mine shall be used for.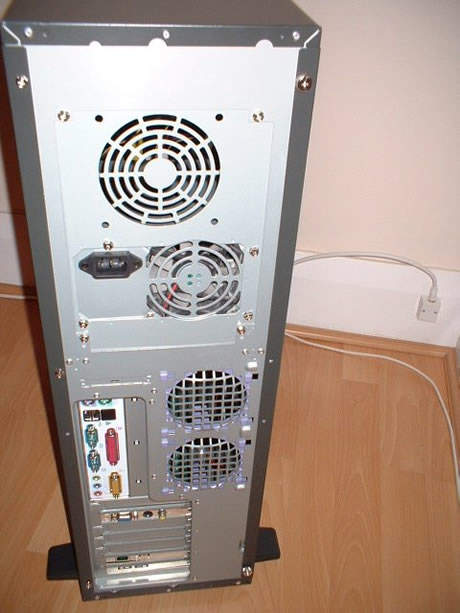 The Scorpio is very well ventilated. With 2 80mm fan brackets at the rear and one 92mm above the PSU is optional. The front intake has 80mm brackets. Also of course the 80mm side blowhole. The 80mm brackets use the new purple clips, which makes install a fan simple and quick.

There is also 4 movable plastic feet on the bottom of the case supporting it. These feet are coloured the same as your front bezel.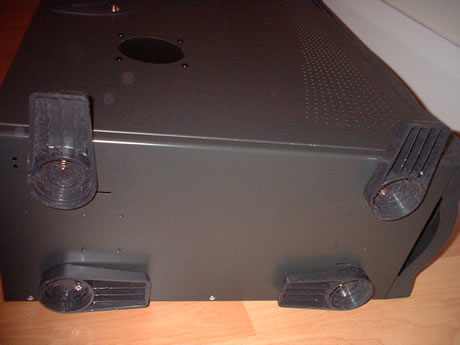 Conclusion
Overall this case is brilliant. It's perfect for your main rig or a decent server setup. There is plenty of room inside and it is well ventilated. At £80 EX VAT including a 340watt PSU, this case is a seriously good buy. PARS offer great service and the case arrived on time and well packaged. The Scorpio is available in a range of colours including black/purple/silver and beige. However at this time PARS only deals with business clients but within the next few months they will be launching their new website available to all. Overclockers UK get their cases from PARS so you can buy from Overclockers UK if you need it now, available at £108.10 INC VAT.
Pros:

Plenty of room
Well built
Pre-installed blowhole
Detachable door
Wide range of individual colours
Case feels very sturdy
Redesigned front bezel
Screwless plastic fan brackets
Optional dual PSU
Cons:

Slight variation in colour between front bezel and steel panels
Front bezel needs removing for installation of 5.25" drives