Introduction
We love it when chassis manufacturers try something new, but the bold designs of recent years haven't always lived up to our expectations. 2008's Antec Skeleton and 2009's Thermaltake Level 10 are testament to that.
Can Antec get it right a second time around? It's hoping to do so with the £150 LanBoy Air - a modular, open-air chassis that offers something a little different to the norm.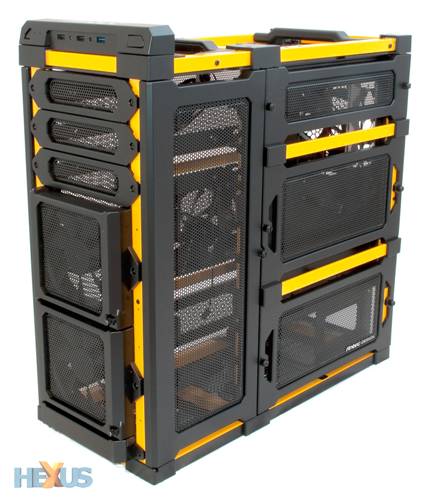 We first laid eyes on the unusual-looking chassis back in 2010, and its potential had us intrigued. Letting our imagination run away with us, we conjured up hopes of a completely modular chassis with interchangeable sections, allowing users to create unique enclosures to match their needs and taste. Wouldn't that be something?
What we actually have is a lot less ambitious, and having lived with the pros and cons of the LanBoy Air for the past week, we've been left wondering if Antec has missed a trick.
You see, the modular approach has only been taken so far. The chassis' aesthetics suggest that there are a dozen or so interchangeable mesh panels, but in reality there are just two on either side of the tower - a large panel either side of the main compartment, and a tall swivelling panel either side of the drive-bay area. All four are completely removable, but users who frequently pay a visit to the inner workings of their PC are likely to be frustrated as six thumbscrews must be undone to gain access to the LanBoy Air's central area. Adding to that frustration, many of the thumbscrews are proprietary in size - so you'll always be wary of losing them.
It isn't the easiest chassis to work with - and we'll cover some other usability foibles later in the review - but what it lacks in function, it compensates with form.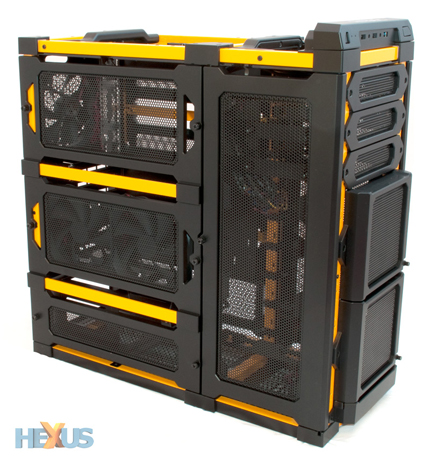 Outwardly, the LanBoy Air looks freaking awesome. The JCB-like yellow-on-black colour scheme might not be for everyone, but there are also blue-on-black and red-on-black models available. Measuring 222mm x 518mm x 490mm, the mid-tower frame isn't overly large and at 9.2kg in weight it isn't back-breakingly heavy, either.
Two fold-out carry handles up top make light work of transport, and Antec's attention to detail doesn't go amiss. The top of the chassis is finished in a semi-translucent plastic, allowing you to look down at your kit, and just about every nook and cranny feels tightly put together and sturdy. The yellow finish on the steel rails is excellent, all the mesh panels fit tidily, and if you like something that's both eye-catching and different, the LanBoy Air is it.
Those toolbox-like charms aren't the LanBoy Air's only appeal, either. Backing up the boyish good looks is an extensive feature list that covers most high-end requirements.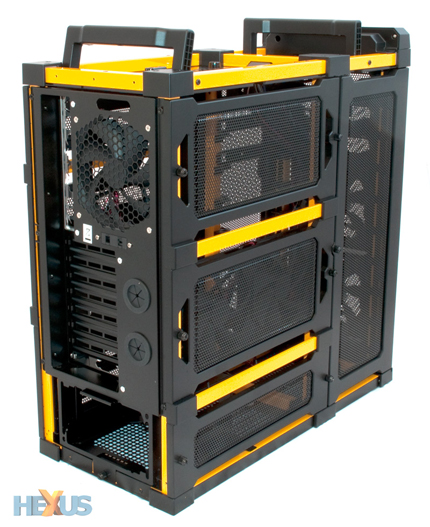 Right out of the box, the chassis comes equipped with five pre-installed blue-LED fans; two front-mounted 120mm intakes, two side-mounted 120mm intakes and a rear 120mm intake. Where's the exhaust, you ask? There isn't one. According to Antec, all five fans bring cool air into the chassis to create positive air pressure and push both heat and dust out of the chassis' mesh frame. The theory suggests that using the chassis on a regular basis will help prevent the build up of dust, but only time will tell how well that works.
All five fans are speed-adjustable via switches and dials, and if Antec's pre-configured cooling doesn't live up to your expectations, there's plenty of room for expansion. Should you feel the need to do so, up to 10 additional fans can be attached to the LanBoy Air - that's another two 120mm fans on the side panel, three 120mm fans on each drive-bay panel and two top-mounted 120mm fans. The top mounts could also be used to house a 240mm liquid-cooled radiator, but such equipment would have to be attached externally - there's simply not enough room above the motherboard tray inside.
Speaking of which, the motherboard tray is removable to help ease installation, and there's sufficient room for CPU coolers measuring up to 160mm in height and graphics cards measuring up to 406mm in length. Users shouldn't have much trouble building high-end rigs around this enclosure and Antec provides eight expansion slots to cater for multi-GPU configurations. Pre-drilled holes for your liquid-cooling needs are of course included to the rear, and the front I/O panel provides two USB 2.0 ports, a single USB 3.0 port, audio jacks and both the power and reset buttons.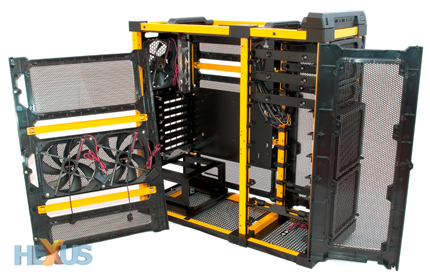 Just about everything you'd expect from a £150 chassis, but Antec's LanBoy Air attempts to differentiate itself by providing the ability to move components around. Take the chassis' storage column as an example; it features three 5.25in optical bays, six 3.5in noise-dampening AirMount hard-disk bays and a pair of bottom-mounted 2.5in bays. That's eleven in total, and the 5.25in and 3.5in bays can all be moved to just about any position you like. If you prefer your hard disks above your optical drives, that's fine, and if you prefer to have your optical drives opening to the left or right, that's no problem at all.
Similarly, the chassis' main compartment can be re-jigged, too. If you feel the need - though we can't see why you would - the PSU mount can be moved to the top of the chassis, with the mainboard tray sliding down beneath it. There are ways to customise this modular frame, but there aren't many obvious benefits in doing so. Generally speaking, most users will find it best to stick to the tried-and-trusted formula - PSU at the bottom rear, hard disks at the bottom-front, and forward-facing optical drives at the top.
Given the flexibility and the LanBoy Air's modular approach, building into the chassis should be a doddle. Unfortunately, that isn't quite the case (excuse the pun).