Coolermaster ATCS 600
Coolermaster ATCS 600
Coolermaster are constantly looking at their existing case line to see where they can improve and what products people are after. There has been for a long time a demand for decent looking, good cooling desktop cases that has been ignored by most case manufacturers for a long long time. This is the product that hopes to plug this gap the Coolermaster ATCS 600. Now the desktop case used to make up 99% of all computer cases until gradually bit by bit, maybe this case will signal the return back to the desktop era.
What are the specs of the case?
5.25" Bays (Exposed) x 2
3.5" Bays (Shadow) x 2
Form Factor: MATX Desktop
Material: All Aluminium & Acrylic
Dual USB ports and IEEE 1394 port
One 60 x 60 x 15 mm fan attached right side panel (intake)
One 60 x 60 x 15 mm fan attached left side panel (intake)
One 60 x 60 x 15 mm fan attached back panel (exhaust)
Weight: 5kg
Dimension: 476 mm(L) x 426 mm(W) x 145 mm(H)


The three ATCS 600 Models
As with the ATCS 210 there are various choices you can make as to the colour of the front perspex.
The ATC-600-DX1 (dark gray)





The ATC-600-VX1 (verdant)





The ATC-600-VX2 (fog verdant)




The model I shall be reviewing is the ATC-600-VX1 (verdant) with a clear green perspex door. There are also unconfirmed reports and pictures of a black anodised version as well. Having seen the pictures I can say it is one very attractive case.
So lets rip open the box and have a look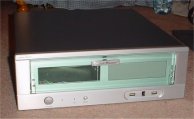 Whoever said first impression don't count wasn't talking about computer cases , the look of a computer case are very important nowadays. The first time you look at this case in person you will be very impressed, I will admit I am a tower fan and have not thought of a desktop case in a long long time. This case made me reconsider this decision, this case could be used to save desk space when combined with an lcd monitor. It also wouldn't look out of place in your lounge on top of your tv, so those looking for a DVD, MP3 rig should definitely consider this case. Note on the picture the Coolermaster badge looks slightly out of alignment , it isnt in real life its just a trick of the eye on the picture. The badge is very nice look as well
Open Sesame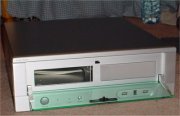 Lets open up the little drive door. As with the ATCS 210 this case has a door to hide the drives and make them more in keeping with the rest of the case if they are beige. This is held in place by a little clip and not the magnets like the ATCS 210. I much prefer this as it feels more secure. To open the door you lightly press on it and it will click open. The best bit is the hinge doesnt just drop the window down suddenly Coolermaster have put a lot more thought into it the, door lowers itself down gradually. A very neat solution.
Turning things around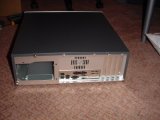 Because this case is a desktop the normal method of removing the side panels cannot be used. So Coolermaster have made the shell in one piece of aluminium which is held in place by four thumbscrews. Its is very easy to fit or remove. Describing the colour of the shell is quite difficult, I would say its very dark grey. Those of you that own the ATCS 200 will know this colour as it is identical to the sidepanels on this case. Some have described it as black or brown. I say very dark grey so there. This coating is very protective and will stop you lovely little case from getting scratch every five mins. It also stops finger prints showing up as easily.
The insides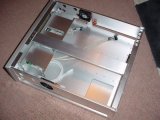 Taking off the shell to get inside the case reveals the whole interior. The first thing that hits you is the support bracket running across the middle of the case. It is held in place by 6 little screws, it sits just above the top of the motherboard, it prevents easy fitting of the motherboard so I removed it to fit the motherboard in. I would have preferred it if the screws were thumb screws or at least slightly bigger screws as these ones are tiny. Here is a close up of the fitment of this bar
Motherboard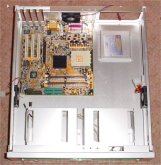 I was surprised to find that this case is for MATX motherboard, I only had a normal motherboard which posed a few problems. Thankfully ABIT came through for us and quickly shipped me a ABIT NV7m. This is a tiny little motherboard based on Nvidia Nforce chipset. It includes on board sound and an onboard graphics accelerator as well as an onboard LAN . It will be an excellent choice if you are trying to use your ATCS as a DVD , MP3 rig.
As you can see the motherboard slides in easily as long as you remove the support strut before. There is no removable motherboard tray, but as the case is a desktop case and due to the layout there is plenty of room to manoeuvre.
PSU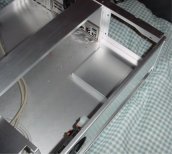 The case can take normal ATX power supply these are so simple to to install its unreal. Four retention screws hold them in place. The psu sits on a small raise platform to put them at the correct height. Enermax and owners of other dual fan PSU's should not that the second fan will be redundant as this fan sits on top of the plate. I would have like to see some sort of way to get these types of PSU to work better in the case. One solution I can see is to put a hole underneath the plate and have holes in the mesh to get some airflow. I assume this wasnt done as the airflow path would be far from ideal and the plate wouldnt support the PSU's as well. Inverting the psu and having a blowhole above it would be another solution.
Cooling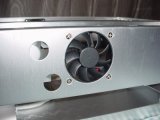 As with all the Coolermaster cases I have used they take cooling issues very seriously, this case is no different. The whole case is aluminium (Well apart from the door of course), so it acts as a giant heatsink to take heat away efficiently. There are three fans in total (two intake and one exhaust), they are all 60mm fans (YS Tech). The two intake fans are situated on either side of the case. They have grills/blowhole's built into the shell at this location Seen here. These fans work well but they should be placed further back down the case as when you have two hard drives and two cd drives they are slightly obstructed, this doesnt seem to cause any issues though. They also can cool the hard drives as a result, so this is probably the reasoning behind the placement. The exhaust fan sits directly behind the CPU and removes all the heat generated from the CPU as quickly as possible. The overcooling of the case is very good, it isnt as good overall as the ATCS 200 but its not far behind.
Putting a system in
This case makes it very simple to get your system up and running fast, if you remove the support brace you have oodles of space to work in. The psu has loads of space around it as does the motherboard. When it comes to drives you will not the absence of a external 3.5" drive bay ( Eeeek no floppy drive) I for one have been long waiting for the death of the floppy drive, I never use mine in fact its in the cupboard for emergencies only (none to date). If you really need a floppy drive , you could fit one internally or get a 5.25" to 3.5" adaptor bay and use one of the 5.25" bays. When it comes to fitting of the drives, one the drive cages is removable (4 large screws), Removeable drive cage . You will notice that instead of having one cage for 3.5" drives and one for 5.25" drives the ATCS 600 has one of each in either cage. This causes a bit of a problem , as if you have 2 x 5.25" and 2 x 3.5" drives the gap between the two cages is quite wide. Longer than the length allowed on my IDE cables . I would get hold of some longer cables or you would have to have to hard disc's and cd drives on the same IDE channel which is not good. Also lining up the 5.25" drives in the cage so that they are in line with the case and dont poke out of the bays is a Removable drive cage
Pro's
Look's
Build Quality second to none
Its a desktop case
Very light
Dual front USB and IEEE 1394 port
Removable drive cage
Thumbscrews on shell
Cooling well thought out
Lots of space
Drive draw design excellent
Con's
No blue led's
Its a desktop case
Dual fan PSU's will have the second fan redundant
Support strut difficult to remove
Spliting of the 3.5" and 5.25" drives requires extra long IDE cables
Usual Coolermaster trait of not including all the bay plates
Conclusion
I have to say I love this case , it made me rethink whether I preferred towers or desktops. I am lucky enough to have a huge desk , if I didnt this case would sit nicely under an LCD monitor. If you are looking for a hi fi seperate looking MP3/DVD box for the lounge look no further as it will fit in a treat. I have no idea of the cost as yet so I can't comment on it fully, I know that with the build and design of the case its not going to be you £50 computer case. It has a few little problems but none of them would cause any major problems.
Thanks
Thanks to Coolermaster for sending us this case for a world exclusive review. A special thanks has to go to Abit for sending over the ABIT NV7m motherboard to allow us to do this review.