Lian-Li PC72 Server Case
Introduction
When it comes to computer cases, not all products are made equally. Lian Li is a company now famous for its quality aluminium computer cases. Aluminium is a much lighter material than steel (which most cases are made of) and also conducts heat much better. The case I am looking at today is a new product known as the PC-72 SCA which is a server case. This case is made of anodized aluminium. Anodising is a process which forms a particularly structured and dense oxide layer which resists abrasion and thus protects the underlying metal. The case comes without a PSU supplied, presumably as Lian Li think that most people who will be buying this case will want to use a high performance Enermax unit (I'll be using my old 300w PSU for this review).

Specifications (taken from Lian-Li's website)
PC-72 SCA
Silver-coloured (Hard Anodised aluminium)
Dimensions: 289*209*574mm
13 total device bays - 6 x 5.25" 3 x 3.5" 4 x SCA-2
SCA-2 Hot swap bays support Ultra160
SCA-2 Backplane Module
Hot swap & Hot spare
Four fans included:
2 x 80mm ball-bearing fans
2 x 120mm ball-bearing fans

First Impressions
The first thing I thought when I saw this thing was "wow". The box was HUGE! Here's a pic taken on my king-size bed: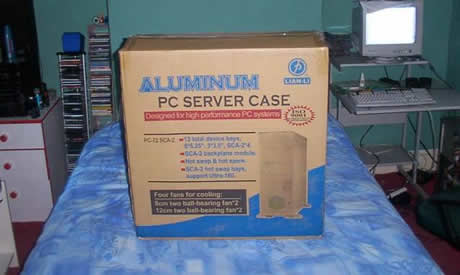 Previously I was using a generic mini tower, so to me (and everyone else!) this case is massive! If it was much bigger, it wouldn't fit under my desk! However, when I went to pick up the box, I jerked it up in the air, not expecting how light it would be!
When I opened up the box the first thing that struck me was that everything in this case seems to have been thought out with ease of use in mind. I'll give some more details later. There are no mould lines. There are no poorly fitting parts. There is nothing that rattles, nothing that jams, and nothing with a razor-sharp edge waiting for the unwary. The only problem I could foresee is that with such a nice looking aluminium case, my beige drives would just look plain ugly!
Part of the reason for using aluminium is that it weighs less than the usual steel, but this big server case is still somewhat less than portable. It isn't a little case that is easy to lug around from LAN party to LAN party, but that doesn't really matter as the target audience is not likely to need this.
I have been told by Lian Li that this case retails at around $400 which translates to roughly £250. For this money, I would expect the PC-72 to be something very special indeed. It is a server case through and through, so the addition of SCA-2 bays is welcome. However I don't own any SCSI hard drives so I didn't have a chance to test them.

Details
The PC-72 has swiveling feet, which you can swing out for extra stability, or leave tucked under the case if you feel like living dangerously. They're made of plastic and are painted silver. One thing I didn't like about these is that the swivel a little too freely, but that's just a small issue. Some of the Lian Li server cases come with castors, but I prefer these feet.
As with the other Lian Li cases, almost everything's held together with thumbscrews. The cases come from the factory with many of the thumbscrews tightened hard enough that a screwdriver may well come in handy, but once you remove them; you shouldn't need the screw driver again. Both side panels come off easily with just a few thumbscrews holding them in place, but the top is riveted on. It might be nice if the top panel could be screwed on so that mods etc. on it would be much easier. The rivets could always be drilled out anyway.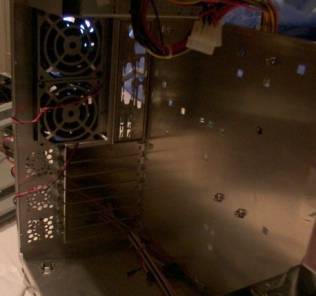 The case comes as standard with two 80mm fans attached to the middle of the back panel. These give a good compromise of performance and noise. There is a 120mm fan fixed towards the front bottom of the case, behind the SCA bays which does a surprisingly good job of pulling air in through the front intake. There is also a 120mm fan fitted onto a quick release bracket (not too sure why this is needed!) acting as a chimney fan. All the fans are made by Sunon and come with 4-pin molex connectors. There is also space to fit two more 80mm fans in the top back of the case and three 40mm mounts just above the expansion slot area. The fans come fitted with plastic push pins rather than screws which I think is good as it saves on vibration coming from metal screws on the metal case, and also stops the case from being scratched. I would prefer to see at least another intake fan, perhaps in the side panel, to even up the airflow a bit. Also, the fan grill cut-outs restrict the airflow from fans a little bit, and add to the noise, but that's only really a problem for the home user, not for businesses etc who are more likely to use this case. If you are handy with a Dremel or a jigsaw, then you could just cut them out easily anyway. Also note that the fans are equipped with grills on the inside of the case to prevent power cables getting trapped in there or even to prevent curious fingers from being cut off!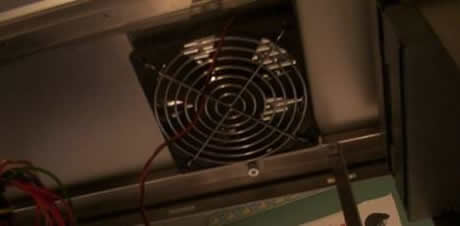 The PSU mounts to the plate at the top of the back panel, which is held in place by six ordinary Philips head screws. You can remove the plate, attach the PSU, and slide the assembly back into the case. This also makes it easy to attach fans to the top two 80mm mounts, if you want to. However I didn't do that, I just fitted the PSU and fans in without removing the plate. It doesn't really matter; just do whichever you find easier! Lian Li thoughtfully provide extra thumbscrews to fit the PSU.
This case has six 5.25" bays which should be more than enough for most people. (I'm still trying to fill all of mine up - I've only got my CD-RW and CD-ROM drives at the moment!) There is an issue which I mentioned earlier of how beige CD drives etc. look with the aluminium façade. I have to say, I was pleasantly surprised in that my drives don't look too bad at all! If you wanted to go the extra distance you could paint the drives with silver spray-paint (available from most hobby shops), but I personally don't think it's worth the effort! The same goes for my beige floppy drive, it looks ok with the aluminium front. All of the bay covers are made of bent aluminium. They're retained with stamped bumps that pop into holes in the case chassis, there aren't any screws at all. The covers fit snugly, and don't seize or rattle. There are just three 3.5" bays in this case, but that is because a lot of the users of the PC-72 will have nice fast SCSI U160 10k rpm jobbies which will fit nicely in the SCA-2 bays provided. There are small 'drawers' which are for the hot-swappable scsi drives. As I wasn't using any of these drives I decided to remove the 'drawers', so that maybe more air could get through the front vent. There is a small bit of PCB which is for the drives to plug in, so when I get some time I will probably remove this for the same reason. In front of the SCA bays is a lockable door which makes it easy for you (and only you) to hot swap drives as you wish. Again, there are plenty of screws provided to fit all drives.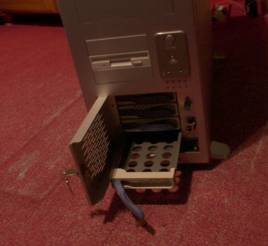 The PC speaker is actually attached to the floor of the case pointing downwards. This gave me the idea that seeing as the case is on feet, you could put a small intake (with a filter over it of course) in the floor to aid airflow. Maybe this is something to try in the future.
A feature I like is that all of the connector leads for power switch, LEDs, etc. are arranged in a small ribbon cable to keep them all together. This also saves wires straying into the path of the 120mm fan nearby J
Unfortunately the PC-72 doesn't have a removable motherboard tray. This isn't really a big deal as the case is big enough that you can work on anything inside without having to remove the motherboard. Even with my untidy arrangement of cables, it was still easy to get to the ram slots and IDE connectors which are usually a pain.
Most Lian Li cases come with a fan speed controller unit but this case doesn't. This is a wise move as in a server environment; the maximum cooling is needed the majority of the time. For me however, I will have to get a baybus to quieten down the fans!
The PC-72's façade is very easy to remove, just give it a gentle tug and it comes away. However, it is not TOO easy, i.e. it won't come off when you don't want it to.
The power switch panel has become almost a trademark of Lian Li with most (if not all) of their cases coming with a panel in this distinctive style. It is both useful and pleasing to the eye, made out of silver plastic with a big power button and a reset button which isn't too easy to push in when you don't want to. I will soon be changing the Power and HDD LED to blue and red high brightness LEDs as the amber and green ones provided didn't look quite so nice J This case also comes with four HDD indicator LEDs for the SCA bays, but they aren't in use for this review.
Each of these square holes can have a screw receiver popped into it, giving you the ability to install most current motherboards, including P4 boards and extended dual CPU boards.
I had to mount my PSU upside down which caused no real problem for me, but it might if you have a dual-fan Enermax, as if you fit two 80mm exhausts at the top, the fans will be fighting each other which isn't really a good thing. Also if you have a PSU which is opposite to mine (i.e. if you look from the back, the fan is on the right and the switch on the left) then the intake will be up against a metal plate.
On the front of the case is also a Lian Li case badge, which actually looks pretty nice and goes with the case (otherwise it would've come straight off! J)

Conclusion
The PC-72 costs more than twice as much as various decent full tower cases - which come with 300 watt power supplies, which are at least £25 items by themselves. But never mind the price, this case is absolute top quality. If you're going to spend a lot of money on a brand new lightning fast rig, or are going to spend many hours customising it, or if you're seriously considering buying a nice looking computer to fit in with your fashionable contemporary office, then paying this much for a case that not only looks stunning but is also very well made is not all that crazy.
This case was primarily aimed at the corporate customer, who needs a server case which is capable of holding high performance scsi drives, has good cooling potential, and perhaps looks nice sat in the corner too. But because of the size, the home enthusiast who wants to fit a Vapochill or water cooling rig would be well advised to buy this case.
All in all, this case is superb, but you may want to check that you have the space for it before spending all that money.