Introduction
Fractal Design is introducing a new line of PC enclosures dubbed the Vector Series. Intended to offer an alternative aesthetic to the familiar Define Series, the first product in the range, Vector RS, is described by the manufacturer as a hybrid between its popular Define R6 and S2 chassis.
Good news for those who favour Fractal's generous layouts, as the Vector RS is based on the same underlying frame as its Define siblings, resulting in mid-tower dimensions of 552mm (L) x 233mm (W) x 498mm (H). We expect a capable interior, but given the £180 MSRP (£40 more than a Define R6 USB-C), what is Fractal doing to help justify the premium?
The obvious answer is the snazzy exterior. We've criticised recent Define Series cases as starting to appear stale, so it's refreshing to see Fractal try a new look. For the Vector RS, we get angular front and top panels that add plenty of interest, while maintaining the high level of quality we've come to expect from the Scandinavian firm. The two-tone front panel, for example, may be based on a plastic shell but is lined with a slim inset of tempered glass on the left side and steel on the right, giving the fascia noticeable rigidity and a high-end look that is in keeping with the price tag.
A sliver of RGB lighting traverses its way through the different materials, extending over the top of the case where another glass panel provides a fuller view of the interior. Construction quality is once again top-notch, however there are some elements that may divide users. While the top glass is nice, it has resulted in the I/O ports being moved from the front edge to the right side, which may or may not suit your preference, and though I'm not a big fan of RGB lighting, I'm of the opinion the thin strip on offer here adds very little to the overall aesthetic. Heck, I'd argue the chintzy illumination detracts from the case as a whole.
Aesthetics are, of course, a personal preference, though it is interesting to note that Fractal appears to be moving away from its signature black-and-white colour scheme. Vector RS is offered only in Blackout models (i.e. no white highlights), with either clear or tinted glass. Visuals aside, it is in the functionality department that the case really shines. The I/O panel, firstly, makes the sensible decision to include a USB 3.1 Type-C port alongside the usual selection of two USB 3.0 Type-A, a pair of audio jacks, and power and reset.
On the inside, it is almost an exact replica of the Define R6. We say almost because the stylised front fascia has replaced the traditional door, resulting in the expulsion of the 5.25in optical drive. The absence of such a feature isn't a deal breaker on a modern chassis, we feel, but in a case measuring over half-a-metre in length, you'd be forgiven for expecting at least one 5.25in bay as standard. A topic for QOTW, perhaps; does your next chassis need an optical drive?
Getting back to the subject at hand, Vector RS follows in the footsteps of its Define siblings by placing an emphasis on 2.5in or 3.5in storage devices. Whereas rivals are reacting to the availability of M.2 solutions by reducing the number of available bays in favour of compact enclosures, Fractal is continuing to think big. Right out of the box you get half-a-dozen metal 3.5in trays that can be installed in any of the 11 mounting positions in the storage column. Furthermore, there are two 2.5in SSD trays that can be mounted either to the rear of the motherboard tray or to the top of the PSU shroud, and if you really want to, it is possible to purchase additional trays separately.
Do many users require so many storage bays in this day and age? That's debatable (QOTW, anyone?), but as before, the 3.5in storage trays can all be jettisoned and the branded cover plate moved back to convert to a cooling-optimised layout. A tidy solution for covering multiple usage scenarios, however the catch is that the case can end up feeling quite sparse if you don't have a) loads of storage or b) an elaborate cooling loop. Speaking of cooling, Fractal includes three Dynamic X2 GP-14 140mm fans as standard (two front intakes plus one rear exhaust), and there's plenty of scope to go beyond what's included. There are nine 120/140 fan mounts in total, comprising three in the front, three in the roof, two at the bottom, and one at the rear. For liquid cooling, that means support for up to a 360mm radiator in the front or a 420mm in the ceiling.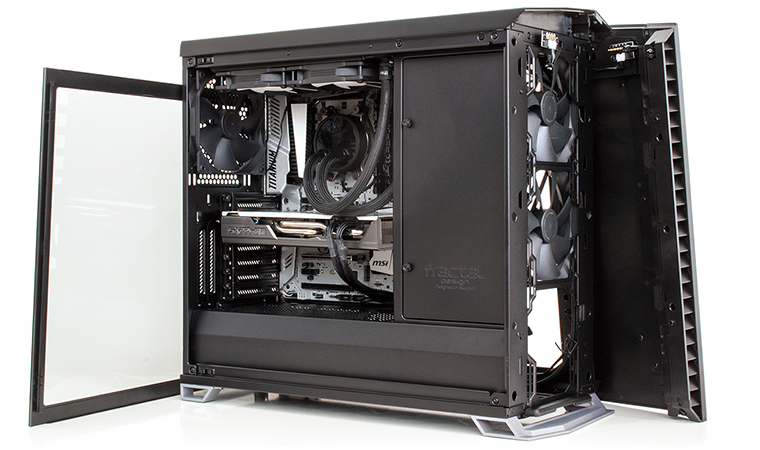 Provisions for high-end hardware are excellent throughout. Graphics cards can measure up to 440mm in length, CPU coolers can stand up to 185mm tall, and motherboard compatibility includes not only Mini, Micro and Standard ATX, but also E-ATX up to 285mm in width. You're unlikely to be left wanting, but the small touches throughout are what make Fractal cases so popular with builders. The push-to-lock side panels, for example, pop into place so as not to be spoiled by visible fixings, and though there's lighting running down the front panel, the electrics are joined by a touch connector, allowing the front panel to come away without having to undo any cables.
Going the extra yard, Fractal also includes a ventilated 'high-airflow' top panel as part of the bundle. Along with a mesh filter and a removable radiator tray, this can be used to replace the top glass panel, giving a radiator maximum room to breathe. That's not all. The front and rear side panels are lined with sound-absorbing material, there's a 7+2 PCIe arrangement to allow for a vertical graphics card (though do be aware Fractal's Flex VRC-25 GPU Riser is an optional extra), and in case your motherboard lacks a 5V RGB header, a SATA-powered Adjust R1 controller is included to manage lighting effects.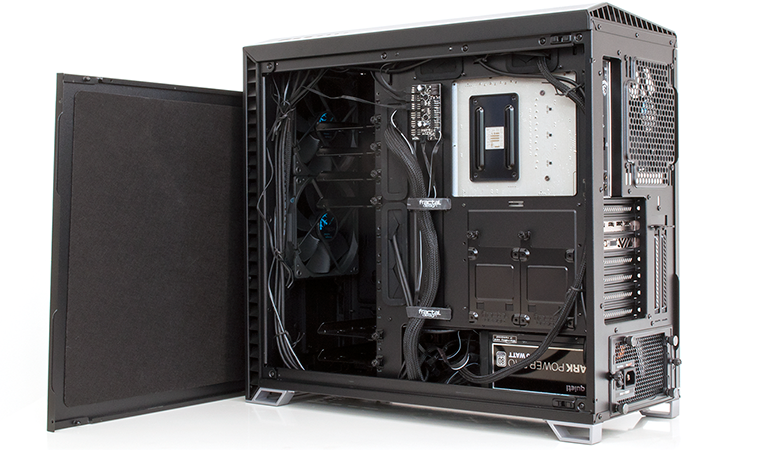 Save for the lack of optical drive, the Vector RS feature-set is exemplary. There's a SATA-powered Nexus+ PWM fan hub for one-stop management of up to nine fans (three four-pin and six three-pin), Velcro straps and 19 tie-down points help keep things tidy in the 23mm gap behind the motherboard tray, and even the front I/O cables are sleeved for that added feeling of luxury. One of the few niggling issues we've discovered is that the front panel needs to be removed in order to gain access to the full-length PSU dust filter, but such concerns are negated by the fact that filtration is available at the front, top and bottom. When it comes to cleaning the front panel, the mesh inserts lining the angled intakes at either side are also removable for thorough inspection.
We find it hard to imagine anyone would build into the Vector RS and come away disappointed, but choosing this newer model over the older Define R6 isn't clear cut. The edgier design and RGB lighting may be enough to convince some, but the savvy shopper may point out that Define R6 costs less and doesn't sacrifice any features in favour of aesthetics.