Introduction and specifications
We remember it well. Pushing through hoards of people hoping for freebies on SilverStone's stand to try to see the much-talked about TJ-10, the successor to a personal favourite of this hack - the TJ-09.

This was at CeBIT 2007, the biggest technology show in Europe and held during the snowy season in Hannover, Germany. In terms of seeing the product, though, we left disappointed, even though we'd been told it was close to being finished.
Indeed, there was little of note apart from the small-form-factor Sugo SG-03. We revealed the detail back in March and then carried a world-exclusive review in April.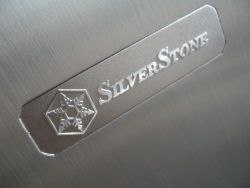 Well, a good few months after CeBIT, the TJ-10 did finally arrive with us and we're now able to see for ourselves what's new. If you read the marketing material, you might think there's quite a lot but it is amazing how features can be blown out of all proportion.

Anyway, let's get started and check out SilverStone's latest PC system case, the 'new' TJ-10.


Specifications
Specifications - SilverStone Temjin TJ-10
Dimensions
644(d) x 207(w) x 521(h) mm
Material
Aluminium
Weight
13kg
5.25in external
Four
3.5in external
One
3.5in internal
Six
Expansion slots
Seven
System fans
Two 120mm units + three 120mm optional
Water-cooling preparation
Yes
Compatibility - ATI R600/nVidia G80
Yes/Yes
Model variants
Four
Manufacturer code
SST-TJ10S