It's a BEAST alright...
There's a new extreme liquid-cooled PC on the block, and it comes from Sunderland's BEAST Computers.
The over-the-top system, dubbed the BEAST Aphros Reality, is said to be the end result of throwing caution to the wind. BEAST tells us that it didn't worry about cost, time or resources, and that it only wanted to create the near-perfect extreme PC.
However, unlike the other usual extreme suspects, BEAST isn't marketing the Aphros Reality based on its hardware specification alone. Yes there's the usual choice of overclocked Intel Core 2 Quad processors, suped-up motherboards, silly amounts of high-speed RAM and more storage options than you'll ever need, but what's really important, says BEAST, is the all-new Para-flow cooling.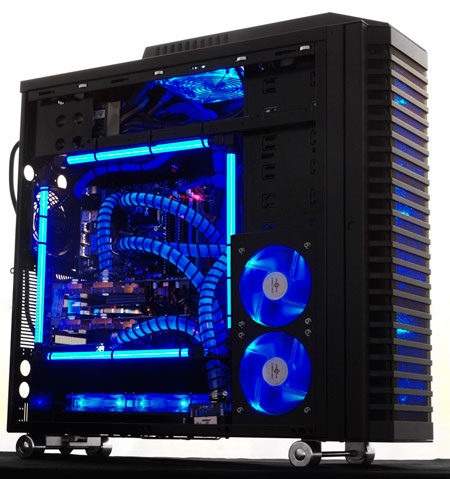 Before we get to Para-flow cooling, though, let's find out a little more about the chassis itself and BEAST Computers.
The Aphros Reality makes use of a modified Lian Li ARMORSUIT PC-P80 - a mammoth chassis that measures 220mm x 633mm x 610mm. Due to the completely-modded nature of the system, BEAST doesn't have Aphros Reality computers sitting on store shelves - each one is made to order.
That, in turn, brings a selection of benefits to the consumer. BEAST Computers lets the customer choose from a wide range of configuration options, ranging from the components used to to the colour of the lighting and fans, not to mention a variety of spray paints or laser-cut case mods. If the system still isn't how you'd like it, phone up and BEAST vows to do its best to meet any demands.
Once your PC is built, there's even an option for "BEAST Premium Delivery" - which involves BEAST's in-house courier carefully delivering the PC to your desk.
It's about as premium as an extreme PC comes, so what's this Para-flow cooling all about? Let's take a closer look...