Micron has announced a new line of 3D XPoint memory solutions. Micron QuantX technology SSDs will use 3D XPoint non-volatile memory and are a completely separate set of products to Intel's Optane range. There will be fantastic performance advances on offer when these drives come to market, however the cost of 3D XPoint memory is about four to five times more expensive than NAND flash.
In a blog post Micron crows about the performance of its upcoming QuantX technology drives, using 3D XPoint memory. It says that users can benefit from performance "over 10X better than the best NAND flash-based SSDs" when using a PCIe interface. The EE Times observed "prototype SSDs with Xpoint memory chips on a PCIe Gen 3 interface handling writes at less than 20 microseconds and reads and less than 10 ms" at the Flash Memory Summit, in Santa Clara, California. With access to four PCIe channels Micron QuantX drives could deliver up to 900,000 IOPS, or with eight lane PCIe connections up to 1.9 million IOPS.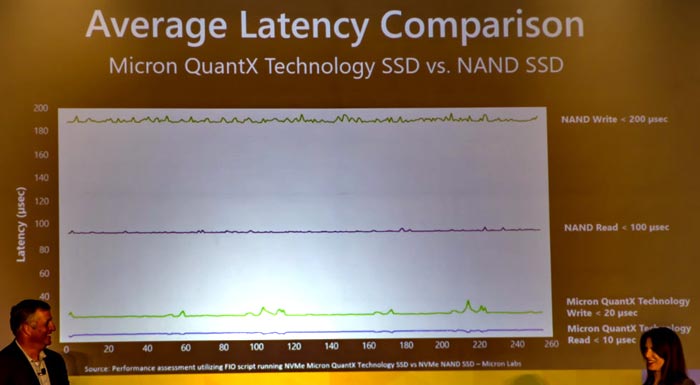 Turning to information about capacities, Micron plans to launch QuantX SSD products ranging from 200GB to 1.6TB. The first generation of drives will be aimed at data centre customers, arriving from approx Q2 2017 onwards. It isn't until 2019 that Micron forsees its 3D Xpoint based memory products providing 'break-out' revenue. Previously Intel has indicated that 3D Xpoint offers up to 10x the density of NAND so the tech will enable smaller, higher capacity storage devices.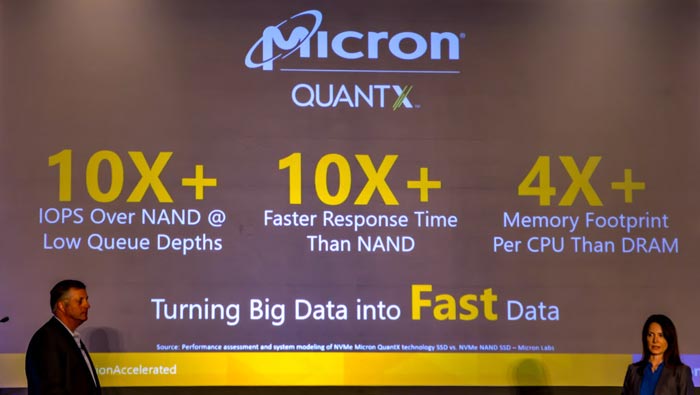 Micron revealed that 3D XPoint memory costs about half as much as DRAM but about four or five times as much as flash NAND. Due to this it is thought unlikely to replace NAND for prosumers, for now, but will replace DRAM for many enterprise applications. Meanwhile major storage and server vendors are clamouring to get 3D XPoint memory based products like Micron's QuantX technology range. Actual product pricing wasn't touched upon but it is thought that the expense of the new 3D Xpoint memory means that Micron will focus on enterprise, however Intel has plans for M.2 Optane drives for laptops and tablets.
In other Micron news, the firm has introduced Mobile 3D NAND for next-generation smartphones. The first such products will be based upon the Universal Flash Storage (UFS) 2.1 standard and could offer up to 20 per cent better energy efficiency.
All photos from The SSD Review.