Back in 2014 we saw AMD release its first ever range of Radeon branded SSDs, the Radeon R7 SSD series (made by OCZ / Toshiba). Now we have learnt that AMD has released a new value range of SSDs called the Radeon R3 SSD series.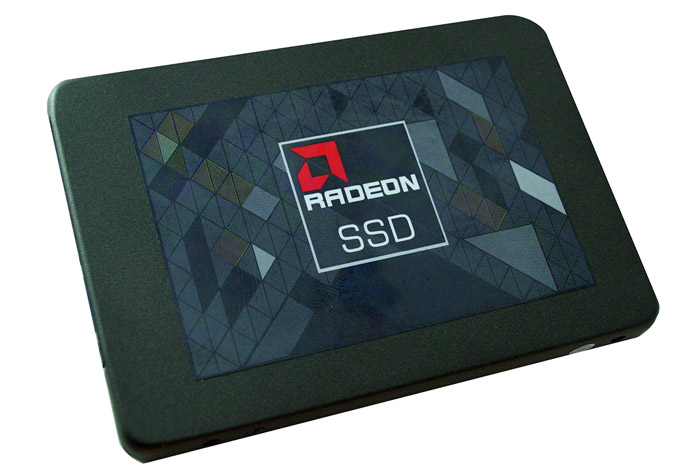 AMD's Radeon R7 SSD series were higher-end consumer drives but the new Radeon R3 SSD series are aimed at the value market and are thus compared, in the headlining marketing messages, to traditional hard drives. The drives are said to be manufactured and guaranteed by Galt Inc. in Taiwan and sport the following features:
Value across the range of 120, 240, 480 and 960GB sizes,
10x speed boost over traditional HDDs,
A 2.5-inch form factor, 7mm thick,
A 3 year warranty and,
Wide system compatibility.

Further technical details are revealed in the spec sheet below, where you can see that these SATA III 6Gbps drives use TLC NAND and the Silicon Motion SM2256KX controller. You can also see from this table that the 240GB and 480GB models are the top performers and these deliver quite a performance boost in write speeds compared to the 120GB capacity SSD model. In write speeds these drives are all pretty equal.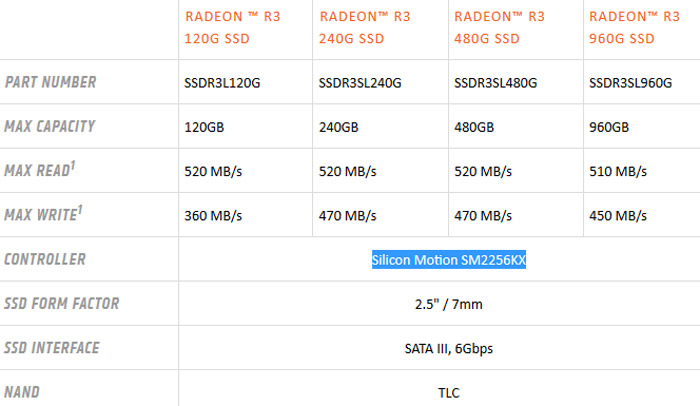 According to OC3D the drives are now available in the US and Canada priced as follows; $40.99 for the 120GB model, $69.99 for the 240GB model and $136.99 for the 480GB model. Those prices come from Amazon US but this retailer doesn't offer the largest 960GB drive right now.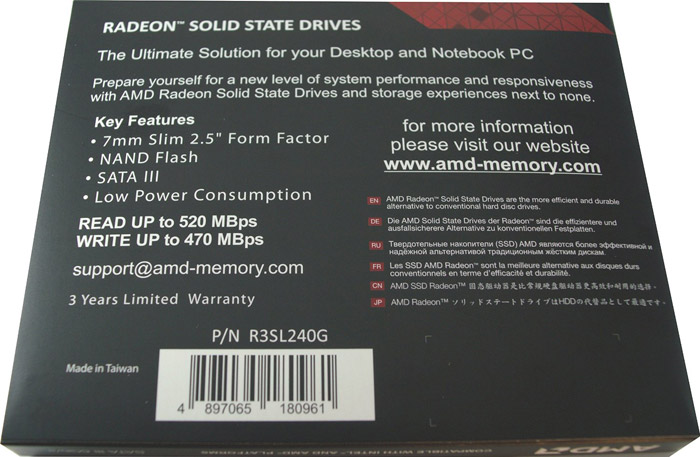 Back of the AMD Radeon R3 240GB SSD box.